Disclosure: I received these products for free to review. The opinions in my review are honest and my own.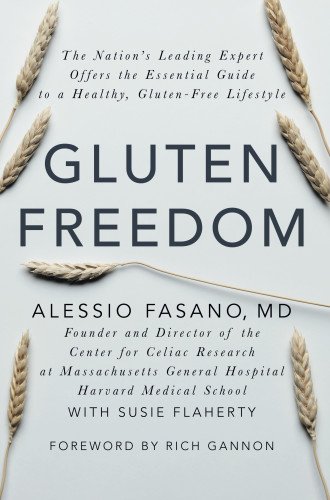 Every so often, I have my readers ask me questions about living a gluten free diet and if it's something they should consider if they want to live healthier. Even though living a gluten-free lifestyle has become a million dollar industry, it isn't the right lifestyle for everyone, especially with some of the current research out there which indicates that gluten and gluten-containing foods can be beneficial if you don't have a true wheat or gluten allergy. Wanting to be able to help my readers a bit more, I jumped at the chance when I was asked to review Dr. Alessio Fasano latest book – Gluten Freedom!
Gluten Freedom: What is It
Worried you might have a gluten allergy or gluten sensitivity? If so, we think you will enjoy Gluten Freedom – an educational book that discusses what you need to know about living with a gluten allergy and what you can do to make your own life gluten free. Written by Dr. Alessio Fasano, a world renowned gluten-related disorder expert, you will learn the hazards of living with celiac disease and what you need to do to improve your own life. As well, she offers readers a variety of delicious recipes that will leave you not regretting getting rid of gluten in your own life!
Gluten Freedom: Overall
Even though I personally don't live a gluten-free lifestyle, I thought this book did a great job introducing gluten and why some people need to live gluten free. With many people believing or knowing they have celiac disease, a gluten sensitivity, or a wheat allergy, it is important that they understand what food should be avoided or should stay in their diet. As well, the book has a variety of awesome recipes that not only sound amazing, but are 100% gluten free. Based on our own experience with this book, We are happy to give Gluten Freedom an A- rating.
Gluten Freedom: Where to Purchase
Want to check out this awesome book about living a gluten free lifestyle? You can purchase Gluten Freedom for 19.00 on Amazon.com
Disclosure: Budget Earth did not receive compensation but did receive products for review purposes. Budget Earth may, however, receive compensation through purchases from affiliate links in this post. All opinions on this product are my own and may differ from our readers' opinions.
Would you like to have your products featured in a giveaway event? Want to increase your social media exposure? Contact susan.l.bewley@gmail.com to see how I can help YOUR company today!