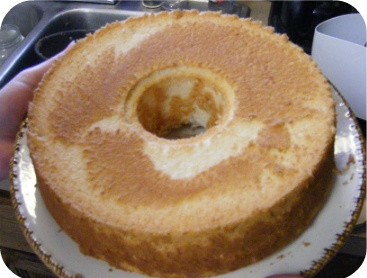 This is hands-down my favorite cake.  I remember the first time I made angel food cake I was astonished by how the egg white mixture nearly quadrupled in size, and by how greatly the process differed from any other dessert recipe I'd made.  Now it's one of my family's most requested cakes; each time I bake it I receive big smiles and rave reviews.
The taste really is heavenly; I think the combination of vanilla and almond extracts gives it that true "angel food" flavor, but if you only have vanilla available then you can simply substitute a full teaspoon of that.  I've also used well-sifted all purpose flour instead of the cake flour with good results.  This cake has a very fluffy, cloudlike texture that almost seems to melt in your mouth.  I hope you enjoy it as much as I do.
Angel Food Cake (serves 8 to 10)
Ingredients
1 Cup Cake Flour
1/3 Cup White Sugar
8 Large Egg Whites Eggs at Room Temperature
1 Teaspoon Cream of Tartar
1/2 Cup White Sugar
1/4 Teaspoon Salt
1/2 Teaspoon Pure Vanilla Extract
1/2 Teaspoon Almond Extract
Sliced Strawberries Garnish
Whipped Cream Garnish
Instructions
Preheat the oven to 350°F. Sift the flour and 1/3 cup sugar onto a large plate; set aside.

Combine the egg whites and cream of tartar in a large glass bowl (do NOT use a metal bowl!). Beat with a mixer until frothy.

Combine 1/2 cup sugar with the salt. Add to the whipping egg whites in a slow, steady stream, and then add the extracts, continuing to whisk until the mixture forms stiff peaks (this took me about 10 minutes).

Sift flour mixture over the egg whites; fold in very gently with a large spoon until well blended (I use a plastic spoon).

Spoon mixture into an ungreased 10-inch tube pan. Gently smooth the top.

Bake until the cake is golden brown and springs back when lightly touched in the center, about 35 minutes.

When the cake is done, invert the tube pan upside down onto a plate but DO NOT remove the cake. Allow to cool completely.

When cooled, slide a long knife around the side of the pan to loosen the cake and invert it onto a serving plate. If desired, top with a dollop of whipped cream and sliced strawberries.