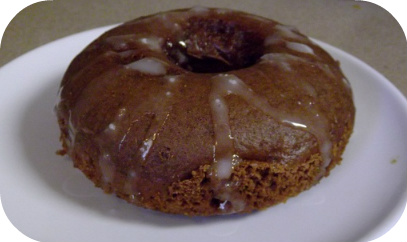 I can't remember how long ago it was, but one day either my dad or my brother brought home a donut-making machine.  They wanted to be able to enjoy donuts whenever they wanted, at home.  Personally, I was skeptical about the contraption.  I was even more skeptical when they tried it out and had to use large quantities of oil to "fry" the donuts in.  They weren't the least bit healthy, and the donuts came out sopping wet with grease.  It was rather horrifying to me.  I suppose my family didn't care for the end product, either, as they only used the machine maybe once or twice after that until someone had the bright idea to banish the device to the confines of our basement (or maybe they threw it out—I never asked).
In its stead, my family opted to start baking donuts.  I don't remember how it started—whether my father was gifted the first donut pan or I was, but ever since then we haven't looked back.  It's a healthier alternative, as donuts go, because rather than frying in grease or oil you simply bake them in the oven.  They don't have quite the same texture or taste as regular donuts, but they are still tasty.  The chocolate donuts yielded by this recipe are light and airy, with a fairly subtle flavor.  They'd make a great breakfast treat served with coffee, or even a light dessert.  My family doesn't care much for glaze, and I usually don't either, but I think it adds a little extra something to this recipe.  You can opt to use it or not, depending on your preference.  You could also try simply sprinkling the donuts with powdered sugar, or adding a bit of cinnamon or chocolate chips to the batter.
You will need a donut pan to make this recipe.  My mom bought mine from King Arthur Flour, and this recipe actually came from the pan's packaging. You can purchase a standard donut pan for half the price on Amazon, however, so you may want to purchase it from there instead.
Chocolate Cake Donuts Recipe
Ingredients
Cake Ingredients
1 1/2 Cups All Purpose Flour
1 Teaspoon Baking Powder
1/8 Teaspoon Salt
1/3 Cup Cocoa Powder
2 Eggs
2/3 Cup Sugar
1 Teaspoon Pure Vanilla
1/2 Cup Milk
2 Teaspoons Melted Butter
Glaze Ingredients
1 Cup Confectioner's Sugar
2 Teaspoons Hot Water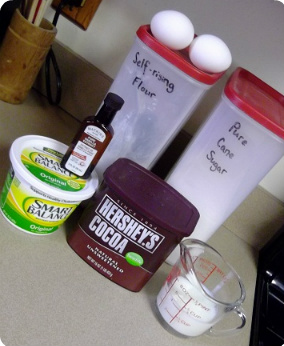 Instructions
Preheat oven to 325.
Combine flour, cocoa, and baking powder and salt.
In a separate bowl mix eggs, sugar and vanilla until thick.
Combine milk and butter. Alternately combine egg and milk mixtures with the flour mixture, mixing until smooth and soft.

Spray donut pan lightly with nonstick spray. Fill donut pan rings 2/3 full with batter and then bake for 8-12 minutes.
 

Test them with a toothpick; they're done when it comes out clean. I only had one donut pan, so in addition I used a Vitatop silicon liner that I had on hand. Incidentally, I may have also filled the donut rings more than 2/3 full…Doesn't mean they were any less tasty.

Allow donuts to cool, and then carefully remove from the pan. Frost or glaze them, if desired.