Disclosure: I received these products for free to review. The opinions in my review are honest and my own.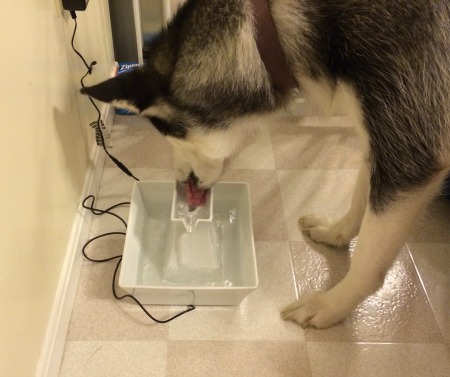 Do you worry about how much water your pet drinks daily? Even if we have water available to Reya throughout the day, she sometimes doesn't drink what is recommended for her size. Sometimes I even have to add a drop of chicken broth just to make her consider drinking. I was really getting worried until I realized that our dog LOVES running water. It doesn't matter if it's from the hose or the tub, this is her favorite. While this was all well and good, we don't want to leave either of these running without supervision (never mind what it would do to our water bill)! Luckily, we found the perfect solution – the Drinkwell Pagoda Fountain from Petsafe!
Drinkwell Pagoda Fountain: What Is It?
Looking for a way to motivate your pets to drink more water? If so, we think you will love the Drinkwell Pagoda Fountain from Petsafe. This porcelain fountain continuously recirculates up to 70 ounces of fresh, filtered water. Not only does it filter normal tap water, but offers your pet an upper and lower drinking dish, allowing them to choose which drinking surface fits their current mood. As well, the dual free flowing streams helps keep water moving and more hygenic, making sure that even your pet's own messes are cleaned up before the water recirculates into the filter. With its quiet pump and easy to clean design, this Drinkwell fountain is the perfect addition to any pet friendly household!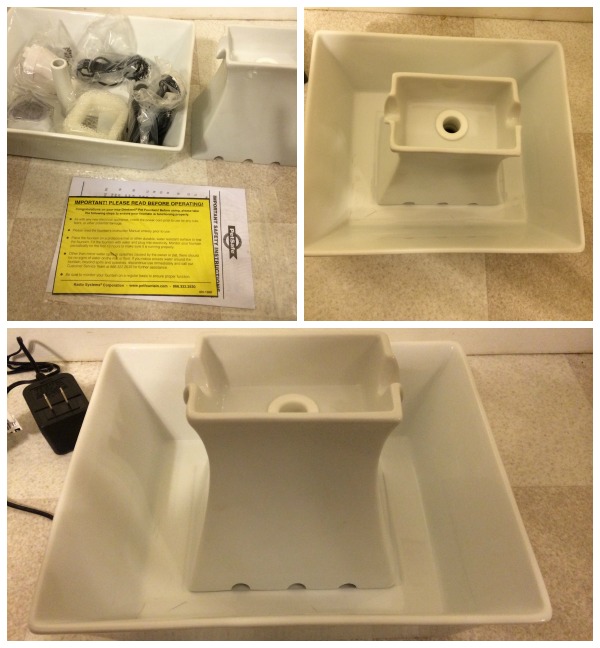 Drinkwell Pagoda Fountain: Overall
In all honesty, I couldn't wait to open this fountain when it arrived. Not only would it solve Reya's 'drinking problem' but would also give her access to consistently fresh, filtered water! Before you give me that look like I'm crazy for giving my dog purified water, look in your dog's water dish. If it's anything like our dog's if we don't change it for a couple hours, it is probably very gross, with dog-added food particles, hair, and saliva. With this fountain, your pet's water is always clean and constantly moving, encouraging your dog to drink water that you know is clean. Best of all, the filters are fairly cheap and easy to change – a big plus in my eyes!
What also really impressed me with the Drinkwell Pagoda Fountain was the fact that it isn't very loud. It is actually a bit on the quiet side. All you hear is the faint sound of running water. It isn't like some of the human fountains out there that have very loud, annoying motors, so you don't have to worry about your dog or cat being nervous around the fountain. The best part in my eyes, however, was that Reya LOVED the fountain. She is constantly by the fountain drinking or playing in the water. As a worried dog mom, I have to say I am relieved and happy that she loves the fountain. Based on our own experience with this fountain, I am happy to give the Drinkwell Pagoda Fountain an A+ rating!
Drinkwell Pagoda Fountain: Where to Purchase
Would you like to purchase this awesome fountain for your own dog or cat? You can buy the Drinkwell Pagoda Fountain from Petsafe for $99.99 or $79.99 from Amazon.com (prices with Amazon fluctuate). Both places sell this fountain in either red or white, allowing you to match the fountain with your own decor. After you have tried this fountain you will never have to worry about the quality of your pet's water again!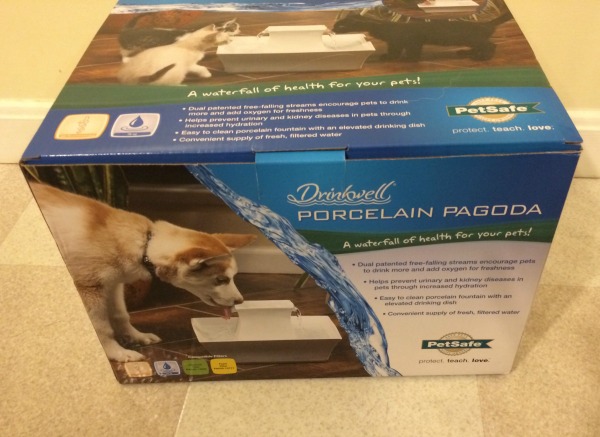 Disclosure: Budget Earth did not receive monetary compensation but did receive products for review purposes. All opinions on this product are my own and may differ from our readers' opinions.
Would you like to have your products featured in a giveaway event? Want to increase your social media exposure? Contact susan.l.bewley@gmail.com to see how I can help YOUR company today!