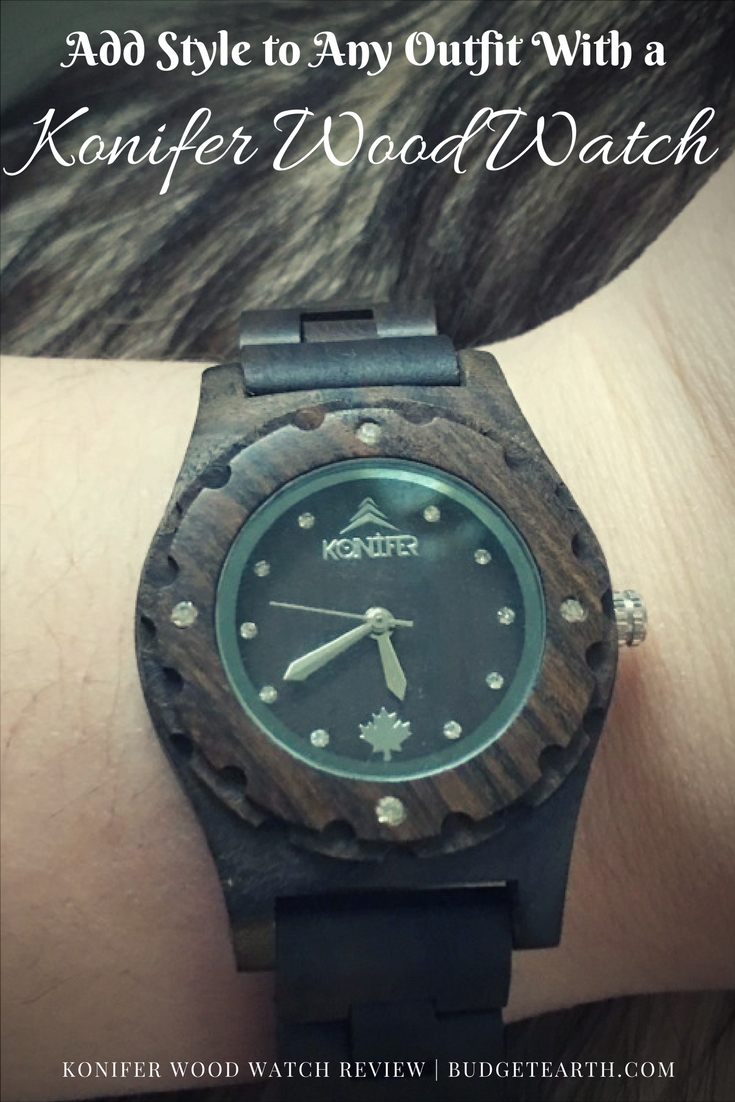 Do you wear a watch to nice events? While I should probably wear one on a daily basis, I usually don't since I only leave the house a few days a week (just a fact of working from home). It isn't that I don't like watches, but I am usually always at my computer. With us having two nice events coming up in the next two months though, I have been getting together my jewelry and trying to match outfits to prepare. One of the things I have been looking at for a while is a beautiful wood watch. My problem with most of the ones I had seen, however, is that they are very bulky, which just isn't good for people with small wrists like me. Recently, however, I found a Canadian company that makes wood watches for men and women alike – Konifer watches. When they asked if I would be willing to review a complimentary watch, I couldn't help but be excited as I waited for it to arrive!
Konifer Wood Watch: What Are They?
Looking for stylish watches that are beautiful, stylish, and eco-friendly? If so, we think you will love Konifer Wood Watches. Coming from a family that worked in forests, they went in another direction with their love for wood by creating beautiful, one of a kind, Canadian made watches that are perfect for everyday wear or showing off. As well, for each watch that is sold, the company plants a tree through their partner, WEFOREST, allowing them to give back to the planet that allows them to make such beautiful fashion accessories. Currently, they make men's watches, women's watches, sunglasses, and other wood accessories. As well, they have free shipping around the world, allowing anyone to enjoy their products!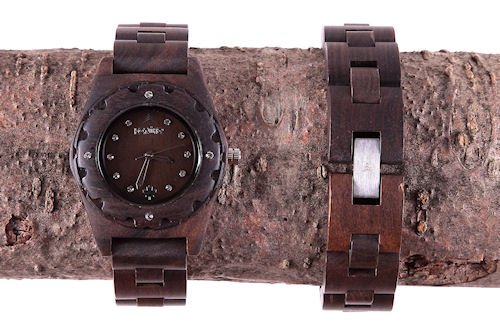 Konifer Wood Watch: Our Thoughts
So that we could properly test out of these watches, we got a Konifer's Bonzai wood watch. I will admit, from the moment I opened the box, I was amazed with the watch. Compared to other wood watches I have seen, it is slimmer and sleeker, making it perfect for a woman's smaller wrist. Made from sandalwood to be durable and long lasting, it combines the breathtaking beauty of its namesake with the pleasing aesthetics of fine woodwork. To top it off, the watch itself features genuine Swarovski crystal detailing and features a fashionable link-style band design. This watch is also finished with non-toxic stain oil, making it hypoallergenic and safe to wear as long and often as you want. Personally, I think it all came together to create a truly stunning watch, one I am looking forward to including in my outfit at a friend's wedding next weekend – it's so lightweight and beautiful, I can't wait to show this watch off!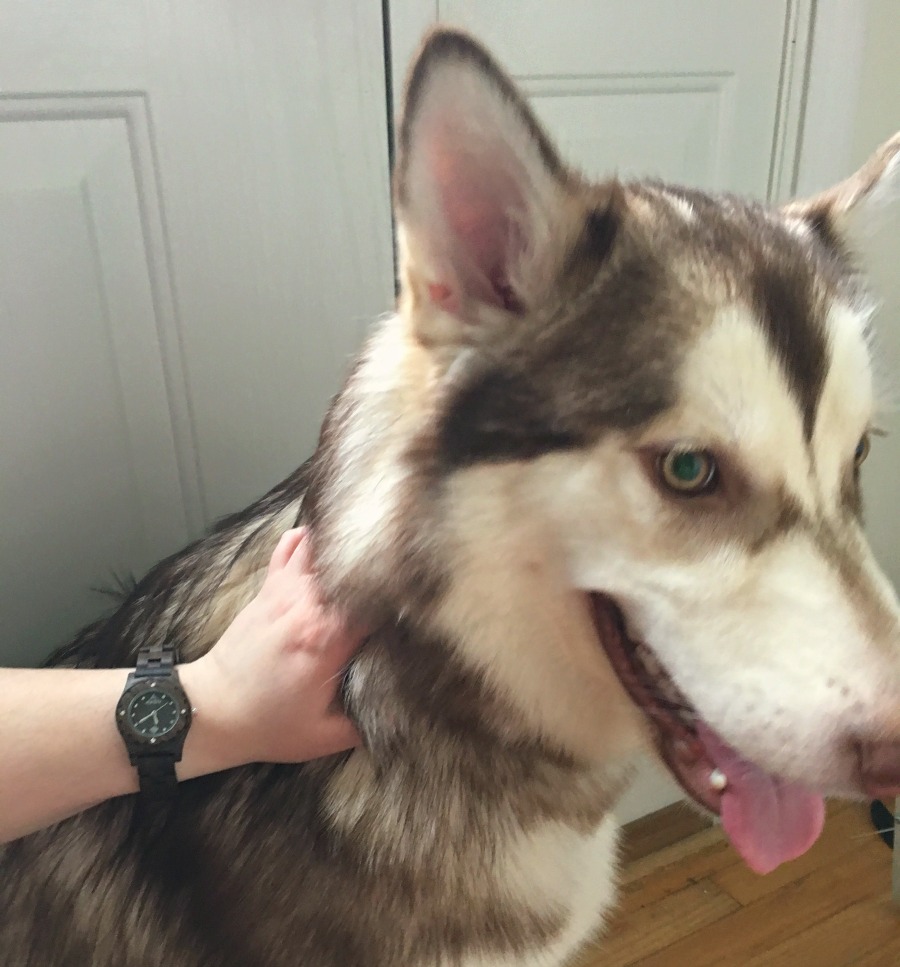 Konifer Wood Watch: Where to Purchase
Want to purchase one of these gorgeous watches for yourself or someone in your family? You can find the full selection of their watches on the Konifer website. Also, don't forget that for every one watch sold, they plant a tree through WEFOREST! Who knew you could help the environment and be fashionable too!?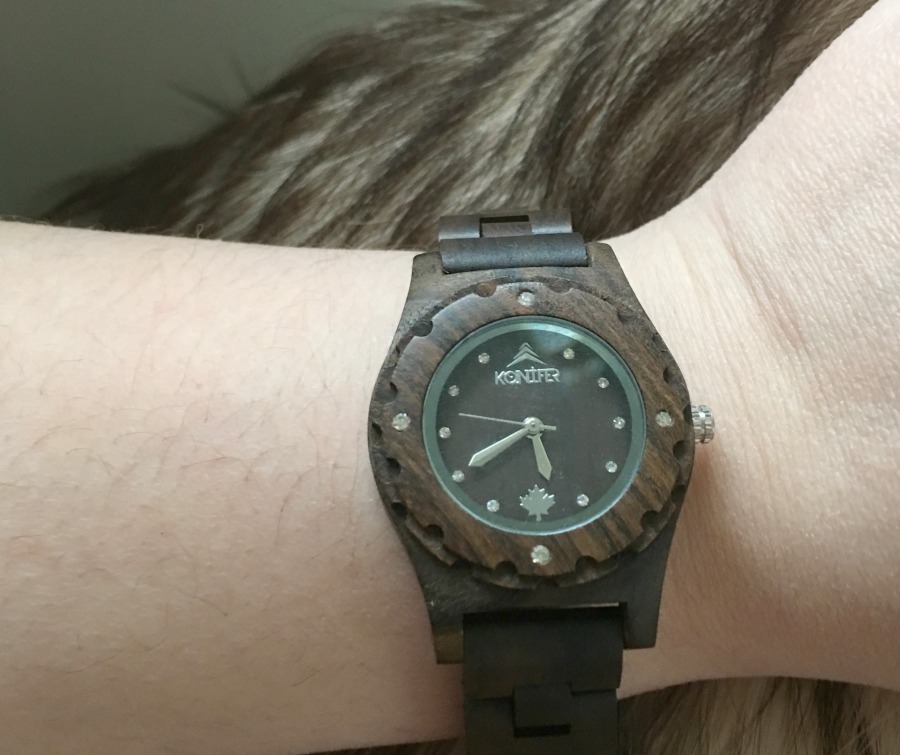 Want to learn more? Make sure to check out Konifer on social media!
Facebook | Twitter | Pinterest | Instagram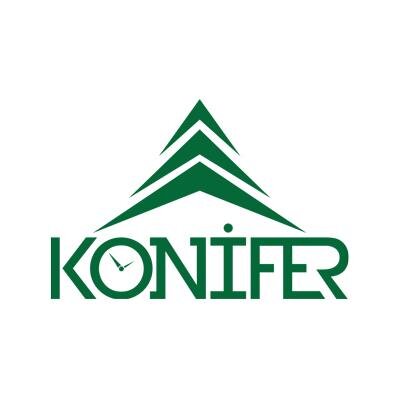 Would you like to have your products featured  or in a giveaway event? Want to increase your social media exposure? Contact susan.l.bewley@gmail.com to see how I can help YOUR company today!