Disclosure: I received these products for free to review. The opinions in my review are honest and my own.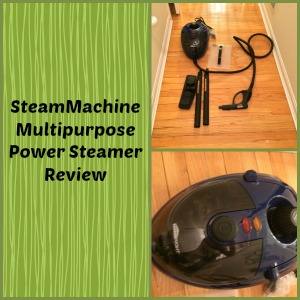 While I hate to admit it, there is not much I dislike more than cleaning the house. Nothing to me is worse than wasting hours getting rid of dirt, dust, and the little daily messes that build up over time. What makes it even worse is that I'm allergic to most common household cleaners. I have problems breathing around them and they break my hands out terribly. The stuff I can use isn't antibacterial, meaning my husband doesn't take them seriously.  To make cleaning not such a miserable experience, I try looking for different cleaners and ways to not only speed up cleaning, but make it more effective. As I was researching different cleaning tools, I came across an interesting cleaner I had never seen before – the SteamMachine Multipurpose Power Steamer. This innovative steamer from Homeright can clean just about any mess with the right attachment, saving you both time and money. Impressed with what I saw, I was eager to try out this new cleaning machine and couldn't wait for it to arrive in the mail!
SteamMachine Multipurpose Power Steamer: What is It
Looking for a way to save money while cleaning your home? If so, we think you will love the SteamMachine Multipurpose Power Steamer from HomeRight. This high tech, multi-purpose cleaner is great at doing just about everything, including –
removing wallpaper
disinfecting surfaces
cleaning vinyl, linoleum, and tile floors
stovetops
ovens
bathrooms
grills
Unlike most cleaners, the SteamMachine Multipurpose Power Steamer also doesn't leave any chemical residue since it cleans with one of the purest chemicals out there – water. By using pressurized steam to clean, you can disinfect just about any surface, killing 99% of all germs and bacteria in your home. All you have to do is steam the area, wipe it down, and you are done since it loosens and dissolves dirt. As well, the canister has two wheels for easy transport and has a front compartment for storing most of its common attachments. In other words, the SteamMachine is every homeowners dream come true!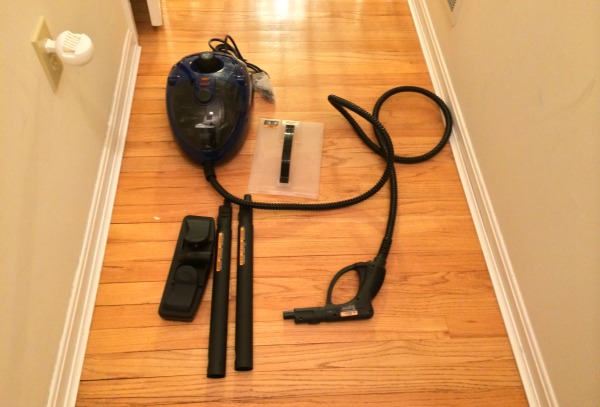 SteamMachine Multipurpose Power Steamer: Overall
As someone who hates to clean, I was a bit intimidated when I first took my SteamMachine out of the box. There were so many different attachments and I spent some quality time with the manual trying to determine when to use each of the attachments. Before I go any further, the StreamMachine isn't complicated, but very multi-purpose, allowing you to clean just about anything you could think of with this machine. To clean, all you have to do is pick your attachment and attach it to the unit, fill it with water, wait for it to pre-heat, and then clean! It really is that easy and I have to say, fun!
I really couldn't believe just how easy this machine was to use and just how much it cleaned. To test out the steamer, I decided to clean my half bath. Not only did my sink and toilet look amazing after being steamed, but it found dirt I didn't even know was there (I know – gross). Best of all, it was able to clean without the use of other chemicals, making it a very cost effective cleaning solution for those who are trying to stay on a budget. With this unit, you don't even have to use anti-bacterial cleaners since high-temperature steam kills 99% of germs and bacteria! Now, I'm wondering how I went so long without this steam cleaner. Based on my own experience with the SteamMachine Multipurpose Power Steamer, I am happy to give this unit an A+ rating and highly recommend it to every homeowner!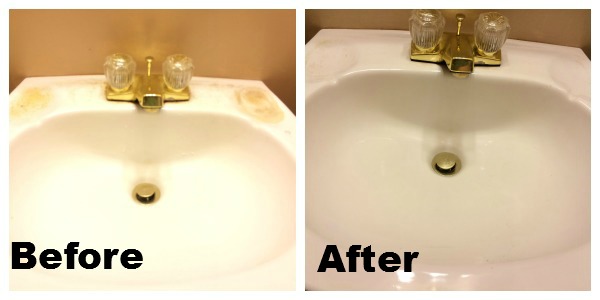 SteamMachine Multipurpose Power Steamer: Where to Purchase
Would you like to purchase this awesome steamer for yourself? You can purchase the SteamMachine Multipurpose Power Steamer for its retail price of $99.99 on the HomeRight website. Currently, you can also purchase the SteamMachine on Amazon.com for $79.99 – an awesome value for this must have home cleaning tool! Once you have tried it, you will see why I am now cleaning everything with this steam cleaner!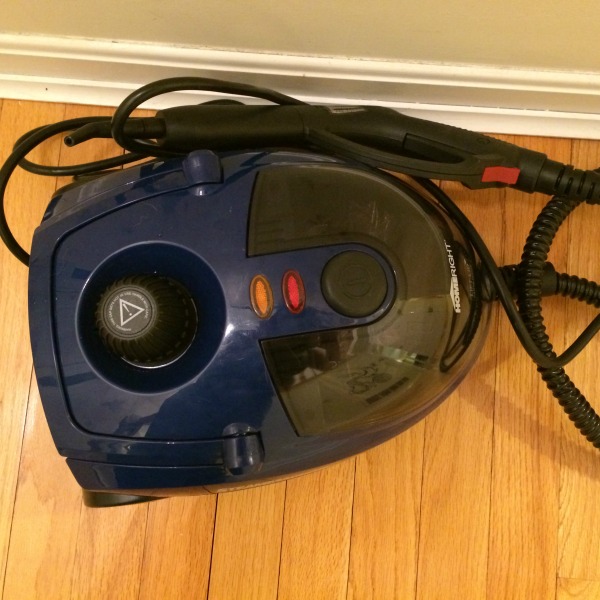 Disclosure: Budget Earth did not receive compensation but did receive products for review purposes. Budget Earth may, however, receive compensation through purchases from affiliate links in this post. All opinions on this product are my own and may differ from our readers' opinions.
Would you like to have your products featured in a giveaway event? Want to increase your social media exposure this holiday season? See how we can help! Contact susan.l.bewley@gmail.com to see what we can do for your company!