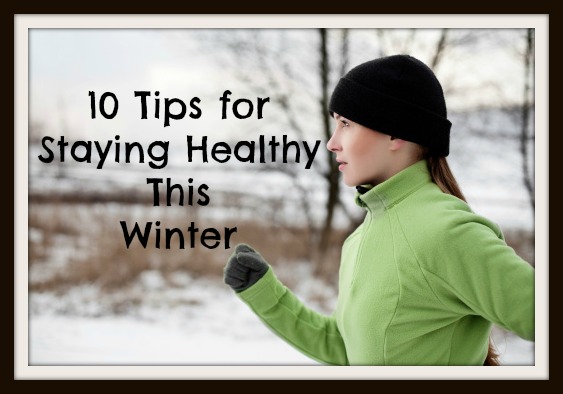 Did you know that daylight savings time begins on Nov? For those who get this confused like me, this means we gain an extra hour of sleep. What this also means is that winter and the cold weather are also nearly here as well. Personally, I love the cold weather but am not a fan of the sleepiness that usually occurs due to the sun going down much sooner.  The other thing I don't love is the cold weather usually being the start of the cold and flu season. Rather than just accepting it, there are a few things you can do to not only prepare yourself for the cold weather, but also help you boost your immune system and give yourself a head start on staying fit. Below, we have our top 10 tips for staying healthy this winter!
1. Exercise
If you want to stay healthy, exercise should be your first priority! By exercising at last 30 minutes a day, you will increase your energy level and increase your heart rate. Don't forget too that exercising a little each day will also help you stay fit during the winter, since many of us slow down during the winter month and want to spend more time indoors. Make sure to go to the gym, do aerobics in your own home, or go out running.
2. Sleep
Did you know that most of us don't get enough sleep? A grown adult should be getting anywhere from 6 – 8 hours of sleep a night, with many of us getting much less on a regular basis. By not getting the proper amount of sleep, you aren't giving your body the proper time to rest. This can lead to illness, weight gain, and moodiness. It is also common to want to sleep longer during the winter, especially with it getting dark that much earlier. Rather than give in, get yourself on a schedule and stick with it!
3. Eat Your Fruits & Vegetables
Remember mom ranting that you should eat all your fruits and veggies? Well, there is a reason! Though I probably don't need to remind most of my readers, vegetables and fruits are filled with vitamins and minerals that help our body function. When our body is deficient, it will stop functioning properly. One of the first things that usually suffer is our immune system. By making sure you get your recommended servings of each, you will fight back against illness and have a lot more energy!
4. Take Zinc
Did you know zinc is great at helping boost your immune system and killing some bacteria and viruses? It can also help reduce the time you are down with the common cold or flu, allowing you to be up and about much sooner. One of the best ways to get zinc while you are on the go is with zinc lozenges, such as Cold-EEZE.
5. Watch Portions
With us spending more time indoors, it is tempting for us to eat more. Rather than spend the entire day 'grazing', make sure to keep healthy snacks in the house and watch your portion sizes. Remember, our body was designed to put on weight during the winter to help our ancestors survive the winter. With our modern access to food, we have to fight these instincts and stay good!
6. Drink Water
While we may be tempted to drink soda and other sugary beverages during the winter, it is also important you get in your recommended 8 glasses of water a day. Sugary sodas are especially bad for us since they are negative calories and don't benefit the body in any way. If you are looking for caffeine, try one of the low calorie products on the market that are designed to flavor and add caffeine to regular drinking water.  If you are unsure where to start, you may want to consider something like Medifast Essential 1 Calorie Burn.
7. Spend Time Outdoors
If you can, bundle up and try going outdoors during the winter months. Being out in the sun helps with natural vitamin D production and can very quickly lift your mood. Instead of staying in watching TV, go out and play outside with the kids or go for a run. This extra exercise will help boost your immune system and give you more energy (as well as burn fat if you are trying to lose weight). Also, don't forget that being out in the sun is one of the best ways to fight off wintertime depression!
8. Protect Your Skin
Speaking of spending time outdoors, don't forget your sunscreen! One of the most common myths out there is that you can only get a sunburn during the summer. It isn't the summer sun that gives people sunburns – it's that people spend more time outdoors during the warm weather. When you go outdoors, remember to wear sunscreen on any exposed skin. Since you should be wearing a moisturizer anyways to keep your skin from drying out in the winter air, try finding one that has at least SPF 15 protection.
9. Re-evaluate
While some of us may not want to hear it, stress is one of the major reasons we get sick. Being stressed lowers our immune system and can hurt our overall mood. Try prioritizing what is really important to you and delegate certain things to others in your household. Let your significant other take care of the laundry or run errands together on the weekend instead of trying to fit all in before or after work. Also, if something isn't really necessary, see if it can be eliminated or hired out to reduce stress.
10. Laugh
Don't laugh, but there is a reason laughter is called one of the best medicines. When we laugh, it releases endorphins into the body, our body's natural drug to make us feel good. Endorphins don't just make us feel great but also temporarily relieve pain. As well, laughter is known to decrease stress hormones and increase infection fighting antibody counts, making us more resistant to illness during the cold season.