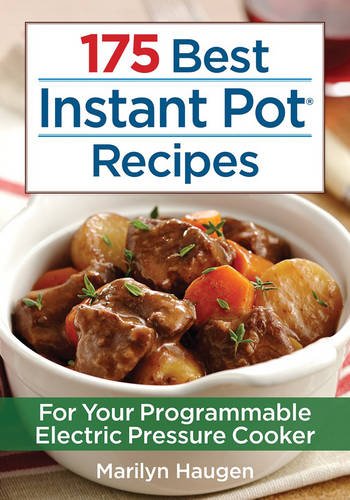 Do you own an Instant Pot? I will be honest, the Instant Pot is one of the reasons that we eat at home more because it allows me to make a quick, delicious meal in one pot. I was actually a bit nervous even trying an electrical pressure cooker since I remembered my mom's pressure cooker – a big, clunky pot that made terrifying noises and always seemed ready to explode. Modern pressure cookers though are just so easy to use, and honestly, I know people who use them exclusively to cook since they don't like the mess of using their kitchen. While I don't think I could ever picture myself being that extreme, I do like the convenience of my Instant Pot. When I had the opportunity to review a complimentary copy of 175 Best Instant Pot Recipes by Marilyn Haugen, I couldn't wait to see what new things I could make in my Instant Pot!
175 Best Instant Pot Recipes: What is It?
Looking for fun recipes for your Instant Pot? If so, we think you will love 175 Best Instant Pot Recipes! See what the publisher had to say about this brand new book!
Instant Pots have become hugely popular over the years because they ingeniously combine so many features into one appliance. While officially categorized as an electric pressure cooker, it's actually a 7-in-1 programmable cooker with the functions of a pressure cooker, slow cooker, rice cooker, steamer, sauté, yogurt maker and warmer — all in one appliance!
They also feature built-in smart programs so with one push of a button, you can simply and easily make a pot of stew or keep some slow cooker food warm. With its slim design, it takes up very little counter space, making it the ideal appliance for everyone from students and condo dwellers to RV enthusiasts.
Once again, Marilyn brings her extensive and creative recipe development skills to the forefront with these deliciously convenient meal ideas which truly make the most of an Instant Pot's capabilities. The recipes are handily categorized by appliance feature which makes meal preparation an organized and stress free event. And there are recipes for every meal and occasion from hearty breakfasts to main courses fit for entertaining.
Here's just a small sampling from the pressure cooker section:
Classic Creamy Beef Stroganoff, Maple Cinnamon Breakfast Quinoa, Apple-Cider Glazed Pork Chops, Ginger Pumpkin Soup, Chunky Summertime Potato Salad, Party-Perfect Meatballs, Bananas Foster Flan and Peanut Butter Pecan Brownies.
And these simply satisfying slow cooker meals:
Country Bacon, Eggs and Hash Brown Casserole, Spicy Chipotle Beef Brisket and Tortillas, Mediterranean Chickpea and Lentil Salad, Tex-Mex Black Bean Dip, Peppermint Bark Pretzels, Rocky Road Chocolate Cake, Lemon Spoon Cake.
This outstanding collection of recipes created especially for use with an Instant Pot will inspire you to create meals for every occasion.
175 Best Instant Pot Recipes: Our Thoughts
Oh my gosh, as someone who love her Instant Pot, I can't tell you how much I love this book. It is filled with so many wonderful recipes, including some things I would have never considered making in my Instant Pot, like quiche! After looking at this cookbook, I honestly don't think I have been all that creative with my pot (I usually just cook sweet and sour chicken or goulashin my pot – I know, how unoriginal!). After looking at this cookbook though, I can't wait to try some of the things like Italian dishes, stews, and even crème brulee! Honestly, I was so impressed reviewing this cookbook that I actually just purchased a copy of this cookbook for my mom to use with the Instant Pot I bought her for Mother's Day.
175 Best Instant Pot Recipes: Where to Purchase?
Want to purchase this book for yourself? You can buy 175 Best Instant Pot Recipes on Amazon.com for only $14.19!
Disclosure: Budget Earth did not receive monetary compensation but did receive products in exchange for this post review. This post may contain affiliate links. All opinions on this product are my own and may differ from our readers' opinions.
Would you like to have your products featured in a giveaway event? Want to increase your social media exposure? Contact susan.l.bewley@gmail.com to see how I can help YOUR company today!