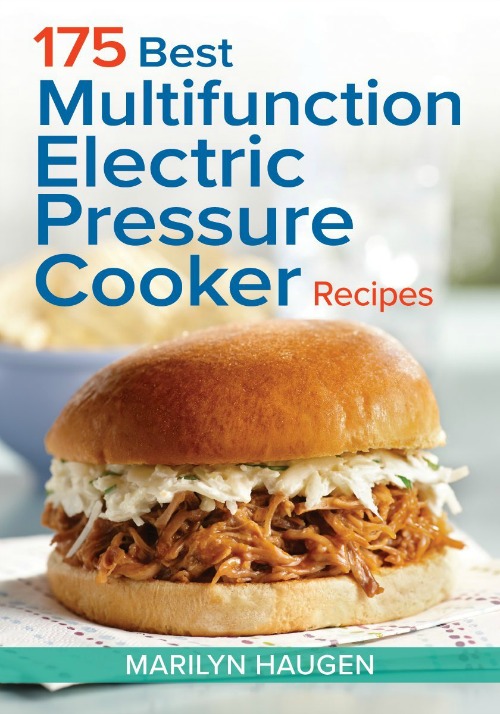 Do you cook at home most nights? Lately, I have been trying really hard to do so, especially since I know it is so much healthier. Of course, the main thing that has helped me with it has been my electric pressure cooker. While I have a few recipes my family loves, I am always looking for new things that are easy to make and tasty. Unfortunately, finding cookbooks for an electric pressure cooker is sometimes challenging. Recently though, I had an opportunity to review a complimentary copy of a new cookbook – 175 Best Multifunction Electric Pressure Cooker Recipes by Marilyn Haugen. Once my copy arrived, I couldn't wait to get reading!
175 Best Multifunction Electric Pressure Cooker Recipes: What is It?
Looking for a fun, easy to use cookbook that is perfect for busy nights? If so, we think you will love 175 Best Multifunction Electric Pressure Cooker Recipes. This fun cookbook has a variety of recipes that the whole family is sure to enjoy. Here is what the publisher has to say about this cookbook:
Delicious meals in a fraction of the time that stovetop or roasting methods take.

With their many function features (some have as many as 7), electric pressure cookers help make delicious and healthy foods that are not only easy and quick to prepare, but use much less energy. Clean up is minimal, too.

Bestselling small appliance cookbook author Marilyn Haugen uses her expertise to create rewarding recipes for this ingenious small appliance. There are recipes for every meal of the day. In a hurry? Done. Low and slow? Got it. The perfect stew or roast? No problem. Entertaining? How about Coq au Vin with Creamy Mashed Potatoes?

Haugen has created super time-friendly recipes for those frantic mornings like Sausage, Hash Browns and Pepper Casserole or Quinoa, Millet and Almond Bowls. And even on the busiest of work weeks, Beef Barbacoa Tacos with Chiles can be on the table in no time flat. Butternut Squash, Quinoa and Pomegranate Casserole made the night before can just be reheated.

These inviting recipes are sure to become family favorites that will be requested time and time again. The home chef can impress family and friends with the wide variety of satisfying dishes effortlessly created in an electric pressure cooker.
175 Best Multifunction Electric Pressure Cooker Recipes
I will freely admit, this cookbook included many recipes that include things I never would have considered making in my pressure cooker. Best of all, the recipes were super easy to follow and included many ingredients that I already keep handy in my kitchen. What I liked the most, however, is that they aren't recipes you can easily find online, so this book will help you make innovative, fun recipes from all over the world for your family. With the directions being so easy to follow, it is easy for just about anyone to find a recipe that they will love for themselves or their family in 175 Best Multifunction Electric Pressure Cooker Recipes.
175 Best Multifunction Electric Pressure Cooker Recipes: Where to Buy?
Want to purchase this cookbook for yourself or someone you know? You can buy 175 Best Multifunction Electric Pressure Cooker Recipes on Amazon.com for only $13.00. Don't forget, with Amazon Prime (or a 30 day free trial) you can get free two day shipping too! Who knew cooking with your pressure cooker could be so easy!