Welcome to the 180Pro Hair Care Giveaway & Twitter Party Info! #180Pro
I will freely admit, nothing is more annoying than dealing with damaged hair. It doesn't matter its from the sun, pollution, or just over-dying, we are all very hard on our hair and its important we have hair care products to help revitalize our hair.
Sadly summer is over although some of us are still enjoying some wonderful weather. However, while most of us enjoy the nicer weather sometimes we neglect our hair and it becomes damaged from the sun, use of heat tools and more. Fortunately for all of us Zotos Professional 180Pro hair care products to get everyone's hair back to being healthy and shiny all year long.
So to get us off the right way for fall and winter when it comes to our hair care Zotos Professional has teamed up with us for a party. We are going to have some fabulous prizes to giveaway at the twitter party on September 18th, 2014 at 4:30pm PDT/6:30pm CDT/7:30 EDT. However to make it even more fun we've got a giveaway starting now for even more wonderful hair care prizes from the 180 Pro line!
Here are the prizes for the giveaway from Sept 7-18, 2014 (enter on the rafflecopter at the end of the post)
THREE Discovery Kits from the 180Pro series which include:
Shampoo & Conditioner (winner can select Intense Reconstruct or Moisture Repair Collection)
Miracle Repair Damage Eliminator Treatment
Full size product set of either the Intense Reconstruct or Moisture Repair Collection
MORE PRIZES might be added to the giveaway so keep checking back
Now that giveaway is just a teaser to the twitter party here's some of the prizes for the party on September 2014!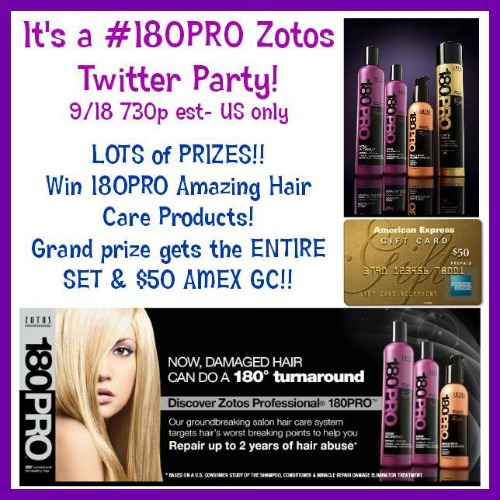 September 18, 2014 from 7:30pm EST to 8:30pm EST
Hashtag: #180Pro
Here's what you MUST do to make the event work for everyone:
RSVP below.
During the party to view discussions and comments you must set up a #180Pro search on search.twitter.com, make sure to click on "all" so you can see the current tweets and not just the "top" tweets. Of course you could also use TweetDeck, TweetChat, or Hootsuite if you are familiar with them.
You MUST follow our sponsors @zotosprofesh and our Hosts: @Powerbymomblog, @PamelaMaynard, @BabyCostcutter
You MUST follow our co-hosts:

To make comments and/or replies you must include #180Pro somewhere in your Tweet on Twitter. This is the only way your comment can be seen by the group at the event.
RSVP Now to WIN
You MUST RSVP to be eligible to win prizes during out twitter party!
To be eligible to win prizes from the twitter party you must be a legal residents of the fifty (50) United States or the District of Columbia who are 18 years of age or older at the time of entry.
Below, click "add your link". Then in the "Name" put your @twitterhandle. For the "URL" put your full url to your twitter account. Example: https://twitter.com/Powerbymomblog
Enter the pre-party giveaway on the rafflecopter below and after that RSVP for the Twitter Party (it's below the rafflecopter!)
RSVP here for the Twitter Party