Welcome back to the 4th part of our 25 Eco-Friendly Gifts for Kids List! We hope you have liked what you have seen so far. All of the toys on this list are made from recycled or renewable materials, such as rubber wood, wood, recycled plastic, and bamboo. As well, all of the companies mentioned are proud to have sustainable factories, helping the environment one step at a time! With all the cheap toys on the market today, I think it's important that parents and family know that there are other choices out there when it comes to toys. As always, if we are missing something that you think should be on our list, feel free to tell us! While our original list includes only 25 toys, it will become larger over time. We hope you enjoy our list, and if you have missed a part, check the links at the bottom!
16) Wonderworld Hopping Bunny Walker  (12 months +)

As every parent knows, little kids love walkers when they are first learning how to walk.  Most of the walkers made today, however, are made from plastics and include a lot of small pieces. Obviously this isn't ideal, since we all know little ones are rough on toys, and put everything in their mouths. The Hopping Bunny Walker is a well crafted walker painted with non-toxic water-based paints, and made from recycled rubber wood.  Like many walkers, the Hopping Bunny Walker has a little bunny that hops up and down when a child is walking with it, keeping a little ones attention as they are learning to walk. Best of all, the little bunnies on this walker are detachable, meaning two little stuffed rabbits to play with when they are tired of walking! Also, the wheel friction system on this toy is adjustable, giving kids a little mini 'cruise control' on their toy. This brightly colored toy is perfect for passing from child to child, or even packing away for future grandchildren!
17) Hape International Bamboo E-Plane  (3 years – 10 years)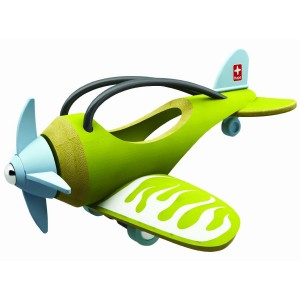 Do you remember the HaPe International E-Racer Le Mans from part 1? Like that cool car, the Bamboo E-Plane is 100% eco-friendly, painted with water-based non-toxic paints and made from bamboo. Unlike wood, bamboo grows quickly and is actually more like a grass than a tree. When it comes to durability, however, bamboo is just as strong as most woods, making it the perfect material for kid's toys. While there are some essential pieces in the plane that are not bamboo, these too are made from recycled materials, making it the perfect toy for little pilots! With movable wheels and a fun design, this plane can easily keep kids busy for hours!
18) Boikido Eco-Friendly Wooden 4 Seasons Block Puzzle (2 years +)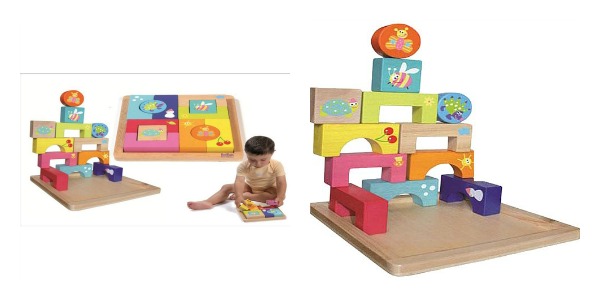 Having been a teacher, I can tell you that sometimes the simplest toys are the ones that keep kids busy for hours. This Wooden 4 Seasons Block Puzzle features a variety of wooden shapes painted in bright colors associated with the seasons. With the cute characters on these pieces, it is easy to see why they attract children. What I love about the set is that the different sizes and shapes encourage children to think through how to build with the blocks, developing critical thinking skills and fine motor skills while playing with these pieces. As well, these blocks can be used not only for building, but putting together a puzzle on the base, making it easy for clean up as well. Really, this is two toys in one! The Boikido Eco-Friendly Wooden 4 Seasons Block Puzzle has also won numerous awards all over the world, including the 2009 Parents' Choice Approved Award, iParenting Media Award, and the 2009 Creative Child – Toy Of The Year Award.  Really, it's quite impressive just how well built these blocks are, making it one of my personal favorite gifts on our Eco-Friendly Gifts for Kids list.
19) Plan Toys City Series Parking Garage  (3 years +)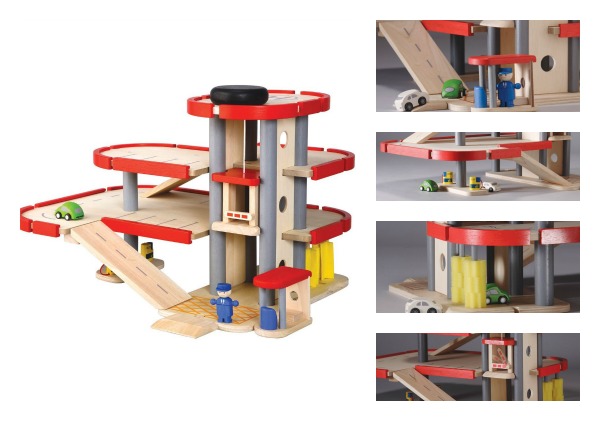 After featuring two dollhouses on the list, I had to feature one of the cutest toys for boys – the Plan Toys City Series Parking Garage. This little parking garage is perfect for little boys who love to play with toy cars since it has three stories of driving space, a hand cranked elevator, ramps, helipad, gas station, and car wash. It even comes with a figure and a car so kids can play with it right out of the box! This toy was also designed to take most die-cast metal and plastic vehicles, allowing your child to park their whole car collection in this rubber wood garage. It is easy to see how kids could spend hours playing with this little garage! As well, the Plan Toys City Series Parking Garage is designed to go with other Plan Toys pieces, allowing you to make an entire city out of these rubber wood toys!
20) Wonderworld Peek-A-Boo Ball (12 months +)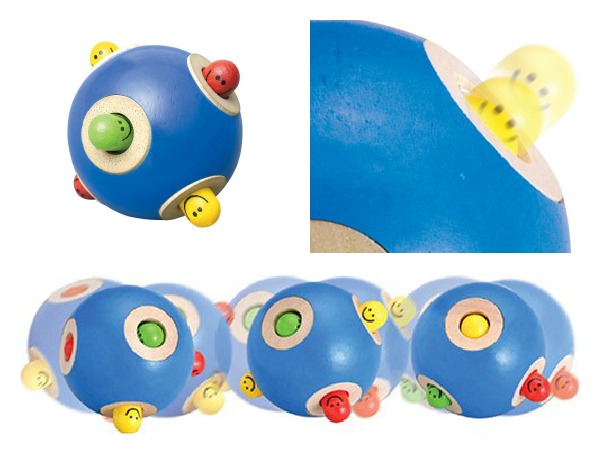 While the Wonderworld Peek-A-Boo Ball may seem like a very simple toy, it has a lot to teach little ones. This little ball, when rolled, has little faces that pop in and out. These smiling, colorful characters do more than make your little one smile, however – they work on hand eye coordination and help teach one lesson that is very difficult to teach little ones – permanence. Many parents don't realize this, but until a certain age, children think that when they no longer see or hear a person, they disappear. This is part of why Mommy and Daddy going away is so frightening to a little one sometimes.  By the little figures going in and out of the ball, they can see that while they can't see them, they are still inside the ball since they pop right back out! Of course, this the Wonderworld Peek-A-Boo Ball is also eco-friendly. It is made from biodegradable fabrics, rubber wood, and painted with only nontoxic, water based paints. This toy is another that can easily provide hours of entertainment for little ones!
Check back with us on Monday for part 5 of our list of eco-friendly gifts for kids!
25 Eco-Friendly Gifts for Kids List: Part 1
25 Eco-Friendly Gifts for Kids List: Part 2
25 Eco-Friendly Gifts for Kids List: Part 3
25 Eco-Friendly Gifts for Kids List: Part 4