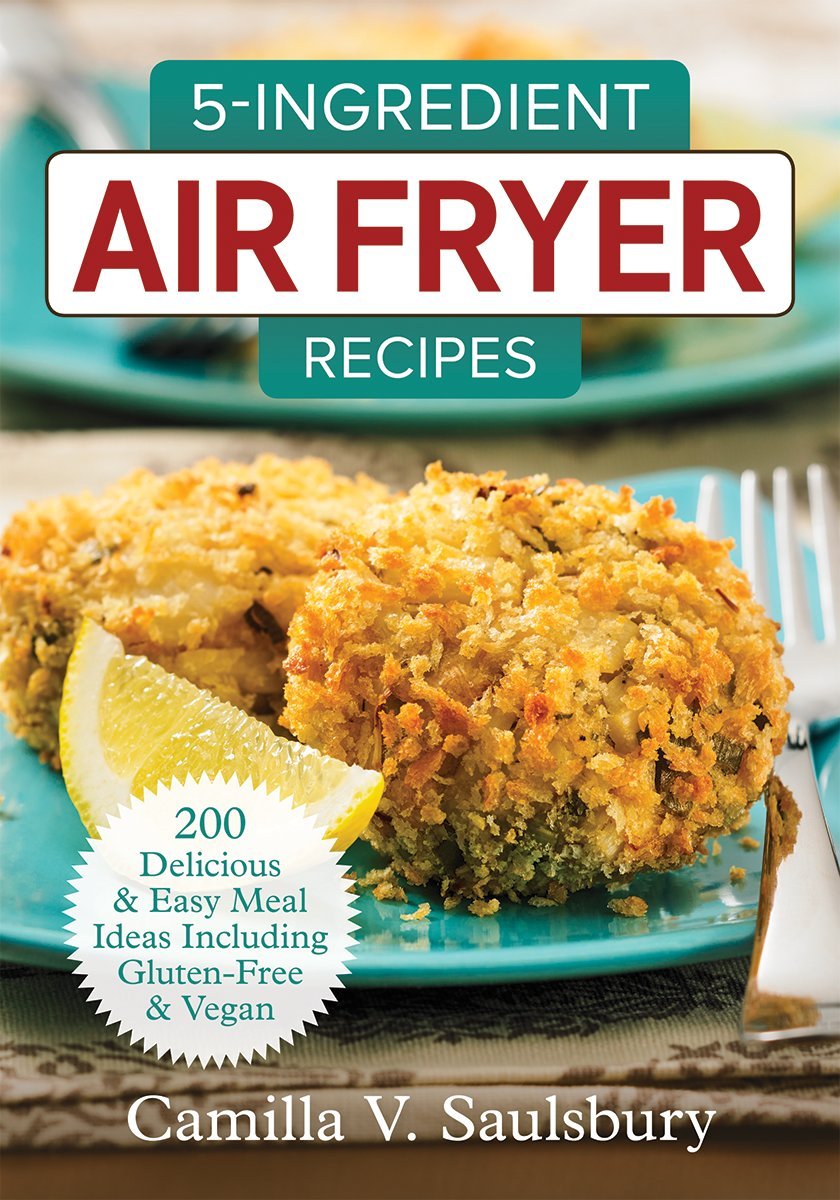 Do you love when you can find good recipes for your air fryer? When we got my air fryer for Christmas in 2016, my husband had no clue why I wanted one so badly (he was certain it was another kitchen gimmick). Now, a bit over a year later, we can't imagine being without our air fryer. It is so much healthier than a traditional fryer too, making it great for cooking a variety of things. One of the things I haven't really had much time to do at all though is try out many air fryer recipes. As I was looking at trying out some various recipes, I was asked to review a new cookbook that seemed perfect to starting out with air fryer cooking – 5 Ingredient Air Fryer Recipes by Camilla V Saulsbury. After reading a bit about this book, I couldn't wait for it to arrive!
5 Ingredient Air Fryer Recipes: What is It?
Looking for some fun new recipes for your air fryer? If so, we think you will love 5 Ingredient Air Fryer Recipes. Here is where the publisher has to say about this new cookbook:
Life is filled with countless little pleasures – crispy, crunchy fried food is one of them.

Thanks to the invention of the home air fryer, which relies on hot air rather than hot oil to "fry" foods, you need not wait for weekend splurges or special occasions to savor this simple delight. You can enjoy fried foods anytime, with a fraction of the fat and calories and none of the messy cleanup left in the wake of traditional oil-fried foods.

But why stop there? What if your favorite fried foods (and so many more) could be made with a small number of familiar ingredients, minimal preparation and little time? If that sounds too good to be true, think again, because such recipes are yours for the making in 5-Ingredient Air Fryer Recipes.

All of the recipes in this collection require no more than five ingredients (excluding salt, pepper, water and cooking spray), and most can be fully prepared in just 15 to 20 minutes. Each recipe is unique, designed exclusively for the air fryer and downright delectable. The results are every bit as irresistible as higher-fat options – perhaps even more so. Moreover, each dish is delicious proof that a recipe needn't rely on expensive, hard-to-find ingredients and complicated steps to be excellent.

Whether you are a novice or a well-seasoned air-fry cook, you will find recipe after recipe that delivers impressive results, time and again. This collection will inspire you to head to the kitchen to let the air-frying fun begin. The recipes will carry you through every type of occasion, from an impromptu party with friends to quick meals before and after work, as well as through every season of the year.
5 Ingredient Air Fryer Recipes: Our Thoughts
I will freely admit, I was very excited when 5 Ingredient Air Fryer Recipes arrived. As someone who doesn't know how she lived so long without an air fryer, I loved the idea of being able to quickly and easily make unique things in my air fryer. Don't get me wrong, I love frozen meals and quick snacks, but being able to make an actual meal, at home, with ingredients I already have in the house? How cool is that!? What probably made me even happier though is that the book did not disappoint. To be honest, I am amazed just how many fancy things I could make in my air fryer, including donuts, pork tenderloin, and even homemade fried calamari! Probably the best part though has to be the instructions. Every recipe has clear instructions and an easy layout for cooks of all levels to make, making it a great addiction to just about any kitchen. After getting this cookbook, I can't wait to start cooking and experiment more with my air fryer!
5 Ingredient Air Fryer Recipes: Where to Purchase?
Would you like to purchase this awesome cookbook for yourself or someone you know? You can find 5 Ingredient Air Fryer Recipes on Amazon.com for only $17.63. We are certain that once you try this cookbook, you won't think of your air fryer the same way again!