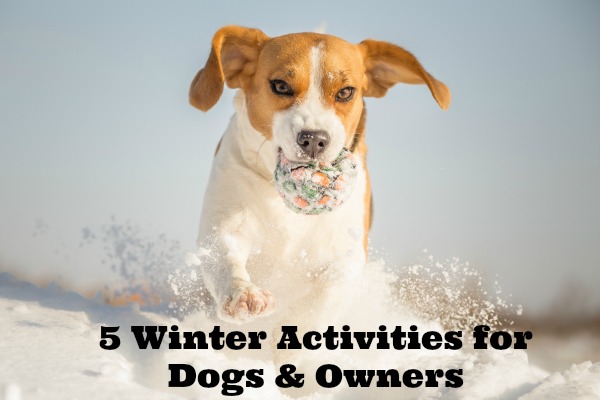 Being active during the winter is tough – not just for humans but dogs as well. None of us really want to go out in the cold, and sometimes our dogs can be included in that, just wanting to snuggle by the fireplace. To keep all of us happy and healthy, its important that we get moving during the winter and do some sort of activity. Luckily, getting our dog involved is not only fun, but makes exercising not so painful! Below are five of our favorite outdoor activities with dogs!
Hiking – During the winter, hiking is one of our favorite activities. Reya loves exploring the woods, and it's even more fun if she go through a snowy trail. Don't forget that during the winter you should still carry a backpack with a first aid kit, food, and water for both you and your dog.
Tracking – While it may sound silly, this is the equivalent of hide and seek for dogs. By having your dog track treats and other items, you are helping with their problem solving skills, allowing you to turn playtime into training as well. If you have not worked on tracking before, consider talking to a local trainer or looking for a book on tracking.
Snowball Fight – One of our malamute's favorite activities is catching snowballs. Snowball fights are fun for the entire family, but just make sure you are throwing loose snowballs so that they don't accidentally hurt your dog or cause harm if they decide to catch or eat the snow.
Fetch – Did you think playing with balls and Frisbees was only for the warm weather? Guess again! Dogs love chasing things outdoor just as much as during the summer, and it's even more of a challenge if thick snow is involved!
Sledding – As silly as it may sound, dogs love sledding in some form. Some like pulling, others like nothing more than to get on a sled with humans and have some fun. Others may have just as much fun chasing kids as they slide down a hill! Just make sure your favorite sledding spot is nowhere near roads!
Of course, make sure to keep your time outdoors limited. The last thing you want to do is make your dog sick. Once you come in, make sure you take care of your dog's winter grooming needs, such as getting them dried off and taking care of their paws. If your dog is anything like our Reya, they will also be quite interested in getting food and water since keeping their body temperature regulated during the winter requires extra calories.