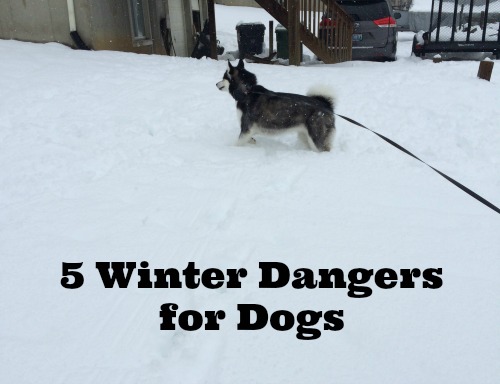 Is there one thing your dog looks forward to during the day? For Reya, nothing is better than 'walkie time'. The moment she sees us pick up the leash she does hops and is so excited we almost have to wrestle her to hook her leash. While we know she loves going outside it can be unnerving to pet parents like us since there are so many dangers during the winter. Not only do we have to worry about the cold itself, but chemicals used in cars and thawing the ice itself! Knowing that winter can be concerning for us all of us, we included 5 of the biggest winter dangers for dogs and cats.
Beware of Salt & Chemicals to Thaw Ice – I know I have stressed this in other articles, but please be careful of salt and chemicals used for melting ice. While they may not seem like anything to us humans, they can cause burns and skin abrasions. When licked, it can also cause tummy issues. To avoid these issues, clean your dogs paws well, or better yet, have booties!
Antifreeze or Ethylene Glycol Poisoning – If I had to pick the most dangerous thing outdoor to our furry friends, it's antifreeze. Many people change their antifreeze during the winter and some unintentionally spills (or worse, people just dump it). This very toxic poison smells and tastes sweet to pets. The main ingredients in antifreeze, or Ethylene Glycol, is extremely toxic and is one of the leading causes of accidental illness and death of pets every year. In a short period of time, pets can suffer from severe nervous system and kidney damage, which even with vet assistance, sometimes can still lead to a horrible death. To be safe, keep your dog away from parked cars or anything that looks 'odd' on the ground, just to make sure! As well, avoid having your dog eat snow near these areas.
Frostbite – If your furry loved ones are anything like my Reya, they love nothing more than running around in snow and having fun. Unfortunately, like us, frostbite is a major concern, especially on exposed skin like paws, the nose, tail, and ears. Dogs may start noticing they feel funny and try licking exposed skin that doesn't feel right. When you get inside, check to see how these areas feel. One sign of frostbite is pale, hard skin that remains cold after dogs have been inside. Immediately call your vet if this happens and never ever expose this area to hot water or heat packs. To avoid this from happening, have your dog in booties, a coat (some breeds), and don't keep outside for too long!
Beware of Ice – Like us, ice can be very dangerous for dogs. While we may carefully try maneuvering on sidewalks, they are running full speed on top of ice covered by snow. Falling on ice can be just as hurtful and they don't have clothes to protect them from scrapes and cuts. To be safe, keep dogs away from unknown areas, especially if you are unsure if there may be ice or other hazards under the snow. As well, avoid lakes and streams that are frozen over. Even though they may look solid, they may not be as solid as you think!
Food – While we all want to think people are honest, this is the time of year we really need to be careful about food being left in unknown places. Some 'not so friendly' people leave out poisoned food to get rid of animals trying to find a warm place for the winter. This can sometimes mean feral cats and dogs too. As a safety measure, keep your dogs and cats away from any strange food laying around, especially since they may be extra hungry from being out in the cold after a long walk!
Once dogs come inside, make sure they have access to fresh food and water. With the cold calories, dogs especially need extra calories to keep their body temperature regulated. Just make sure it isn't just calorie dense but nutritious too!