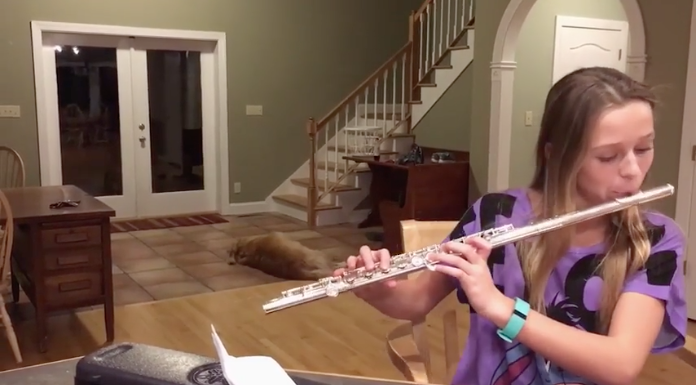 Let's set the scene. One of your children is practicing a song on an instrument that they're learning how to play. We've all done it. We've all played that same song over, and over, and over again. We keep practicing until we get it right, and it's perfect to us.
Oh the sweet joys of remembering how to play, "Little Brown Jug" on the piano. I remember it so well, however, my family remembers it even more than I do. From the clicking of the keys, pressing the wrong notes, and getting the rhythm wrong…my family remembers well.
This dog seems to remember well, too and he has totally had enough. Every time this girl starts practicing her song on the flute, he starts howling and growling. It's definitely hilarious because, you know – enough is totally enough. He has suffered enough and wants her to stop.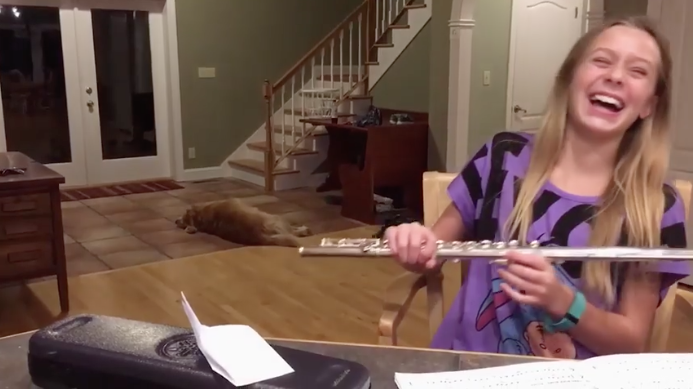 Of course, laughter ensues. The girl can't stop laughing, and neither can her sister that is recording everything.
This champ of a dog just lies there, while barely moving a muscle. He keeps putting her in her place when she tries to play her flute. He gives her the warning sounds. She laughs. She tries to play her flute again.  And again. And again.
At this point, we don't blame him at all. We would be howling with him. Just watch the video below and tell us how you would feel.
Hopefully, the girl has moved on to newer songs so the poor dog can get some peace and quiet of the listening to her fail to play the song properly. Hopefully, she won't drive him crazy and play it more than a few times around. She already knows what her punishment is going to be if she does it more than the bare minimum amount!
What hilarious things does your dog do to show off their personality or human based frustration of not being able to do it right the first time? Tell us about it in the comments below!
Would you like to have your products featured in a giveaway event? Want to increase your social media exposure? Contact susan.l.bewley@gmail.com to see how I can help YOUR company today!