Disclosure: I received these products for free to review. The opinions in my review are honest and my own.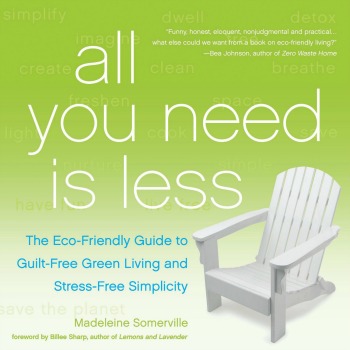 I will be honest – I am sometimes nervous to tell people I try to live eco-friendly and I have a site that tries to teach others how to be green without drastically changing their lives. Many of us are used to the guilt trips we hear through the media or get from other sources. Personally, if someone tries to guilt trip me, I dig my heels in and try to do the exact opposite of what they want – it is just in my nature, and I usually have a reason behind what I do to begin with. I try incorporating what I can into my family's life and find that many of the best methods also save us money. When I found out there was a new book on the market that discussed what I have tried to teach for years, I was super excited and couldn't wait for my copy of All You need is Less to arrive!
All You Need is Less: What is It
Looking for a guilt free book to help you live more in a more eco-friendly way, and save money? If so, we think you will love All You Need is Less. This unique book does away with the guilt trip that takes up the first half of many green books, and gets straight to the point – teaching you how to pick the right products, make your own, or even tips to save the environment while going to your favorite restaurant. Best of all, anyone can do these tips, even those who live on a tight budget! For instance, once you have tried some of the awesome cleaner recipes in this book, you won't go back to your old cleaners again!
All You Need is Less: Overall
As someone who tries teaching others to realistically live a green lifestyle, I absolutely LOVE this book. It does away with the guilt trip that fills most eco-friendly books and gets straight to what you want most – tips on how to live green that are easy enough for just about anyone and will save you money or not cost you much of anything at all. Many of these tips range from ways to make your own dryer sheets to little tips on how you skip the disposable cups at your favorite coffee shop. All of the tips are very down to earth and easy for just about anyone. Based on our own experience with this book, we are happy to give All You Need is Less an A rating.
All You Need is Less: Where to Purchase
Would you like to purchase this awesome, eco-friendly and stress free book that will also save you money? You purchase All You Need is Less on Amazon.com for $9.99 on the Kindle or $12.18 in paperback.
Disclosure: Budget Earth did not receive compensation but did receive products for review purposes. Budget Earth may, however, receive compensation through purchases from affiliate links in this post. All opinions on this product are my own and may differ from our readers' opinions.
Would you like to have your products featured in a giveaway event? Want to increase your social media exposure? Contact susan.l.bewley@gmail.com to see how I can help YOUR company today!