Disclosure: I received this product for free to review. The opinions in my review are honest and my own.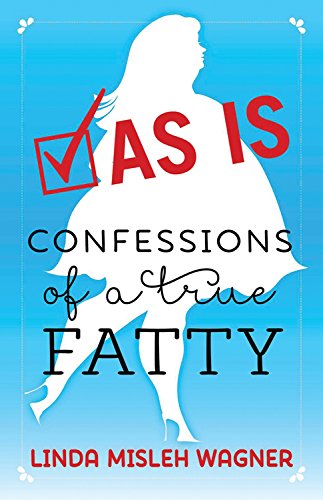 While many of us may not want to talk about it, obesity is becoming a huge issue in the United States. With over a 1/3 of the population classified as obese, it is time that many of us start a conversation about the matter in a way that is not just consolatory or accepting, but works on finding the reason behind this problem. With a billion dollar dieting industry, it is time we start figuring out why people aren't losing weight and what we can do to solve it. Recently, I read an interesting book that goes into this topic – As Is: Confessions of a True Fatty.
As Is: Confessions of a True Fatty: What is It?
Looking for a book discussing the reality of obesity and someone who has struggled with her weight her entire life? If so, we think you will love As Is: Confessions of a True Fatty. This book, by Linda Misleh Wagner, explores how her life contributed to her not only being obese, but food addicted. She confesses to this in the book, and explains how events of her life and things that happened around her lead to her yo-yoing with her weight her entire life. Through it, however, you see how she is working on overcoming her food addiction and turning her life around.
As Is: Confessions of a True Fatty: Overall
In all honesty, I had no clue what to think when I first picked up this book. I thought I was going to get someone's inspirational story on how she lost weight, but instead, got a book that opened up the true discussion on obesity – how it happens and that food addiction is something that is truly a problem. While the book goes over her addiction with food, family life, and the tragedies that have happened in your life, you can't help but see why she kept going back to her food addiction, and how just about anyone can relate to her quest to lose weight. She also spends quite a bit of time discussing the importance of having self confidence and not letting your weight control you, which I found to be fascinating.  Even with her tragedies, you can't help but smile and laugh at her humor, which made this one of those books that was very hard to put down. While it is not, strictly speaking, an inspiring story, it is a realistic one that can easily open up dialog with anyone trying to lose weight (or who has been fighting their weight for a while) and how weight loss is more than just losing weight and watching food, but dealing with the psychology of it as well. My only complaint was that the closing of the book seemed a bit odd and confusing, leaving you wanting to know more. Overall though, it was a pretty good book! Based on my own experience, I am delighted to give As Is: Confessions of a True Fatty an A rating.
As Is: Confessions of a True Fatty: Where to Purchase
Would you like to purchase this book for yourself or someone you know? You can pick up a copy of As Is: Confessions of a True Fatty on Amazon.com for only $13.88.
Disclosure: Budget Earth did not receive monetary compensation for this review, but did receive products for review purposes.  All opinions on this product are my own honest assessment, and may differ from our readers' opinions. 
Would you like to have your products featured in a giveaway event? Want to increase your social media exposure? Contact susan.l.bewley@gmail.com to see how I can help YOUR company today!