As some of you may know, I do quite a bit on a normal day. Typing, running errands, gaming, and exercising. Probably the worst strain I have is spending countless hours a day typing, leading to some repetitive strain in my hands. For this reason I am always excited to try out new and exciting products to help me keep going about my day. Recently, though Tomoson, I had the chance to try out a new natural product designed to help inflammatory pain – Ateevia Botanica Prime.
Ateevia Botanica Prime
Like me, you likely had never heard of Ateevia Botanica Prime until this review. This product actually started as a family secret, rediscovered by a physician trying to find his grandfather's botanical recipe to alleviate pain. His hope was to find something to help his mother deal with her own pain since she suffered from rheumatoid arthritis. After years of research, he created this botanical cream that eliminated his mother's painful symptoms, allowing her to go about her daily life.
Today, after quite a few clinical test, this cream is available to the public, allowing anyone in pain to have an option that is perfect for regular daily use. Unlike many other botanical pain relief creams, there are no side effects to this cream and it can be applied as much as you like, allowing you to deal with your pain right when it happens. By the way, before I go into the review, I want to bring up that Ateevia Botanica Prime is not tested on animals. As some of you know, I am a BIG animal person, so I try avoiding companies that believe in animal testing.

Ateevia Botanica Prime: Look & Smell
When I first opened Ateevia Botanica Prime, I had no clue what to expect. It came in a very pretty, natural looking box and the tube itself had a very nice, neutral color scheme. What I wasn't expecting was for the cream itself to be an odd brown color with a bit of a sandy texture. This sandy texture is great for massaging achy muscles and some injuries, but it does take a bit of a mental adjustment since it does feel so odd. In all honest, I had to keep myself from washing it off the first time I used it since it just felt so odd. The good news is that Ateevia Botanica Prime does not stain clothing. This was my first concern when I saw this color and I am happy to report that I do not have any oddly colored jeans or t-shirts!
As for the smell itself, it smells very earthy. If you are someone who loves to garden, it smells mostly like fresh plants right before they start blooming. This earthy smell is good since it means there were no fragrances added to Ateevia Botanica Prime, making it perfect for those who suffer from allergies. For people who aren't used to natural smells, however, it may take some adjustment since it does not smell flowery. The majority of people, however, will likely find the smell to be relaxing and therapeutic.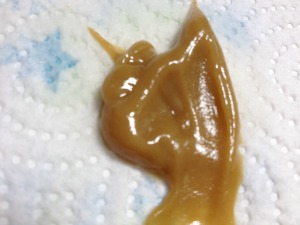 Ateevia Botanica Prime: Usefulness
The first time I used Ateevia Botanica Prime, I was disappointed since nothing really seemed to happen. Deciding to follow the directions, I kept using it multiple times throughout the day on my wrists. I found that after the third use, the pain was starting to go away. Since this stuff is safe to use as much as you like, this isn't too bad. What really showed me that Ateevia worked, however, was when I got sick with bronchitis over the Christmas holiday. My throat felt terrible and I completely lost my voice due to the pain. Since this cream claims to be safe, I decided to use it on my throat. Within about five minutes, much of the uncomfortable pain I got from around my neck was gone. While it obviously did nothing about the internal pain, it made me feel much more comfortable, allowing me to sleep more comfortable with covers and wear hooded shirts without being uncomfortable. From my own experience, it seems to work well against most types of pain if you are willing to put on multiple treatments throughout the day.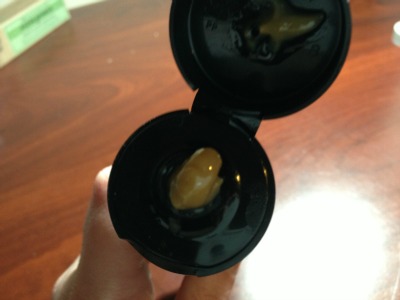 Ateevia Botanica Prime: Overall
At first I had no clue what to think about Ateevia Botanica Prime, but I have to admit, this inflammatory cream is growing on me. It is very different from any other typical of pain relief cream I have tried in the past and I am curious to see what other members of my family think of this cream. So far, I would give this cream an B rating. My big complaint with the cream is that it has a very odd texture and sandy feel that make it a cream you can really only use at home. While it may not be the best pain relief to keep in your purse, it is great addition to any medicine cabinet to deal with annoying pain caused by sprains, sickness, or minor sports injuries.
Ateevia Botanica Prime: Purchase
Currently, Ateevia Botanica Prime can be purchased directly from the Ateevia website for $19.99 a bottle. To see the latest offers and information about Ateevia, feel free to check out their website or their new Facebook fan page!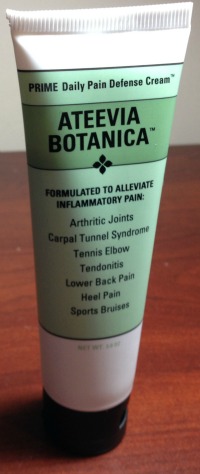 Disclosure: Budget Earth did not receive monetary compensation for this review and giveaway, but did receive a bottle of Ateevia Botanica for review purposes via <Tomoson.com. All of the opinions on this blog are the opinions of said author and these opinions may differ from your own.