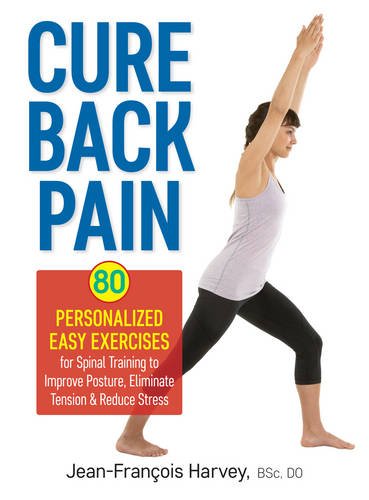 Is there anything more annoying than back pain? While it may sound pretty minor, back pain can easily turn a relaxing, fun day into a nightmare. Even worse, when you spend the day instead laying in bed or on the couch, unable to do much more than trying to figure out a way to better manage your pain. While most of us think the cure to back pain is taking pain killers, most of the time it can actually be improved or even fixed entirely with exercise and improved posture. Recently, I was asked to look at Jean-Francois Harvey's latest book – Cure Back Pain: 80 Personalized Easy Exercises and see what I thought. After receiving my complimentary copy in the mail, I couldn't wait to get reading!
Cure Back Pain: What is It?
Looking for a book to help you manage back pain? If so, we think you will love Back Pain: 80 Personalized Easy Exercises. This spinal training program is designed to be easy to follow, safe, and an effective tool to not only ease back pain, but avoid and eliminate it all together. Best of all, you can customize the routine to your lifestyle, making it part of your everyday activities or part of your normal workout. With beautiful illustrations and proven results, back pain will soon be a thing of the past!
Cure Back Pain: Our Thoughts
Honestly, I thought this was a very interesting, practical book. While the exercises obviously can't eliminate all types of back pain, it can help reduce different types of back pain with anywhere from 3 to 30 minutes of exercise. Best of all, each exercise is beautifully illustrated in the book, allowing anyone to follow along and follow these easy to do exercises. Most are easy enough that you can incorporate them in your daily routine without a great deal of effort. Based on our own experience, we are happy to give Back Pain: 80 Personalized Easy Exercises an A rating.
Cure Back Pain: Where to Purchase
Want to purchase this book for yourself? You can buy Cure Back Pain: 80 Personalized Easy Exercises on Amazon.com for only $16.33.
Disclosure: Budget Earth did not receive monetary compensation but did receive products in exchange for this post review. This post may have affiliate links.  All opinions on this product are my own and may differ from our readers' opinions.
Would you like to have your products featured in a giveaway event? Want to increase your social media exposure? Contact susan.l.bewley@gmail.com to see how I can help YOUR company today!