As some of you know, I try reusing just about everything in my household. Yes, I am proudly one of those ladies who use jelly jars as cups or find creative uses for old plastic jugs. Some people may call me a pack rat, but I consider it finding creative ways to keep things I purchase out of landfills. One thing that has always frustrated me is plastic grocery bags. They are one of those things that I both love and hate. When I lived in New Jersey, I bought reusable bags and lugged them around with me everywhere. While these bags were great in theory, I always forgot to bring them with me or found it wasn't worth the hassle of carrying in ten to fifteen cloth bags. This left me stuck with those plastic bags, which only had the use of being trash bags in the car or spare bathroom. Recently, however, I found the coolest thing ever for reusing these bags – the BAGGEE.
BAGGEE: What Is It?
Unless you hang out on Tomoson or European websites, you have likely never heard of the BAGGEE. As someone who loves to keep up with eco-friendly products, I was surprised I hadn't heard of the BAGGEE sooner. For those who had never seen the BAGGEE, it is a small, hollow ball that is about 2.5 inches in diameter. The ball itself is rather flexible and designed to hold multiple plastic grocery bags. From my own experience, this keychain holds about two to three plastic shopping bags. Due to its size, it is perfect to use as a keychain or as a small trinket to keep in your car or purse. While it seems like a rather simple bag holder, it is perfect for quick trip to the store or guaranteeing you have plastic bags when messes happen (pet owners know what I mean).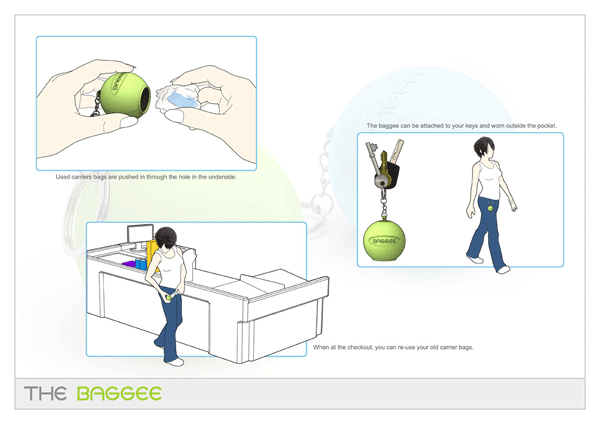 BAGGEE: Usefulness
Like just about everyone here, I feel like I never have a bag on me when I need them. One of the places that frustrate me the most being bagless is Sam's Club. I know they have boxes available but these boxes have always seemed bulky and impractical to me. Besides, the last thing I need is more clutter in my house! With the BAGGEE, I can take always have two to three plastic bags at hand. Since the ball is also relatively small, it fits perfectly on or in my purse, allowing me to have trash bags in my car or bags for the Farmers' Market once it opens again in the Spring. I never realized how often I wished I had bags until I had them available. In all honesty, I think the BAGGEE is one of the neatest eco-friendly gimmicks I have seen in a long time! I can see why they so popular in Europe!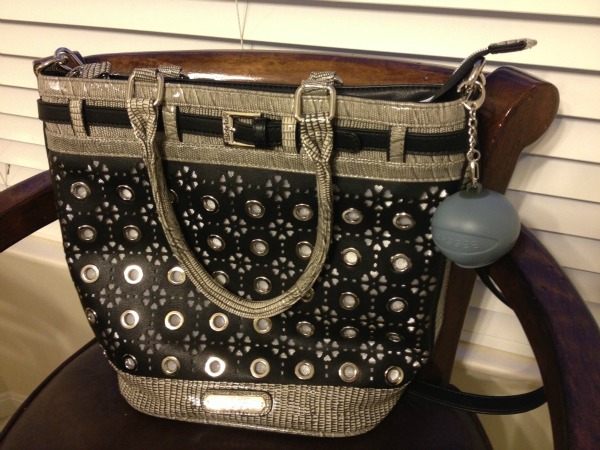 BAGGEE: Overall
As someone who loves to reuse just about everything, I have to say that I consider the BAGGEE one of the spiffiest eco-friendly items I have seen in a long time. I love always having a bag available, and I can see these being perfect for shopping, cleaning trash in the car, or even picking up icky animal messes. Personally, I don't use it as a keychain, I just throw the ball in my purse and am ready to go. From my family's own experience, I give the BAGGEE an A+ rating and highly recommend them to anyone!
BAGGEE: Where to Purchase
Do you think the BAGGEE is perfect for you? If so, you can purchase this cool eco-friendly key ring at Living Innovation. Normally, this reusable bag holder sells for $7.99 a piece, but they are currently on sale for $6.99. They are also available in six fun colors – blue, green, grey, pink, purple, and turquoise. As you saw from my pictures, we own the gray and turquoise BAGGEE and love them! For those who are constantly on the go like me, this seems like a great price for keeping your car neater and having bags handy quickly. For more information on the BAGGEE and other eco-friendly items, make sure to check out Living Innovation on Facebook!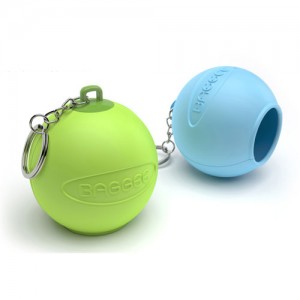 Disclosure: Budget Earth did not receive monetary compensation for this review and giveaway, but did receive two BAGGEE keychains for review purposes via Tomoson.com All of the opinions on this blog are the opinions of said author and these opinions may differ from your own.