Disclosure: This post is sponsored by Bayer® ExpertCareTM and the BlogPaws Influencer Network. I am being compensated for helping spread the word about Bayer ExpertCare products, but Budget Earth only shares information we feel is relevant to our readers. Bayer ExpertCare is not responsible for the content of this article.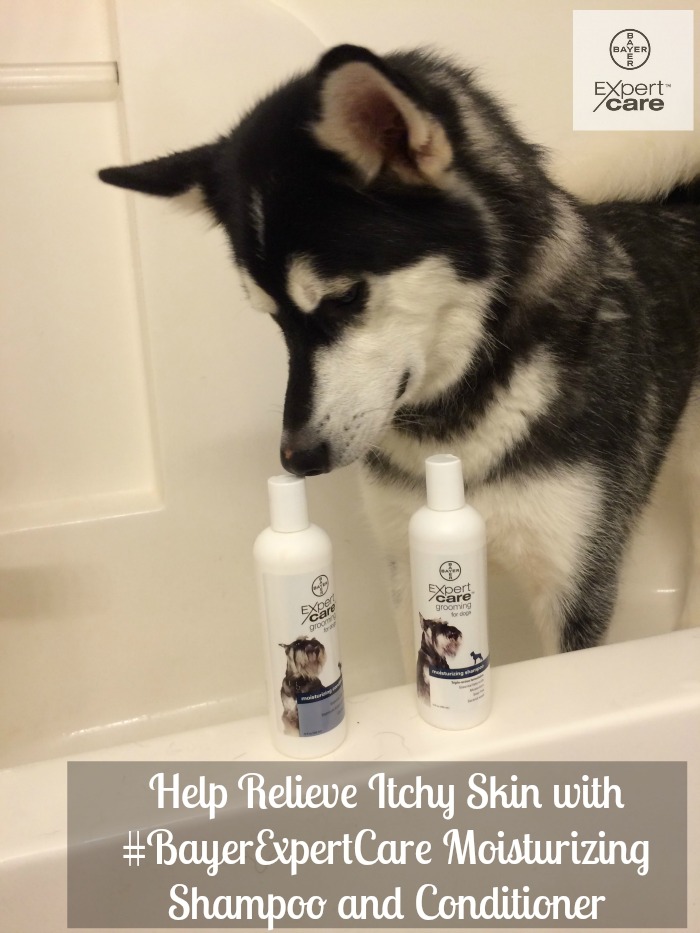 As an owner of dogs with double coats, I have to say that we spend quite a bit on grooming products for dogs. For those who don't know about double-coated dogs, like Alaskan Malamutes, twice a year they completely shed their undercoat. This fun experience is known as 'blowing coat'. Some of you may have even seen Reya's post on Instagram the last time I remembered to take a picture with our entire yard looking like it snowed with all the fur coming off in handfuls. While this obviously means lots of brushing, bath time with products specially formulated for dogs is also super important, especially since blowing coat usually leads to dry skin. Luckily, we recently found an awesome line of products specializing in skin care for dogs and cats – Bayer ExpertCare™ at PetSmart®.
As some of you may remember, we have slowly been becoming a fan of  Bayer ExpertCare products, especially after trying the Bayer ExpertCare Ear Care Rinse. All of their products are not only designed to be easy to use, but specially formulated for cats and dogs. This means that we have high quality products, from a brand we trust for humans, that will help support Reya and Ivi's skin, ears, and even digestive system. They are, by far, one of the best health and wellness pet brands we have tried, and we love that they have a full line of quality care grooming products for our dogs.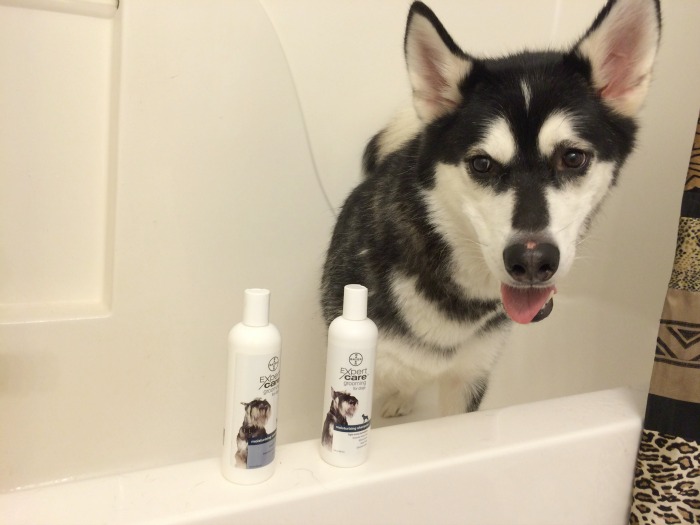 To our delight, the Bayer ExpertCare Moisturizing Dog Shampoo and Bayer ExpertCare Moisturizing Dog Conditioner are just as we expected. Both of the shampoo and conditioner are formulated to be hypoallergenic for dogs. As well, their soap-free shampoo is formulated routine cleansing and grooming, while providing extra moisturizers and essential fatty acids that clean, replenish moisture, and protect our dogs sensitive skin. From there, the conditioner is made with additional moisturizers to soften dogs' skin and leave their coat lustrous, manageable, and super soft. Best of all, it helps control flaking and scaling, something that is very common in double coated dogs while they are blowing coat!
Before I get more into the Bayer ExpertCare Moisturizing Shampoo and Bayer ExpertCare Moisturizing Conditioner, I want to remind everyone that Reya is not a fan of bath time. If she thinks there is even a chance she is getting a bath, she will high-tail it. To make bath time easier, we give her baths in our spare bathroom with a massage shower head, to help make the experience more pleasurable. Not only does this make Reya happier, it makes bath time less miserable for everyone, especially when Reya is dealing with dry skin and feeling miserable from blowing coat.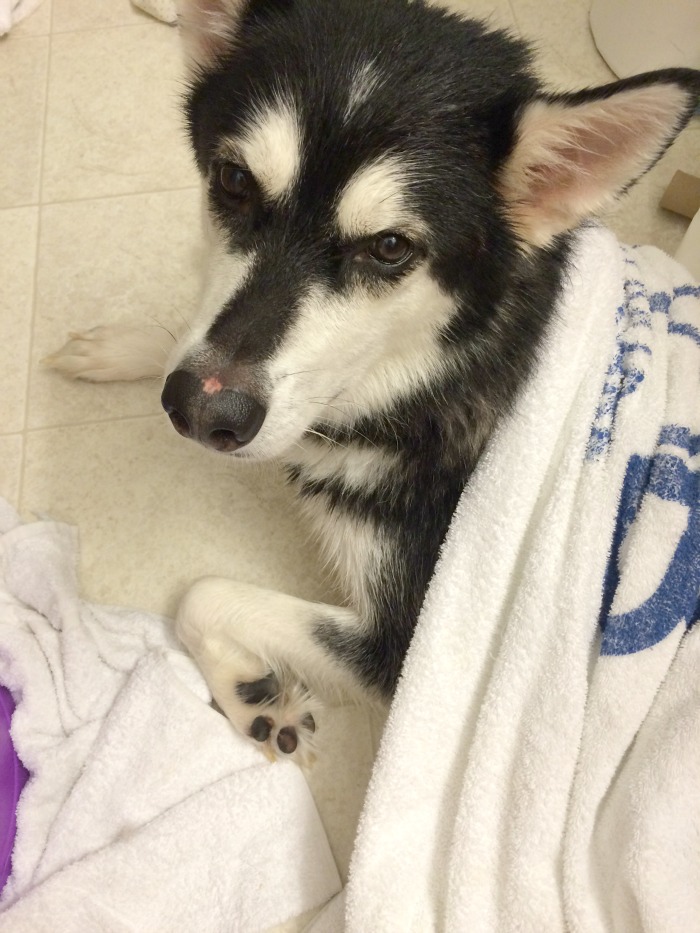 We knew it was a good sign though when Reya smelled this new shampoo and conditioner and loved the smell. Honestly, she was intrigued with the coconut smell and wanted to eat it! Its rare that we find a product that isn't overpowering when it comes to scents, giving Bayer ExpertCare Moisturizing Shampoo and Conditioner  a good start. From there, I was surprised at just how little it took to wash our dog. Normally, it takes anywhere from 1/3 to half a bottle of a product to clean Reya. With this line of grooming products, we barely used a 1/4 of the bottle of both the shampoo and conditioner, and Reya was fairly patient through the entire experience. In the end, we had a super soft dog that smelled absolutely amazing!
So, what did we think? Overall, I have to say that Bayer ExpertCare Moisturizing Shampoo and Conditioner was a major win in our household. Not only was Reya happy once the whole bath experience was over, but she seemed more confident and comfortable, making me a very happy dog mom! Honestly, I can't wait to try more of Bayer ExpertCare for dogs products at my local PetSmart! To see what products are sold at your local PetSmart store, make sure to check out the full listing of Bayer ExpertCare Dog andBayer ExpertCare Cat products here!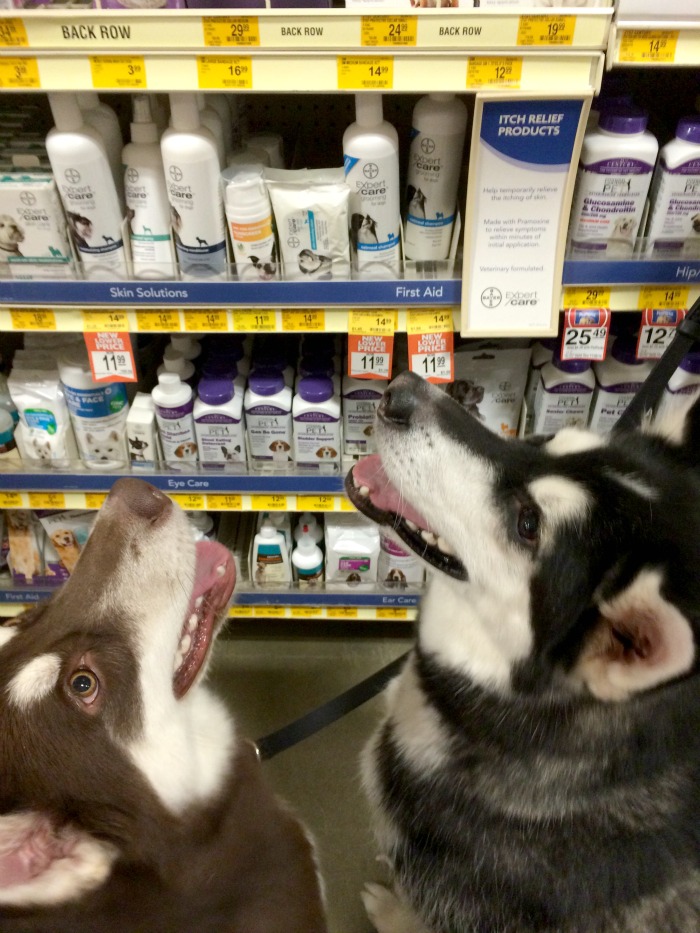 Need to find your local PetSmart? Find the store nearest you using their store locator!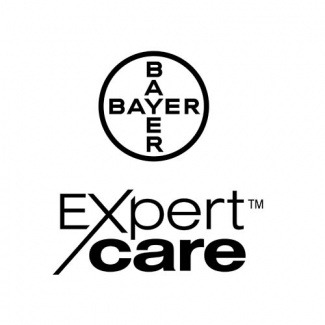 Disclosure: Budget Earth received monetary compensation for this article, as well as products.  All opinions on this product are my own honest assessment, and may differ from our readers' opinions. 
Would you like to have your products featured in a giveaway event? Want to increase your social media exposure? Contact susan.l.bewley@gmail.com to see how I can help YOUR company today!