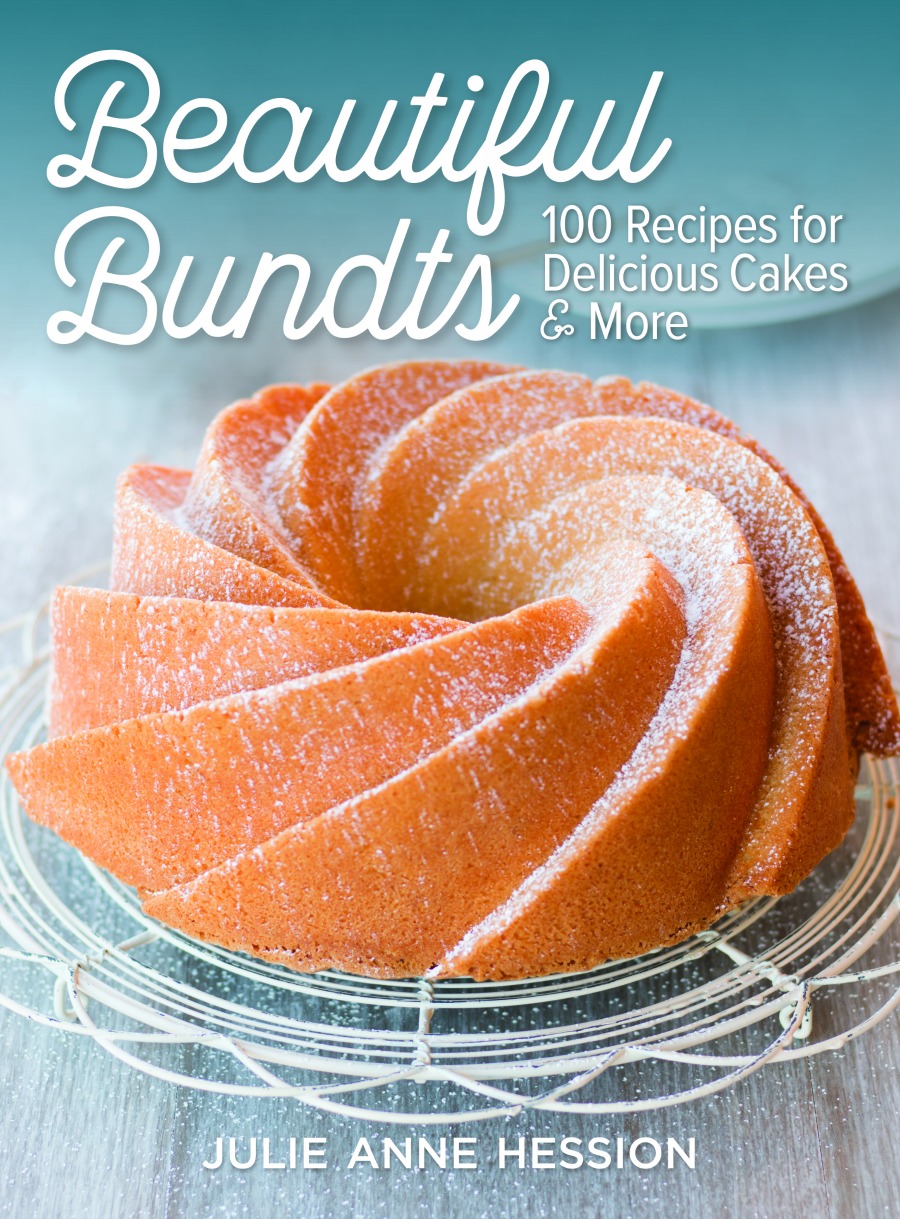 Do you go looking for bundt cake recipes during the holidays? Personally, I love bundt cakes not just because they are usually flavorful, but so easy to  make look amazing, especially with limited time. I have a variety of fun bundt pans, from a fun dragon bundt pan to a cute Christmas bundt cake pan, helping me easily turn any cake into a work of art. My problem, however, is sometimes finding amazing bundt cake recipes since the cake itself should stand out at least as well on the fork as it does on a plate! Unlike traditional cakes, the thickness of a bundt cake means you can't just depend on the icing to make a bland cake stand out. As all of you know too, I absolutely love cookbooks and it makes me so excited when I find a new dessert cookbook. Just in time for the holidays, I was able to get my hands on a brand new bundt cake cookbook – Beautiful Bundts: 100 Recipes for Delicious Cakes and More!
Beautiful Bundts: 100 Recipes for Delicious Cakes and More: What Is It?
Looking for some delicious bundt cake recipes? If so, we think you will love Beautiful Bundts: 100 Recipes for Delicious Cakes and More. Here is what the publisher has to say about this new cookbook:
The appeal of bundt-style cakes is stronger than ever.

The distinctive ring shape of a Bundt pan is more popular than ever, with many next-generation bakers discovering their unique and iconic shape for the first time. Julie Hession has created 100 delicious and versatile recipes for every occasion featuring the retro classics enjoyed as a child, to modern pull apart Bundts like Monkey Bread which have exploded in popularity.

The recipes are simple and easy to make, and the results are spectacular. There's sweet to savory including vegan and gluten-free options so absolutely everyone can enjoy her sumptuous cakes. Full color throughout will show just how spectacular a slice of Bundt cake can be. There are also loads of helpful advice, tips and techniques to get started, from key ingredients and how to glaze and ice a cake, to step-by-step photos on how to effortlessly make a gorgeous layered and swirled Bundt.

The recipes begin with basic Bundts like Best Ever Chocolate Bundt, Lemon-Lover's Bundt Cake and Gluten-Free Banana Chocolate Chunk Bundt which are anything but basic in taste and texture. Fabulous breakfast and brunch Bundts like Spiced Cranberry Orange Pecan Bundt or Caprese Strata Brunch Bundt will please all. For the holidays a Gingerbread-Pear or Cinnamon-Raisin Challah Bundt, and Mini Chai-Spiced Bundts with Vanilla Glaze are really special.

The pull apart Bundts or Monkey Breads are a baker's dream, from Maple Bacon Monkey Bread and Orange Pecan Sticky Bun(dt)s to Savory Cheese and Herb Monkey Bread. Day or night, the home-made goodness of a Bundt cake makes the home baker a pro.
Beautiful Bundts: 100 Recipes for Delicious Cakes and More: Our Thoughts
Oh if heaven could be a cookbook, I think it would have to be this bundt cake cookbook. I honestly don't think I have seen a single bundt cake recipe in this cookbook that my entire family wouldn't eat up. It even has recipes for pull apart breads – something I'd never considered for my bundt pans – that sound truly delightful. Oh, not only are the recipes very easy to follow, but accompanied by gorgeous food photography.  Honestly, this is going to be a very dangerous cookbook for my diet since I want to make everything – especially the red velvet bundt cake with a cream cheese icing swirl.  Yum!
Beautiful Bundts: 100 Recipes for Delicious Cakes and More: Where to Purchase?
Want to purchase this cookbook for your own collection or as a fun holiday gift? You can find Beautiful Bundts: 100 Recipes for Delicious Cakes and More on Amazon.com for only $16.77. Don't forget, you also get free shipping if you have Prime membership (or a Prime free trial)!