As much as I hate to admit it, I'm not very girly. Yes, I'm one of those tomboys who would prefer to play Dungeons and Dragons or an MMO then get all dolled up. When I do decide I want to look nice though, I go all out. The biggest problem I have is that sometimes I'm out of the loop when it comes to the latest beauty products. Even worse, I can't imagine anything worse than going through a store and looking at different types of makeup. With how clueless I am, it usually ends in a complete meltdown for my debit card, leaving me with a lot of makeup I may or may not even like.
When I found out there were beauty subscription boxes, I was all about it. What is better than getting the beauty products I need sent right to my door? Even better, I could experiment with different products to see if they were right for me before buying a large amount of makeup. Wanting to learn more, I reached out to Beauty Box 5, one of the most well known beauty subscription boxes out there. They didn't just get back with me, but allowed me to review their recent box for free!
Beauty Box 5: Opening
Beauty Box 5: What is It
Like many other subscription boxes, Beauty Box 5 allows you to experiment with a variety of different products, letting you see if the products is right for you before you buy a full size version of the product. Each month, this beauty subscription box service sends out a box filled with 4 to 5 products. These products are a mix of makeup, skin care products, hair care products, fragrances and a few other surprises!
Beauty Box 5: La Fresh Instant Body Soother
Out of all the products in the Beauty Box 5, these have to be my favorite. These cleaning clothes help you de-stress by not only cleaning your skin, but allowing you to massage away your worries. As a big fan of peppermint essential oils, this body soother seems to be made for me!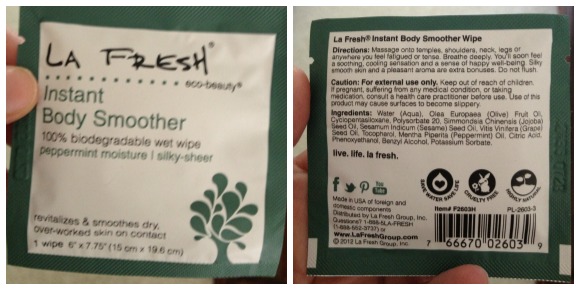 Beauty Box 5: Minxxette Brush Hanger
Okay, this was one of those products that seems silly at first and the more you think about it, the more brilliant it seems. As someone with a very large pup, it is important I keep anything important out of her reach. Can you think of anything worse than a make-up covered pup? To keep your brushes out of the reach of animals and children alike, you just stick this up on the mirror and you are good to go!

Beauty Box 5: Jean Pierre Cosmetics Oil Absorbing Tissues
This was one of those products thought was a bit neat. I hate when my skin is shiny, especially during very humid days. All you do is rub your face with one of these tissues and your face looks even and smooth. Great to use before makeup or the days you want your skin to look smooth when you go a la natural.

Beauty Box 5: Model Co Illusion Lip Pencil
I'll be honest, I rarely use a lip pencil, so this product was a bit wasted on me. I gave it a quick try though and found that it was very easy to apply. The makeup also wasn't so soft it was difficult to work with, which is one of the main reasons I usually avoid these pencils. I really liked too that it was a nice, neutral color, allowing me to use this pencil with any shade of lipstick.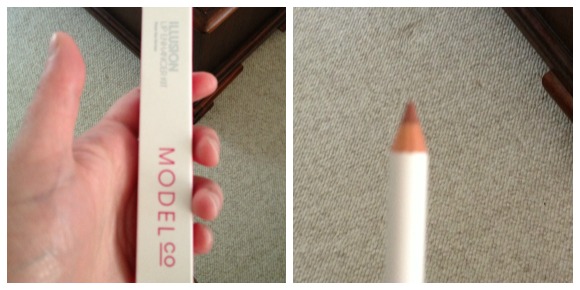 Beauty Box 5: Brazen Cosmetic Eye Shadow
Okay, I am one of those girls who loves organic and all natural makeup. While I had never heard of Brazen before this box, I had a feeling I was going to love it when I saw it was organic. The feel of the eye shadow was very light and I thought it was very easy to apply. I know I will be looking into the brand a bit more after receiving this product!

Beauty Box 5: Overall
So far, I have to say I'm impressed with the Beauty Box 5. The products seem to be high quality and work fairly well. My only complaint is that the sample sizes are a bit small. Overall though, I think it's a great box and seems like a great deal at $12 a month. I know I have spent much more than that when I went out experimenting with makeup and different related products. For this reason, I can happily give this box an A rating. To learn more about the Beauty Box 5 or to subscribe, make sure to check out the Beauty Box 5 website.
Disclosure: Budget Earth did not receive monetary compensation for this review, but did receive a Beauty Box 5 subscription box for review purposes. All of the opinions on this blog are the opinions of said author and these opinions may differ from your own.