Disclaimer: The reviewer has been compensated in the form of a Best Buy Gift Card and/or received the product/service at a reduced price or for free.
As some of you know, my family loves tech. In all honesty, it is part of our way of life with my husband being a computer engineer. We love playing with the latest technology and it's not too uncommon for us to save just to make sure we can play with the latest game systems and computer hardware in our own home. When I heard that Best Buy was going to be teaming up with Intel on a brand new, hands-on display in 50 stores, the Intel Technology Experience Zone,  I knew I had to go see it.  We aren't the only ones excited about a hands-on tech experience.  According to a new study, Intel and Toluna found that 79% of Americans are excited about the chance to try out new technology, while another half are frustrated by the fact that they don't have access to all the cool things they read about online. Since most of us have never even seen a 3D printer, that doesn't surprise me at all.
So, what exactly is the Intel Technology Experience Zone? It is a 240 square foot displayer that allows people like you and me to play, explore, and be inspired by technology we may have never seen otherwise, like 3D printers and augmented reality games. Using the power of Intel technology, (similar hardware to those used in our tablets and laptops), you can build 3D robots, show off your racing skills on Mars in an augmented reality world, pretend to be a digital DJ, and check out the latest and greatest new devices that are powered by Intel processors.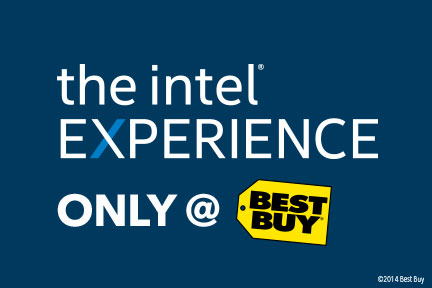 Since both of us love all things tech, I knew I had to 'experience' the Intel Technology Experience for myself. When I found out that one of the Columbus stores near us had this display, my husband and I both planned a trip to see it for ourselves. As someone who loves technology, I felt like a little kid going to a candy store. Once we got there, I was delighted that we hit the store during an off time, allowing us to enjoy all this fun tech ourselves. I mean, what isn't fun about watching a 3D printer make a robot, or racing on the surface of Mars? As someone who loves video games, this was one of the coolest things about the display.  Using tablets, we had little virtual mars rovers moving across the crater display, getting items and truly interacting with the display itself. To say the least, we both had fun playing with this display!
Being the tech geek that I am, too, I couldn't help but be awed when I saw the processor display. While this sheet may look like just a round sheet of silvery metal, it is so much more. These were dozens of PROCESSORS! That's right, the same processors that are in our computers or tablets, uncut and in a beautifully pure form. I mean, what geek wouldn't want THAT mounted in their office?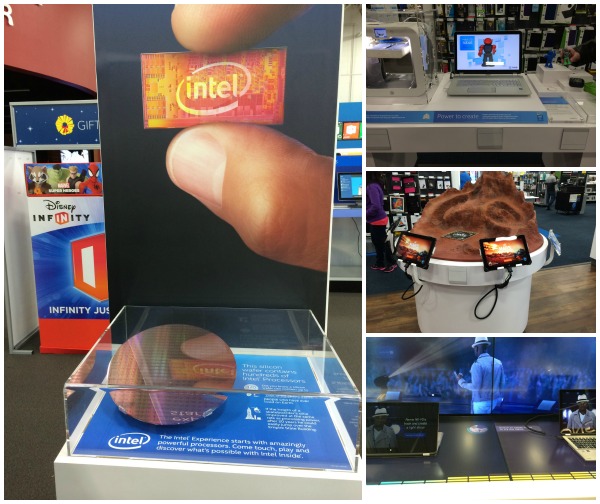 After spending some time at the Intel display, I have to say that it was a fun, hands-on experience, as promised. This isn't just something for tech geeks like me, but anyone. With how they have this display designed, kids of all ages can enjoy this digital playground.  The only thing I was disappointed about was that I wish we could have one of those cool 3D printers in our own home!
Want to try this awesome experience for yourself? You can find the Intel Technology Experience Zone at 50 stores in the United States. With the help of trained Best Buy Blue Shirts to answer your questions, you will be able to learn about new exciting technology and play with it too! To learn more, read more here about the Intel Technology Experience Zone!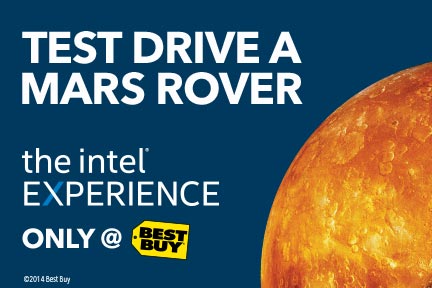 Disclosure
: 
Budget Earth did not receive monetary compensation but did receive products or a gift card for review purposes. All opinions on this product are my own and may differ from our readers' opinions.
Would you like to have your products featured in a giveaway event? Want to increase your social media exposure? Contact susan.l.bewley@gmail.com to see how I can help YOUR company today!