Disclosure: I received this product for free to review. The opinions in my review are honest and my own.
As some of you know, I absolutely love autumn. This is the time of year when I get out some of my fall wardrobe, including my favorite leather jacket. To me, nothing is better than a comfy pair of jeans, hiking boots, a cute shirt, and my leather jacket. Comfort is my number one priority as I explore nature and get involved with more outdoor activities. My problem, however, is that I usually like a large purse. While some large purses are fine, I prefer something closer to the size of a messenger bag or backpack since it gives me the room I need to carry books, and whatever else I need for the day. Unfortunately, most messenger bags are far from fashionable, making them a not so great fit if you want to also look nice as you go out. Recently, however, I found the perfect solution – a leather messenger from Cooleather.com!
Cooleather.com: Who Are They
Looking for an awesome place to buy unique, genuine leather bags? If so, we think you will love Cooleather.com. They are a group of Canadian artisans devoted to creating handmade, genuine leather products. Their designs and handcrafted leather products are unlike anything you will find anywhere else. Unlike the bags you will find from large manufacturers, these bags are not made in factories, but actual people who are devoted to creating the best leather products out there. As well, each of the bags are tanned using vegetable oil and gentler chemicals to better protect the leather, keeping it strong and durable. Of course, you also get the benefit of knowing your bag is truly unique, since it was handmade. In other words, no other person will have a bag that looks exactly like yours, something most manufacturers can't claim! Once you have tried some of the amazing leather products they make for men and women, you won't want to shop anywhere else!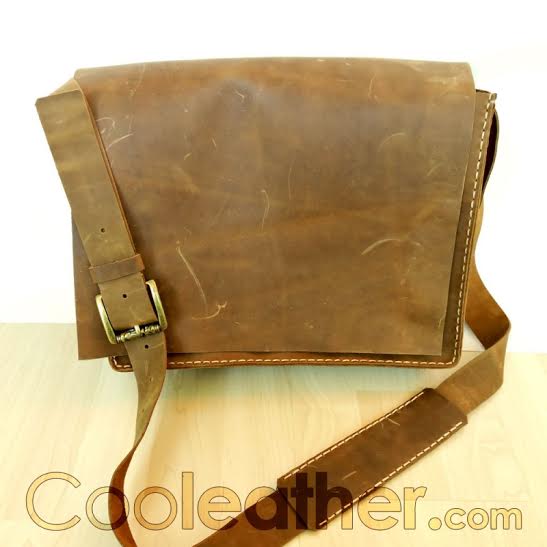 Hand Stitched Leather Messenger Bag: What is It?
Want a unique shoulder bag or cross-body bag that is perfect for carrying all of your daily items? If so, we think you will love Cooleather.com's Hand Stitched Leather Messenger Bag. This genuine leather bag is made from brown crazy horse genuine leather and has waxed thread, giving it a beautiful semi worn look that comes with truly handmade leather items. Not only is beautiful on the outside, but inside as well, featuring a big inside pocket and two smaller pockets for your cell phone, and two pens. Behind that divider, you also have a nice pocket for putting things such as books and other large items. As well, it has a beautiful decorative shoulder buckle, making the area to adjust your strap as fashionable as possible. One thing is for certain, this bag is will definitely get you some compliments this fall!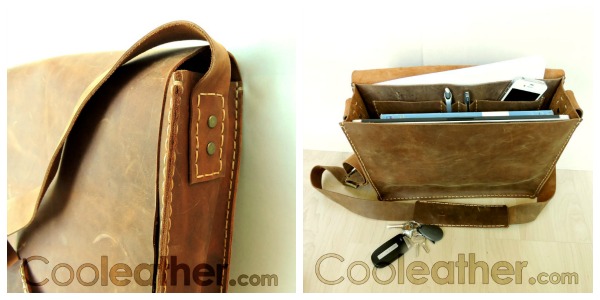 Hand Stitched Leather Messenger Bag: Overall
Right after my bag arrived in the mail, I was invited to go out with family to a corn maze and little fall festival in Lexington, KY. Since it was the first day I could really go out with my leather jacket, I packed up my Hand Stitched Leather Messenger Bag and new wallet. Since we were bringing Reya with us, I packed my bag with not only my normal purse necessities, but our Kindle Paperwhites and dog treats. From the moment I got out of the car, I was immediately getting compliments on this bag. Everyone wanted to know where I got it there and on the way back home. In my opinion it made the best sort of fashion statement – stylish and practical!
Of course, a good bag is more than fashion. Inside, it has two main pockets and smaller pockets in the divider for pens, your wallet, and other small little things us ladies like to put in our bags. And of course, I can't forget the wonderful smell and softness of the leather itself. You can always tell genuine, high quality leather by the feel. This leather is super soft and has that slightly worn look that I adore. To me, a good leather piece is something that has been manipulated by a person or wear, not just a factory assembly line. Really, I don't think I could be happier with my Hand Stitched Leather Messenger Bag and can't wait to do some more shopping at Cooleather.com after using this bag. Based on my own experience, I am delighted to give this messenger bag an A+ rating!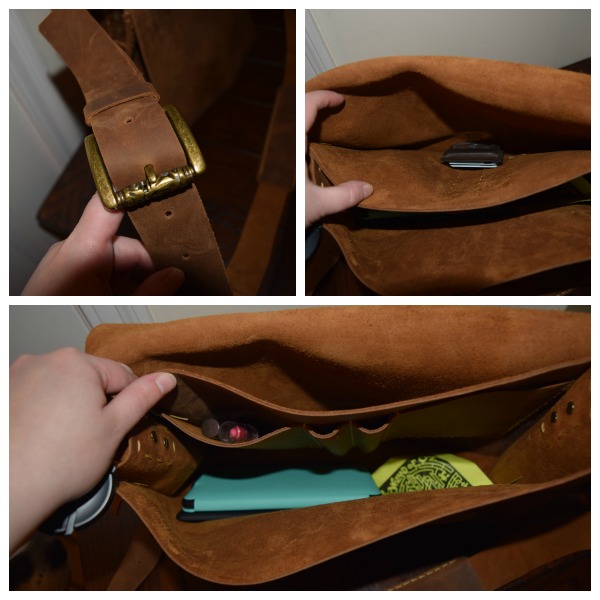 Hand Stitched Leather Messenger Bag: Where to Purchase
Would you like to purchase this beautiful bag for yourself or someone in your family? You can find the Hand Stitched Leather Messenger Bag on Cooleather.com for only $159. They also have a 100% satisfaction guarantee, making sure that you are happy with your order every time. If you are like me, however, don't be surprised if you buy more than you planned! To go along with my review, I also purchased a chic leather iPhone case and wallet, which is not only durable, but matches my messenger bag. With how much I love my bag, I have a feeling a new leather backpack purse is also in my future!
Don't forget to connect with Cooleather.com on Facebook and Twitter to get the latest sales and restock information. Also as a little hint, don't forget to check out our Cooleather.com giveaway for your chance to win this beautiful bag!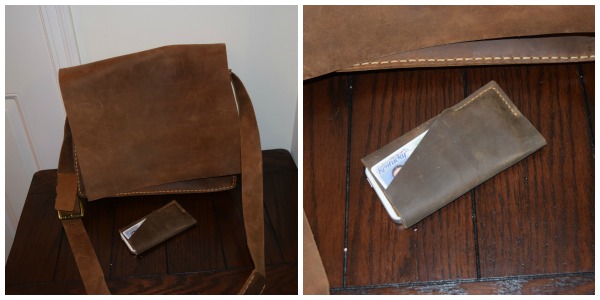 Disclosure: Budget Earth did not receive monetary compensation but did receive products for review purposes. All opinions on this product are my own and may differ from our readers' opinions.
Would you like to have your products featured in a giveaway event? Want to increase your social media exposure? Contact susan.l.bewley@gmail.com to see how I can help YOUR company today!