Have you started thinking about Mother's Day? Don't worry, your mom isn't looking so you can be honest! It is always tough finding that perfect gift, especially if you are on a tight budget. I know I have been there many times. Luckily, there are some places where you can find amazing bargains on gifts that are not only inexpensive, but high quality. My favorite place to look for gifts has always been Amazon.com. Since they work with so many retailers and brands they are able to offer just about anything at prices you can't find anywhere else!
Knowing that many of you love to find bargains as much as me, I thought I would share with you some of my favorite deals for Mother's Day. All of the gifts on this list are under $25 and don't seem like cheap gifts. There are even a few brands that will make mom gasp! Who said that you can't get nice gifts on a budget! My personal favorite (that I will probably buy for myself) is the OPI Nail polish set. I know that set is much more expensive at ULTA and I have been eying it for awhile!
So, what is your favorite gift on the list? If you want to give hints to a certain someone, don't forget to share!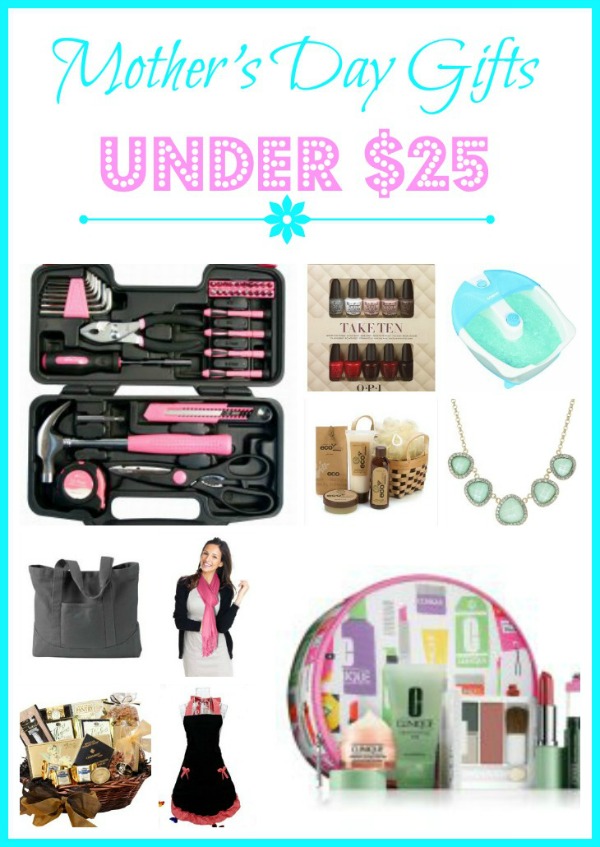 Opi Nail Lacquer 10 Piece set, Take Ten Mini Kit $20.25

Conair Foot Spa with Bubbles & Heat $19.09

Authentic Pigment Snap-On Large Canvas Tote $20.32

Eco Bath Body Gift Basket Set $17.95

Apollo Pink General 39-pc Tool Set, $19.99

Clinique 8 Pcs Spring Skin Care & Makeup Gift Set (A $85 Value) $20.99

Silky Soft Pashmina Scarf Wrap Bright Colors $11.99

Faceted Lucite Graduated Rhinestones Necklace, 18″ $19.99

Classic Gourmet Food and Snack Gift Basket $24.74

Women's Red Gingham Trim Apron $15.99
Disclosure: Budget Earth did not receive compensation. Budget Earth may, however, receive compensation through purchases from affiliate links in this post. All opinions on this product are my own and may differ from our readers' opinions.