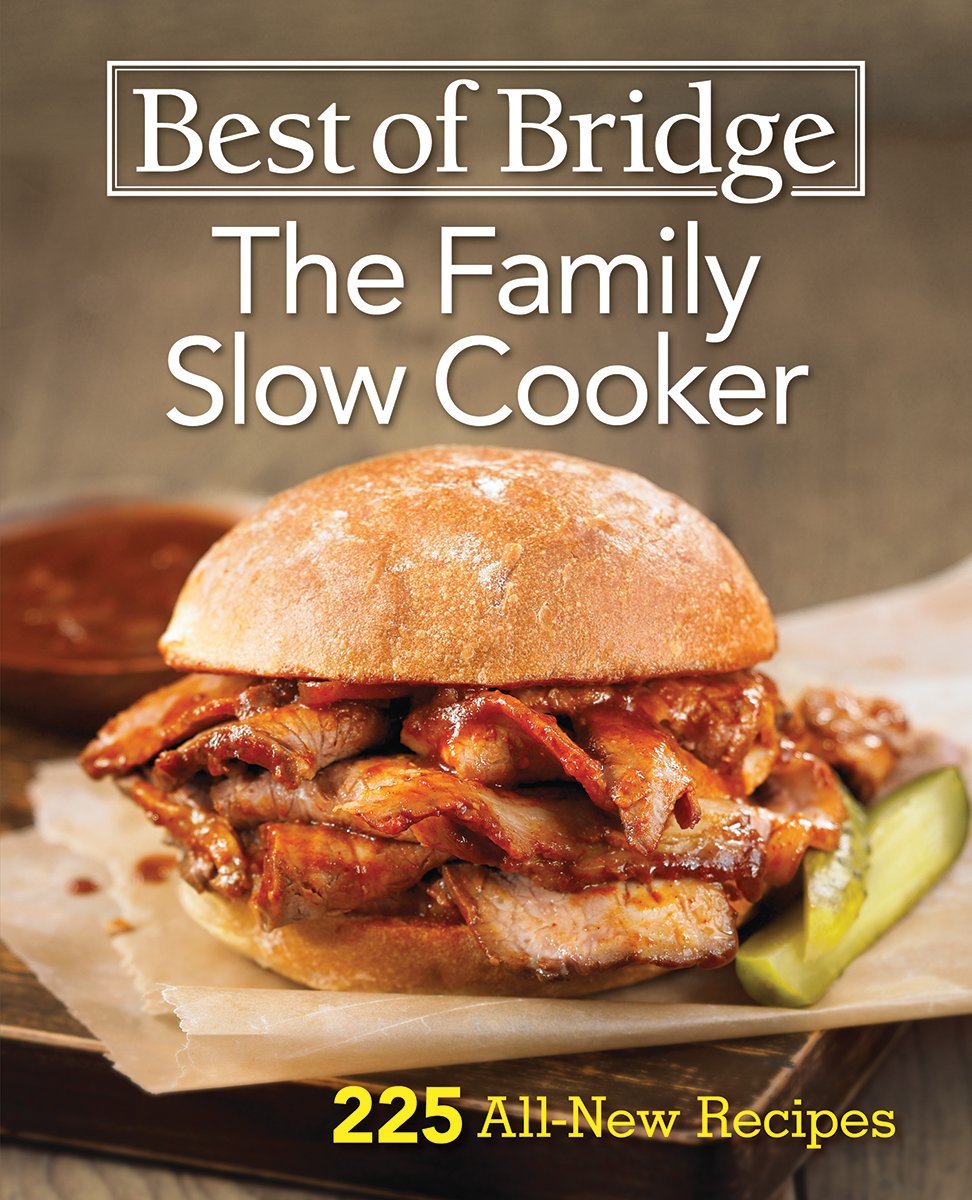 Do you love cookbooks? I will freely admit, I have a bookshelf filled with nothing but cookbooks, all with different sorts of recipes. My favorite cookbooks however are easy to follow slow cooker cookbooks. With our busy lifestyle, the slow cooker is used quite a bit, especially for making delicious recipes that we can eat throughout the week. The problem, however, is that some cookbooks use the same recipes over and over, leaving me with 10 to 20 different versions of the same recipes (sometimes only slightly different). Luckily, I recently had a chance to look at a newly released copy of a new cookbook – Best of Bridge: The Family Slow Cooker. Once our complimentary copy arrived, I couldn't wait to get started!
Best of Bridge The Family Slow Cooker: What is It?
Looking for an awesome slow cooker book filled with awesome recipes the entire family will love? If so, we think you will love the Best of Bridge: The Family Slow Cooker. This fun cookbook is filled with easy to read. Here is what the publisher has to say about this classic cookbook with all new recipes:
"The Best of Bridge ladies, like so many of you, have fallen in love with slow cookers all over again. Life is getting busier, money is getting tighter, and people aren't any less hungry! So the satisfaction that comes from assembling a few ingredients early in the day, pushing a button and not having to worry about dinner until it's time to eat, just makes the day feel more manageable.

And while the all-new recipes were developed in classic Bridge fashion (simple recipes with gourmet results) the recipe baton has been passed to a whole new group of ladies who will bring their own unique and modern style to the brand while still honoring the dependable results, humor and verve of the original ladies.

You'll have fun with these 225 recipes and they're absolutely perfect when you're gathering with friends and family. The recipes will take you through every meal and every occasion so whether you're looking for some breakfast and brunch inspiration or for a fantastic chili recipe to make on a cold winter's day — the ladies have got you covered.

Includes recipes for: Breakfast and Brunch, Appetizers, Soups, Stews, Chili and Curries, Sandwiches, Big Meats, Veggies and Sides, Pasta (and Pasta Sauces), Rice and Grains, Condiments, Stocks and Basics, and Sweet Stuff and Beverages.

So whether you're looking for a hearty stew recipe or a gooey, cheesy dip that will stay warm throughout your party, simply call your slow cooker and these recipes into service – you'll be glad you did."
Best of Bridge The Family Slow Cooker: Our Thoughts
I will freely admit, I was EXTREMELY excited to get into this cookbook. As a slow cooker cookbook junkie, I knew I had to find something fun to tease out this cookbook. After harvesting more tomatoes than I knew what to do with in our garden, as well as a variety of fresh herbs, I decided to try out their fresh tomato sauce recipe. As expected, it was fairly easy and straight forward, with a few ingredients I didn't expect (like butter). After putting in some fresh herbs, I set in the slow cooker for about 8 hours on low, and a couple hours later my house was smelling quite Italian. The end result was amazing homemade sauce that I can't wait to use in other dishes. If all the other recipes in this cookbook are this amazing, I can't wait to get cooking! What I also loved about this cookbook is that it has both Imperial and Metric, making it easy to use for anyone, anywhere (or in our case, with whichever set of measures we can find).  It is also nice seeing all the large, beautiful pictures just waiting for you to make them, using these simple to follow recipes. Based on our own experience, I am delighted to give the Best of Bridge The Family Slow Cooker an A+ rating and recommend it to my readers!
Best of Bridge The Family Slow Cooker: Where to Purchase
Want to purchase this book for yourself? You can buy the Best of Bridge The Family Slow Cooker on Amazon.com for only $19.25.
Disclosure: Budget Earth did not receive monetary compensation but did receive products in exchange for this post review. This post may contain affiliate links. All opinions on this product are my own and may differ from our readers' opinions.
Would you like to have your products featured in a giveaway event? Want to increase your social media exposure? Contact susan.l.bewley@gmail.com to see how I can help YOUR company today!