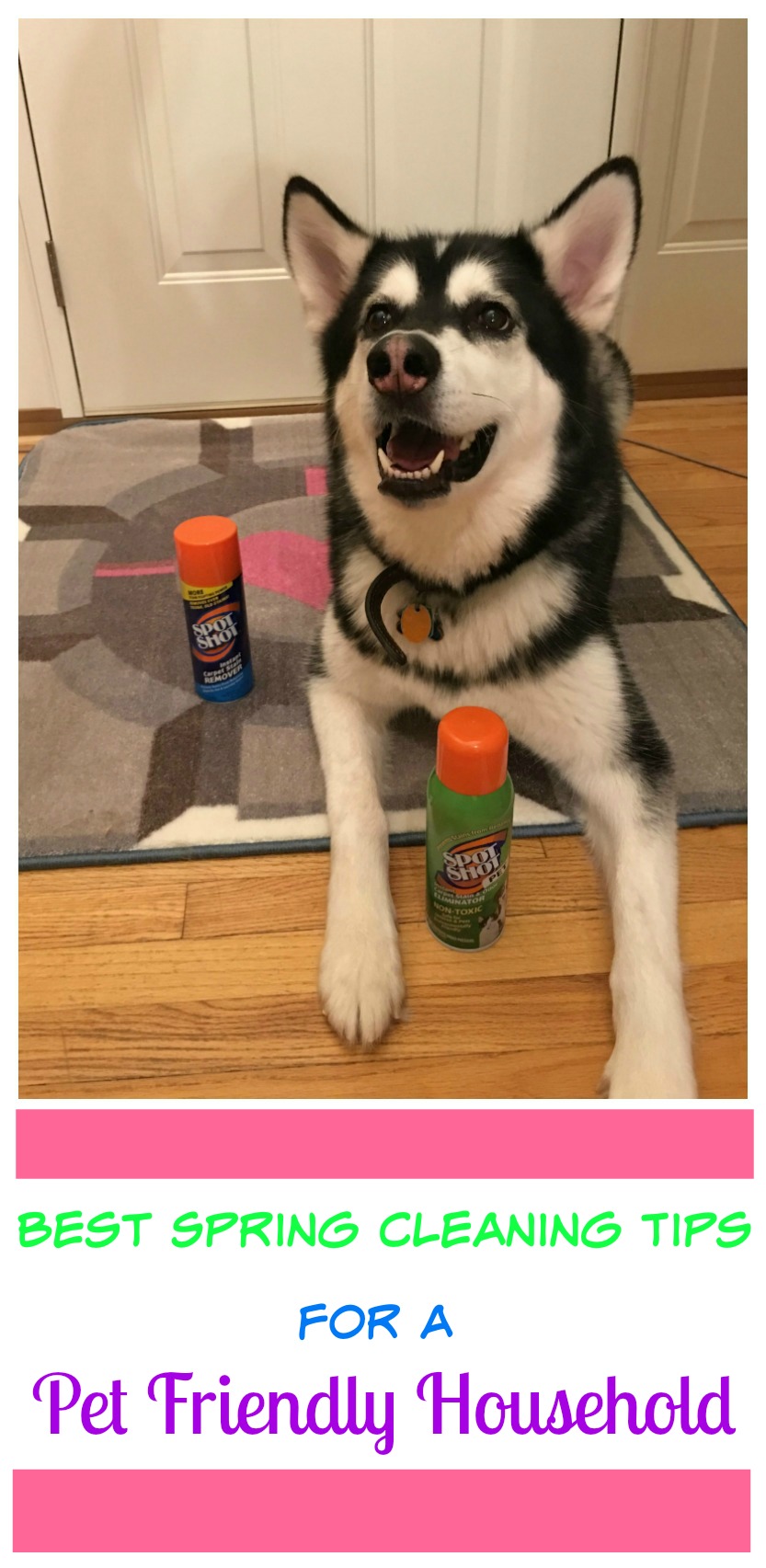 Is there anything better than a nice, clean house? While I am not someone who enjoys cleaning, I do enjoy the finished product. For me, it is even better in the spring since I can open the windows and enjoy the fresh air. After having such nasty winter weather, it is nice to have the sun shining in my house – even if it is showing all the dust and dog hair everywhere. In other words, my house is letting me know it is the perfect time to reorganize and do some much needed spring cleaning. Of course, having two large dogs that live in the house full time, we have special messes that only dog owners can truly understand. Luckily, we have some amazing tips to make spring cleaning in a pet friendly household even easier!
1. Toy Clean Up
How many of you have dogs that leave their toys everywhere? Since our girls toys were getting a bit out of hand, we started training them how to put their toys away on command. While we aren't there just yet, we are making some headway and they at least know where you can find their favorite toys. Upstairs, we have a generic basket for their shared toys, but downstairs we have two baskets – one for Reya and one for Ivi. The girls know them by color but we had fun getting custom made ones for them.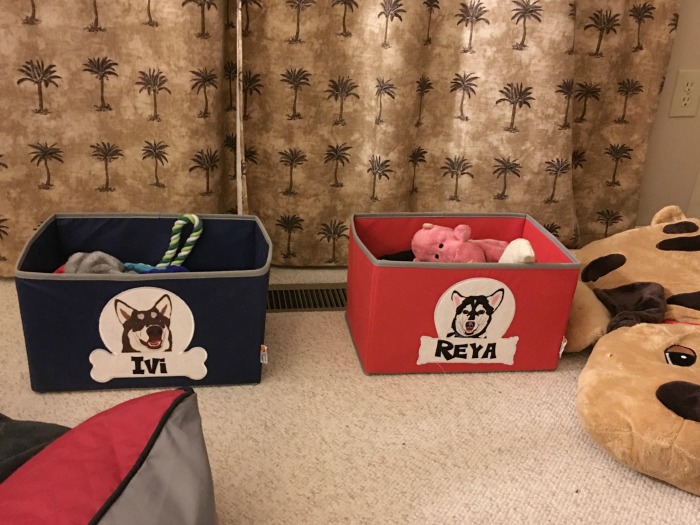 2. Cleaning Pet Beds & Toys
Even though I adore Reya and Ivi, it is very obvious when they need a bath. Their beds, unfortunately, also hold the smell, as well as their VERY loved soft toys, with dried saliva, hair, and dust. Nearly all pet beds and soft toys can easily be thrown in the washing machine. For the bed, just unzip the top cover and throw that in the machine.  The filling itself is sometimes washable, sometimes not, so make sure to look at the care tag before washing anything else on the bed. When washing your dog's bedding and toys, make sure to use only non-scented detergents since anything else can be too strong for your dog.
3. Pet Dishes
While I regularly clean the girls' dishes, it isn't often that I actually clean the entire dish holder.  Most dog items are 100% safe to throw in the dishwasher, especially stainless steel dishes. In our house, we run the food dishes on the top rack of the dishwasher with the sanitize function. We then, once a quarter, unless there is an obvious food mess, put the entire Neater Feeder in the dishwasher. Between washes, we regularly wipe it out with an anti-bacterial cleaner.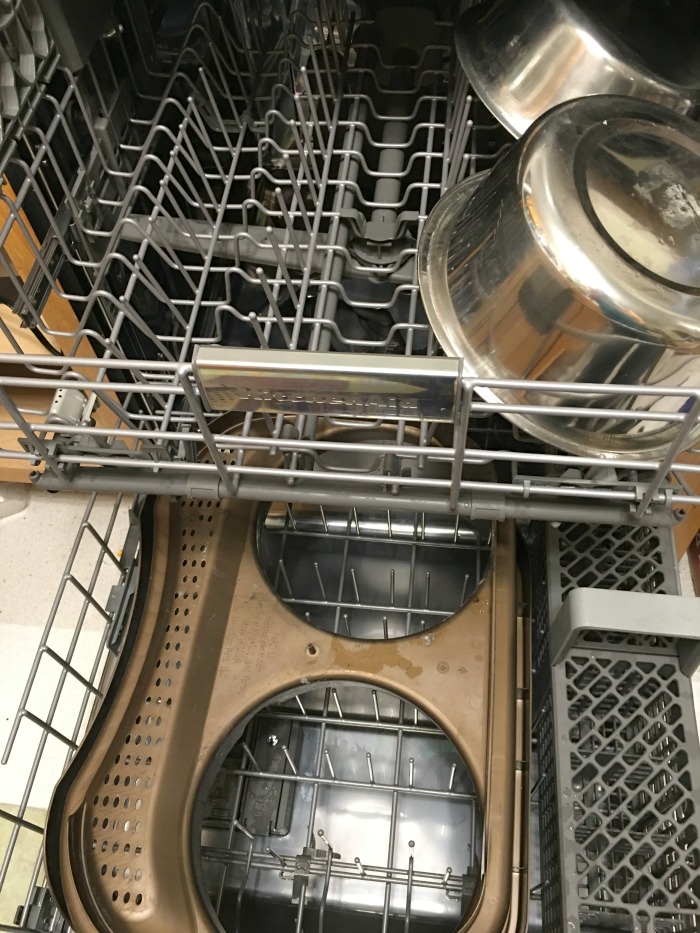 4. Cleaning Dog Crates
When was the last time you cleaned your dog's crate? Unless they had an accident or vomited, it is likely one of those things you rarely think about (unless it smells, of course). Rather than go for the bleach, just wipe the crate down with hot, soapy water and dry it thoroughly. If you feel a cleaner is necessary, go with an all natural, anti-bacterial cleaner.
5. Removing Old Carpet Stains
How many times have you looked around your house and found 'accident' stains from when your dog was a puppy or had a recent accident you just found? Not only can they smell rather unpleasant, they can make your carpet look rather unappealing, to say the least. For dog related stains including urine, vomit, feces, and even dirt, we use Spot Shot Pet in our household.  Not only can this cleaner almost instantly get out these nasty stains, it works just as well on old stains too! Just get up as much of the stain as you can, spray it, and watch it do its magic without much effort at all from you. Best of all, it gets rid of the smells that leave your dog wanting to mark that spot again, protecting your carpet from future accidents.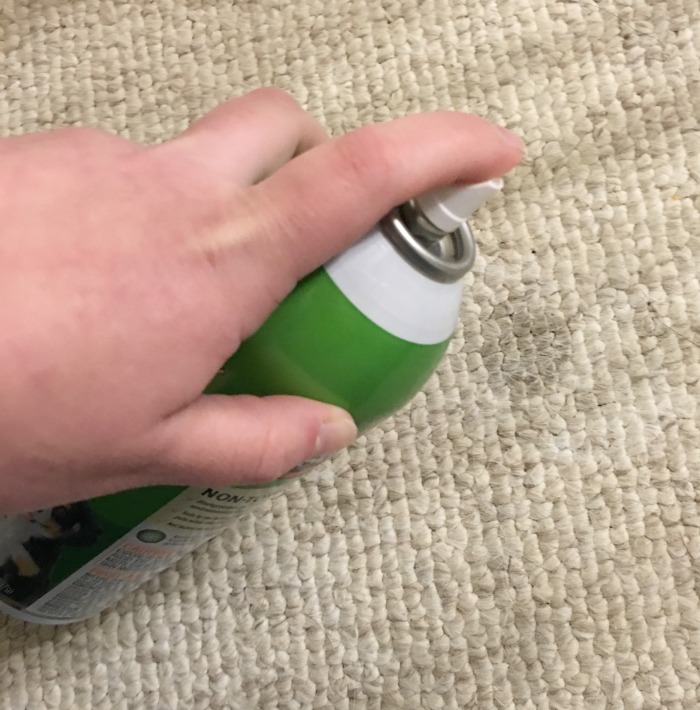 Want to pick up this carpet cleaner for your own home? You can currently buy Spot Shot Pet in a 14 oz Aerosol can or 22 oz Pet Trigger, whichever is easier for you. Both of these products have the Seal of Approval from the Carpet and Rug Institute and are SCS certified biodegradable, making them the perfect option for pet friendly households like ours. Currently, you can find Spot Shot and Spot Shot pet at your local Wal-Mart store. To learn more about this carpet cleaner, head over to the Spot Shot website and don't forget to score yourself a $1 off coupon too!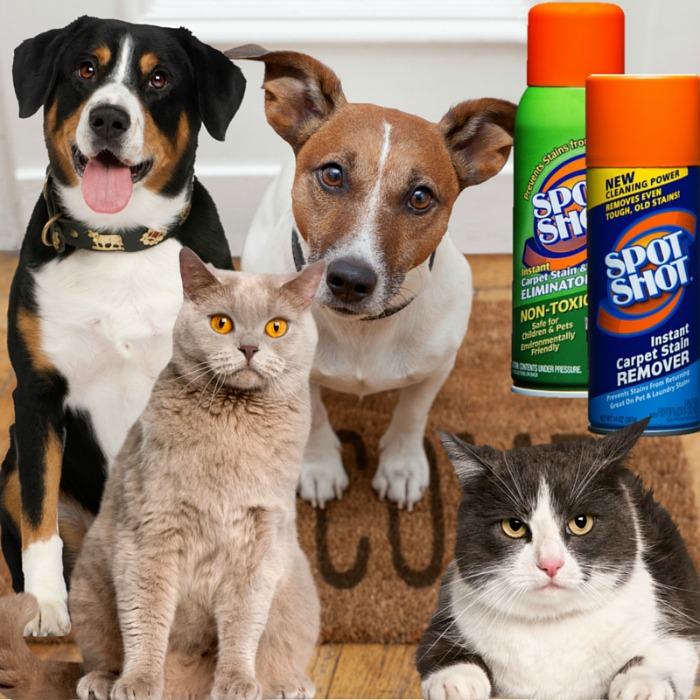 Want to learn more? Join the Stain Fighting Community on Facebook for more tips!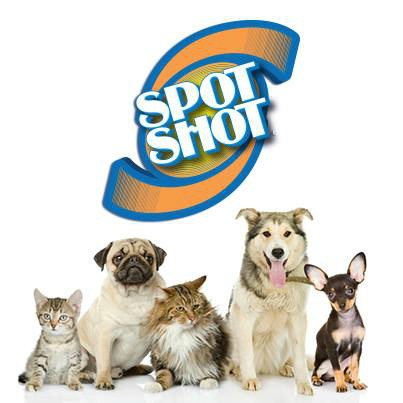 Disclosure: Budget Earth received monetary compensation for this post. All opinions on this product are my own and may differ from our readers' opinions.
Would you like to have your products featured in a giveaway event? Want to increase your social media exposure? Contact susan.l.bewley@gmail.com to see how I can help YOUR company today!