Disclosure: I received these products for free to review. The opinions in my review are honest and my own.
I must confess – I have a notebook and stationery obsession. It may be a writer thing, but I have a bookshelf filled with nothing but paper notebooks filled with old school notes, book ideas, and even the start of some short stories. To me, there is just something great about having a nice pen and well-made paper to capture your precious thoughts and ideas. While I know I should be writing most of it down on my computer, I still find I do best writing on paper at times. Lately, I have been trying to get more organized, as well as trying to write down all my important ideas and to-dos for the day. While looking for the perfect set, I was approached by Staples, who asked me to review their new M by Staples ARC stationery line. After hearing how these notebooks were cute and designed to have the best parts of a notebook and binder combined, I knew I had to try it!
Staples Stationery: M by Staples ARC Customizable Patent Leather Notebook System
Never heard of the M by Staples ARC notebooks? These notebooks are some of the neatest I have seen in a long time. Not only are the covers sleek and beautiful, but completely adjustable! Each sheet of paper, including everything sold for these notebooks, are designed to be reposition-able, and can be added and removed from these notebooks as much as you like. Since the paper is also a fairly heavy weight, it is designed to hold up well over time. For my review, I was sent a Teal Quilted ARC notebook in patent leather. This notebook not only looks beautiful, but is very practical. Everything about the notebook is totally customizable too, including the rings! If you want a bigger notebook, all you have to do is purchase the larger rings, allowing you to have a notebook the size of a traditional binder! These notebooks are in many ways a mix between a traditional notebook and a binder, allowing you to have the best of both worlds! Based on our own experience, we are delighted to give these cute notebooks an A+ rating!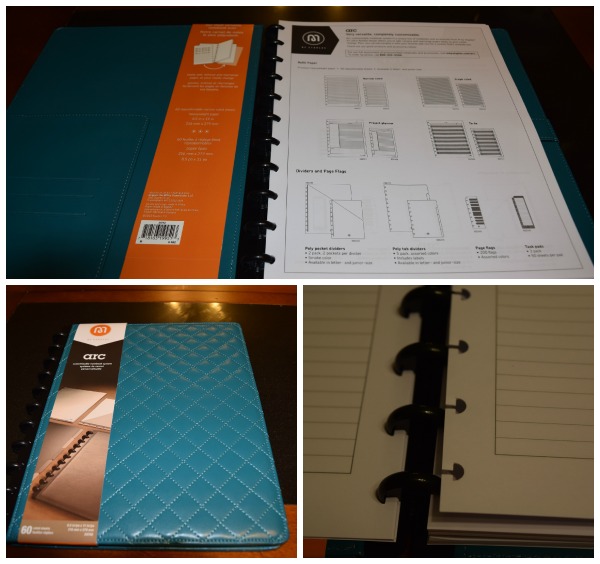 Staples Stationery: M by Staples ARC Customizable Accessories
While having a stylish notebook is a must, the accessories really make the M by Staples ARC amazing. You can buy a variety of different pages and sleeves to make your notebook as useful as possible, including reminder notes, sticky pads, and even sleeves for storing business cards! In mine, I have extra paper, dividers, and sticky notes that I can use to quickly find things in my notes. I am also planning on getting a special puncher so I can add sheets from conferences and classes I have taken. Best of all, all of these options are fairly cheap, allowing you to have the perfect notebook in no time. Based on my own experience with these accessories, I am happy to give the M by Staples ARC Customizable Accessories an A+ rating!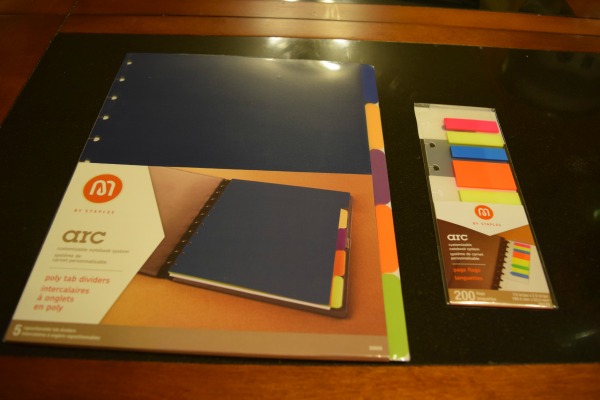 Staples Stationery: Avant Pro Pens
Looking for a stylish pen that makes writing even more fun? If so, we think you will love the AvantPro Pen. This medium point ballpoint pen has SilkScribe Ink and is sold exclusively at Staples. With its stylish stainless steel barrel and polished finish, it is one of those pens you will love to shove off. I personally love how comfortable it is to write with, and how great the ink looks on paper. It isn't one of those cheap pens and isn't too expensive. Best of all, you can easily refill the ink, allowing you to keep using this pen as long as you want. Based on my own experience, I am happy to give this awesome pen an A rating!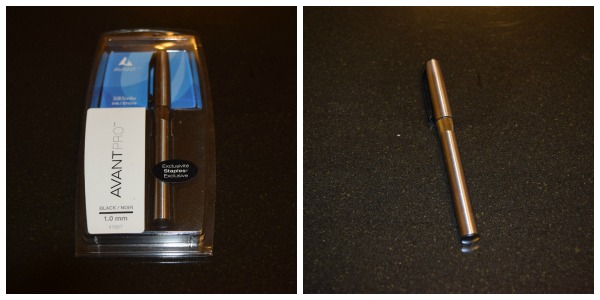 Staples Stationery: Where to Purchase
Would you love to purchase some of the awesome Staples exclusive stationary? The M by Staples ARC series and Avant pen series are both sold on the Staples website or at your local Staples store.
Disclosure: Budget Earth did not receive compensation but did receive products for review purposes. All opinions on this product are my own and may differ from our readers' opinions.
Would you like to have your products featured in a giveaway event? Want to increase your social media exposure? Contact susan.l.bewley@gmail.com to see how I can help YOUR company today!