Disclosure: I received this product for free to review. The opinions in my review are honest and my own.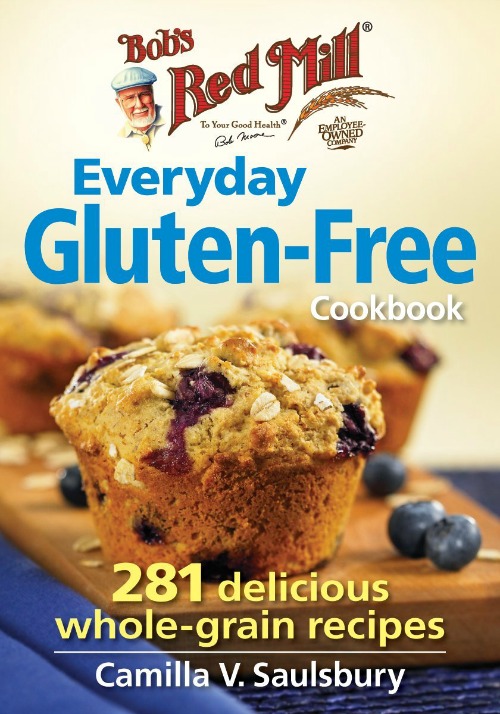 Do you have a friend that is allergic to gluten? We have a handful and in all honesty, it's stressful when I have to cook for them. It isn't that I mind, but more like I am nervous the dish isn't going to taste right or that I will accidentally cook something with gluten in the recipe when they come over. Even worse, I don't have many gluten-free cookbooks, leading to me searching blogs online and sometimes ending up with recipes that are…well…a bit frightening. To my delight, however, I was recently asked to review a cookbook that sounded perfect and from a brand I trust – Bob's Red Mill Everyday Gluten-Free Cookbook.
Bob's Red Mill Everyday Gluten-Free Cookbook: What is It
Looking for delicious recipes that are not only gluten-free but use naturally gluten-free, nutrient- dense grains and ingredients? If so, we think you will love Bob's Red Mill Everyday Gluten-Free Cookbook. For over 30 years, Bob's Red Mill has committed itself to making the best gluten-free flours, cereals, baking mixes and grains, and prides itself in making sure all of their products meet their strict standards. With award winning recipe developer and bestselling author Camilla V . Saulsbury, they created a book using their fantastic products that is delicious, creative, and perfect for anyone's everyday lifestyle. It doesn't matter if you are going gluten-free for allergies or other health reason, we are certain you will find recipes to make your food even more nutritious and delicious with this cookbook!
Bob's Red Mill Everyday Gluten-Free Cookbook: Overall
So far, I am impressed with the recipes in this cookbook. Not only are many of them easy to make, and nutritionally rich, making them perfect for just about anyone, not just those living a gluten-free lifestyle. I was especially excited to see so many amaranth recipes since I have read so much about this flour and all of its wonderful nutrients. Based on my own experience with this cookbook I am happy to give Bob's Red Mill Everyday Gluten-Free Cookbook an A rating.
Bob's Red Mill Everyday Gluten-Free Cookbook: Where to Purchase
Want to try this awesome book out for yourself? You can buy Bob's Red Mill Everyday Gluten-Free Cookbook on Amazon.com or the Robert Rose publishing website.
Want to see more books like this one? Check out Robert Rose Publishing on Social Media!
Facebook | Twitter | Pinterest
Disclosure: Budget Earth did not receive monetary compensation but did receive products for review purposes. All opinions on this product are my own and may differ from our readers' opinions.
Would you like to have your products featured in a giveaway event? Want to increase your social media exposure? Contact susan.l.bewley@gmail.com to see how I can help YOUR company today!