Disclosure: I received these products for free to review. The opinions in my review are honest and my own.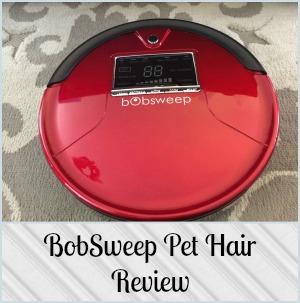 Do you have certain thing that has been on your home's wish list for quite some time? Ever since we purchased our home in 2009 I wanted a robot vacuum. Having a two story home with a basement that is covered in old carpet, I feel like I never get this house clean. While our old Dyson tries, it just can't keep up with the mess. When Reya was introduced to our household last year the situation got a bit worse, especially with her being scared of the vacuum. In all honesty, I was starting to think I was going to have to give up and accept that my house was going to be filled with black and white fur for the next twelve – fifteen years. As I was giving up, I saw an advertisement for the BobSweep Pet Hair vacuum. While I had seen quite a few robot vacuums, I had never seen one especially designed for pet hair, or with so many other features. Immediately, I reached out to the company and was quite excited when they wanted me to test out one of their units and feature it on Budget Earth. With our dog currently shedding up a storm, I thought this was the perfect time to give the BobSweep a run for its money!
BobSweep Pet Hair: What is It
Tired of lugging around a heavy vacuum and still having dirty floors and pet hair everywhere after vacuuming? If so, we think you will love the BobSweep Pet Hair vacuum. This unique robot vacuum excels at dealing with pet hair, using an extra large brush and a large enough collecting capacity to make it perfect for cleaning rugs, carpets, and hardwood floors. Unlike other vacuums, it also sterilizes with a UV lamp to kill bacteria, and it even sweeps, and mops! With 3 layers of HEPA filtration it is perfect anyone who suffers from any type of allergies – we can tell you from our experience that there was no dust in the air while it was hard at work. Additionally, it is also RoHS cerified, a certification that has been adapted in Europe assuming that it is free of lead, mercury, cadmium, hexavalent chromium, polybrominated biphenyls and polybrominated diphenyl ethers. With the BobSweep Pet Hair vacuum, cleaning has never been so easy and fun for everyone in your family (including pets!). To see how the BobSweep words, make sure to watch the video below!
BobSweep Pet Hair: Overall
When I first got 'Bob' (what else would we call our BobSweep?), I couldn't wait to get him out of the box. My husband, however, was preparing himself for a major job when he heard that he was going to have to be assembled. To our surprise, assembly really was super easy – so easy that if I had known, I wouldn't have asked him for help. We had the BobSweep together in less than five minutes and had him going across the carpet to drain him for his first charge. What amazed me was just how long it took for Bob to run out of juice. He was going for well over an hour and a half before he needed to go back to his charger, and this was after needing to be emptied multiple times. The amount of dirt and fur being picked up from the carpet was truly astounding. I actually couldn't believe that what looked like clean carpet had so much fur and dirt. Now, I only trust the BobSweep Pet Hair vacuum to take care of our living room since it does such an amazing job picking up the everyday fur and dust that builds on our carpet. Since it so easy to use, I have it going every two to three days to make sure our carpet is as clean as possible.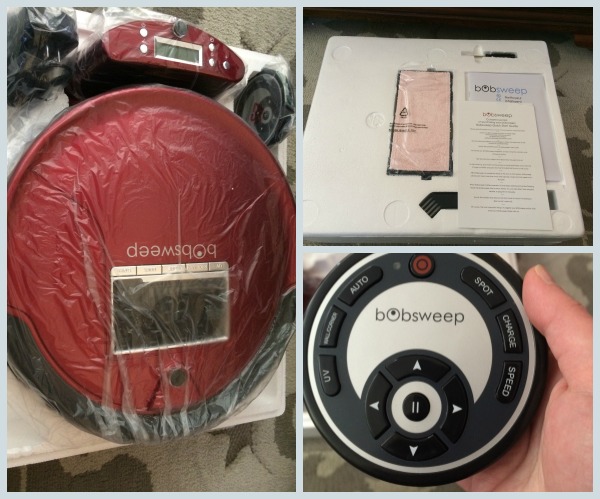 What shocked me the most was Reya's reaction to this vacuum. Previously Reya hated the vacuum and would cry the moment it turned on. Nothing is worse than seeing your 90 pound sweet dog run to her crate and hide from the big scary vacuum. While I had read on their website that pets like the BobSweep Pet Hair vacuum, it wasn't one of those things I believed until I saw it. Now the only time she barks is if Bob gets in trouble and is caught on something – she went from hating the vacuum to wanting to help it. Now she lays on her bed and watches the BobSweep go about its business. Since it is so great about detecting objects it also goes completely around her, to Reya's amusement.
After three weeks of use I don't think we have a single complaint about the BobSweep; it does a fantastic job at everything. It has cleaned our carpets and the little bit of wood we had in our entryway. It truly is an excellent vacuum, and such a time saver for me. Based on our own experience with this little robot vacuum, I am delighted to give the BobSweep Pet Hair vacuum an A+ rating and heartily recommend it to any busy family or pet owner.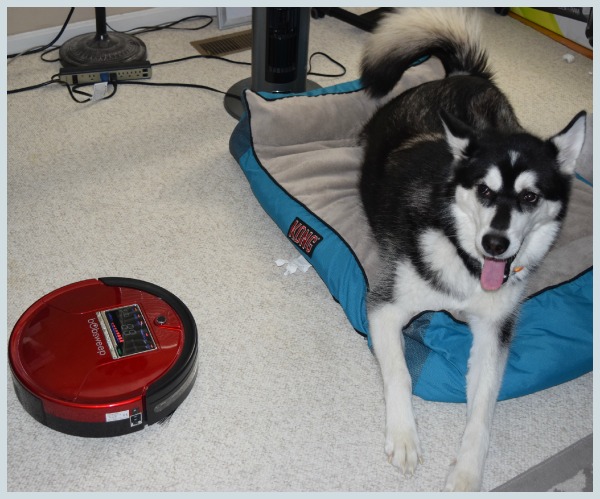 BobSweep Pet Hair: Where to Purchase
Want a BobSweep Pet Hair vacuum for your own home? You can purchase this awesome robot vacuum for $669. After seeing how much pet hair it picks up in my own home I think it is a MUST for any pet owner!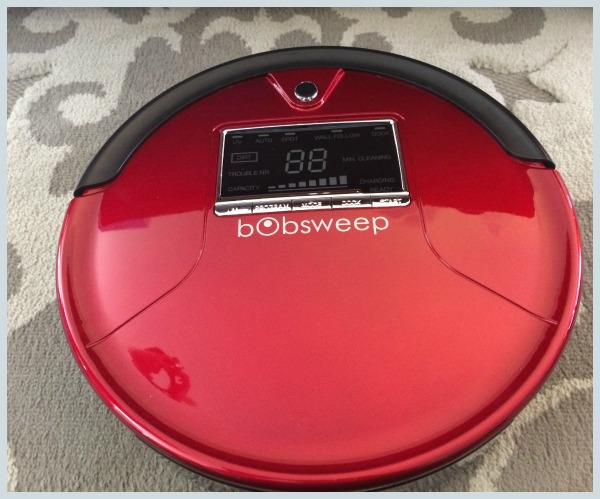 Disclosure: Budget Earth did not receive compensation but did receive products for review purposes All opinions on this product are my own and may differ from our readers' opinions.
Would you like to have your products featured in a giveaway event? Want to increase your social media exposure? See how Mom Powered Media can help! Contact susan.l.bewley@gmail.com to see what we can do for your company!