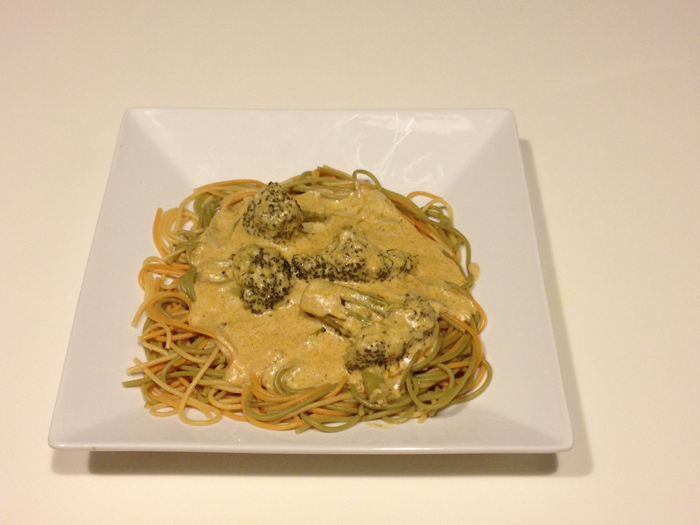 Do you ever find yourself wondering what you are going to cook for dinner ? More than once, I have found myself busily working for clients or on a pet projects, only to find that it was nearly time for dinner. This is all well and good, until you realize you have nothing defrosted or ready since you lost track of time. If you are like us, this can be even worse if it's one of your vegetarian meal night and you don't have any of your veggies chopped and ready.  While I know it's okay to order out these nights, there has always been something that bothers me about eating out these nights, especially when there are so many easy vegetarian meal options available online. Is seems lazy to give up, especially when you know you have food in the house?
During one of my last frantic nights trying to figure out what to cook for dinner, I came up with the most amazing Cajun recipe. I would love to say that it took me hours sitting in front of the stove to create this masterpiece, but in reality, it was all trial and error, with a bit of luck mixed in for good measure. On this night, our fridge was actually looking a bit pathetic – having only some dry ingredients, broccoli, and half a container of half and half which we usually reserve for our morning coffee.  Even though I was a bit nervous with my time crunch, I created one of our all time favorite vegetarian recipes- Broccoli Cajun Pasta.
This dish is the right mixture of spicy with a nice, creamy sauce that isn't too fattening and fairly guilt free when it comes to creamy sauces. It wasn't until later that I added the chopped sun dried tomatoes to this vegetarian recipe.  With the tomatoes, it quickly become one of our new favorites during our vegetarian meal nights. While it may look complicated, it really is easy when it comes to Cajun recipes.  Probably the hardest part of the entire recipe is making sure you don't overcook the broccoli!
If you do not have vegetable pasta, don't worry, the recipe is still fairly good for you. We prefer to use vegetable pasta since it is much healthier than traditional pasta and I have always found it to have a very good flavor in vegetable recipes. Once you have tried this tasty broccoli Cajun pasta recipe, you will wonder why didn't think of trying like this sooner – I know I did!
Print
Broccoli Cajun Pasta
Broccoli Cajun Pasta Yield: 4-6 Servings A spicy, creamy pasta dish featuring broccoli rather than traditional chicken
1

lb

Broccoli Crowns fresh

1/8

cup

Cajun Seasoning adjust to taste

1/2

cup

Butter

2

cups

Half & Half

1/4

cup

Sun Dried Tomatoes Chopped

2

–

4

Cloves Garlic (I use bottled garlic)

1

Box Ronzoni Garden Delight Spaghetti

1/2

–

1

cup

Parmesan Cheese

1 teaspoon

Arrow root OR

1 TBSP

Cornstarch
Instructions
Clean and cut up broccoli florets. Steam cook broccoli before starting the recipe. We use our rice cooker or a steaming basket attachment for our spaghetti pot.
Cook pasta according to box instructions. I use the veggie pasta for the extra nutrients and fiber.
While pasta is cooking, melt butter in a pan. Next, put in garlic. I use bottled garlic, so I use about 1 -2 teaspoons of garlic. If you are using fresh garlic, don't forget to use a garlic press. Saute garlic but make sure not to burn the garlic.
Measure the half and half, and mix in the arrow root or corn starch. Mix it first to make sure you don't have lumps!
Place the milk mixture, Cajun seasoning, and parm. cheese in butter mix. Cook until thickened.
Carefully place cooked spaghetti if finished in Cajun sauce. Next, stir in cooked broccoli, making sure both are covered with sauce completely.
Add sun dried tomatoes to pasta before serving. Serve hot.