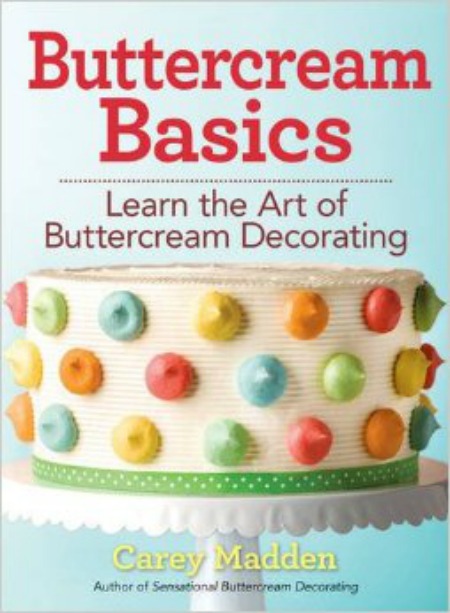 Have you ever tried making birthday cakes or other fun cakes during the holidays? Like many people, I try avoiding going to the bakery to buy cakes since it is extremely expensive (and usually tastes better). Unfortunately, while my cakes usually taste amazing, they often aren't the prettiest. If I want a cake to look beautiful, that is usually when I will look into going to a bakery, where I pay for more for a cake than it ordinarily seems worth. Don't get me wrong, there are amazing bakeries, but most seem to have very generic tasting cakes with overly sweet icing. One of the things I want to learn this year is how to properly decorated cakes so I can share more cake recipes with you guys and make my cakes much more presentable to family. Luckily, I recently had the opportunity to learn how to decorate cakes with a brand new book that was just released – Buttercream Basics: Learn the Art of Buttercream Decorating. After my complimentary copy arrived in the mail, I couldn't wait to share it with all of you!
Buttercream Basics: What is It?
Do you want to learn to make beautifully decorated cakes at home? If so, we think you will love Buttercream Basics: Learn the Art of Buttercream Decorating by Carey Madden. This innovative food instruction book makes it possible for anyone to learn how to decorate a cake like a pro, giving details, easy to understand instructions and covering issues that most people face when trying to decorate cakes at home. It even has detailed pictures to help teach various techniques, making it a valuable book for anyone wanting to learn to work with buttercream. Here is what the publisher has to say:
Create exquisite designs and bake shop quality results with Carey's easy-to-follow decorating techniques.

Satiny smooth buttercream is the perfect medium for creating decorated cakes that taste as sublime as they look. Buttercream's popularity can be attributed to its simple sweetness, versatility, resiliency and ease of use. Working with buttercream may seem intimidating, but with Carey's expert and easy-to-understand advice, you'll be creating and decorating stunning cakes in no time.

This concise, comprehensive and easy-to-follow guide offers all the information you'll need to get started — from invaluable instructions on decorating fundamentals and techniques to over 360 step-by-step color photographs.

With just a little time and practice you'll soon develop the coordination and muscle memory necessary to decorate beautiful cakes. You can start by making some of the less complicated projects/cakes and then work your way up to more intricate projects once you start to feel confident about your decorating abilities. Soon you'll be able to use Carey's techniques and advice to create your own unique and sensational designs.

Full color throughout and mouth-wateringly gorgeous, you'll have 40 projects to choose from and there are even gluten-free and vegan options.
Buttercream Basics: Our Thoughts
I will freely admit, I have purchased a few books in the past to teach me how to decorate and most were a bit..umm…small. Like, less than 20 pages and really weren't that helpful. I was truly blown away by Buttercream Basics: Learn the Art of Buttercream Decorating since it was extremely down to Earth, easy to understand, and filled with so much information! Just from a quick skim when it first arrived I was amazed by the amount of detail and how the author does a great job discussing issues most people experience with decorating and how to get around common difficulties. I even love many of her decorating ideas, enabling you to easily create a beautiful cake with just a bit of patience. Honestly, if you are someone who loves to bake at home, I consider Buttercream Basics: Learn the Art of Buttercream Decorating an absolutely must to add to your cookbook and food technique collection!
Buttercream Basics: Where to Purchase
Want to purchase this awesome book for your own family? You can buy Buttercream Basics: Learn the Art of Buttercream Decorating on Amacon.com for only $24.95!
Would you like to have your products featured in a giveaway event? Want to increase your social media exposure? Contact susan.l.bewley@gmail.com to see how I can help YOUR company today!