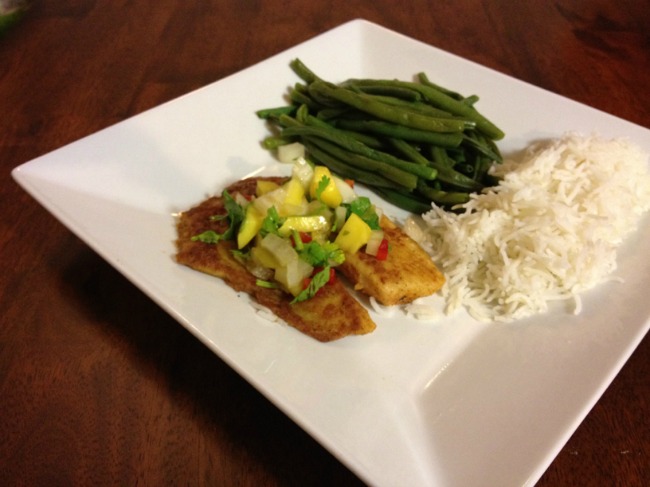 I have a confession to make – I love mangoes.  I'm one of those crazy people who will go out of my way to try anything that has the word mango in the title. Some things I have tried have been a bit scary, but I have always thought that mangoes and fish complement one another. Then again, I think almost anything can be improved by mangoes, especially if they are ripe and in season.  For this reason, I was excited when my husband told me he tried a tilapia at work that was topped with mango salsa. Immediately I was determined to try making this, mostly since it gave me an excuse to cook fish (something my husband used to hate) and include some of my favorite fruit!
It has always surprised me, how many people are shocked that I make my own salsa. Almost everyone I know buys salsa in a jar, but in my opinion, this is cheating. Don't get me wrong, I have had my own lazy days where I have bought salsa at Trader Joes or other retailers, but nothing beats a good homemade salsa.  My mango salsa recipe is truly to die for, and goes perfect with just about everything, including (not coincidentally) fish! In my opinion, it is the secret ingredient to my Cajun tilapia, since it adds that perfect mix of sweet and spicy to the recipe.
Even though this tilapia recipe may look complicated, it is one of the easiest Cajun recipes I make on a regular basis. The hardest part of the entire recipe is waiting for the salsa to chill in the refrigerator. Once it is finished, however, you will enjoy a tasty treat that not only tastes great, but is a feast for the eyes on your plate, too. One of the other things I love about the mango salsa that is part of this recipe is that it freezes beautifully.  The only thing you can expect after freezing is for it to be a bit spicier.
While I may make this year round, this Cajun tilapia recipe is especially pretty as a light summer dinner, or for entertaining.  If you are having a get together this summer, or are looking for a colorful recipe that is quick to make and will impress your guests, give this recipe a try. Just don't be surprised by people begging you for this recipe, especially with more restaurants adding something similar to their menus lately!
Print
Cajun Tilapia with Mango Salsa Recipe
Cajun Tilapia with Magno Salsa Recipe Yield: 4 Servings Cajun seasoned tilapia with a sweet mango and spicy mango salsa.
4

4

oz

Tilapia Fillets

1/2

cup

King Arthur All Purpose Flour

2 Tablespoons

Butter

1/8

cup

Cajun Seasoning

2

Ripe Mangos

1

Red Bell Pepper

1

4oz

can

Diced Jalapenos

1

Medium Yellow Onion

2 Tablespoons

Lemon Juice

1/4

cup

Fresh Cilantro

1 Teaspoon

Organic Pure Cane Sugar
If Mango Not Sweet
Instructions
Dice your mangoes into small pieces and place in a large bowl. If mangoes do not taste sweet, mix with a teaspoon of sugar.
Once the salsa is chilled, combine flour and Cajun seasoning in a bowl. Mix well.
Add peppers, jalapenos (whole can), and onions to mango bowls.
Mix in lemon juice and cilantro. Mix well.
Cover dish with salsa and place in the refrigerator for 1 to 3 hours before serving. The longer it sits, the more spicy the salsa will be on your fish. Always serve salsa cold.
Rinse and clean your tilapia in cold water, and then pat dry with a paper towel. I usually use frozen tilapia.
Coat both sides of the tilapia with your flour and seasoning mix. Set aside.
In a large frying pan or skillet, start melting the butter on medium heat. Butter should be melted and coat the bottom of your pan or skillet.
Place fish in the pan. Fish should cook for four minutes on each side.
Move tilapia to a plate and serve with mango salsa on top of the fish.