Disclosure: I received these products for free to review. The opinions in my review are honest and my own.
Some of you may not know this but…I am candle obsessed. I will freely admit, until recently I had an addiction to a very expensive candle company. The problem with these candles was that the scent disappeared rather quickly and the candles really didn't last that long. I also wasn't comfortable experimenting with different scents, because these candles were so pricy. It was a real treat for us to buy one, and I really didn't care about the quirky extras inside. I just loved the candles themselves. My fear with candles, however, is that Reya, my Alaskan Malamute, loves fire. Yes, she will try going right up to the candle to smell it and has no problem nearly burning her muzzle. My fear is that sooner or later, she will knock off the candle and cause a house fire. That leaves us with two choices – only burning candles when she is in her crate, or using something to scent the house that doesn't have a flame. Since I hate keeping her crated, that left us looking for a wax warmer. As we were looking into this, one of my best blogging friends, Teri Hardy, started selling Scentsy. I had seen her talk about it for a very long time but hadn't really thought about trying it. She was so determined I was going to like it she asked me to review one of their sets. Knowing we needed something to solve our candle issue, I happily agreed.
Scentsy: What is It?
Love the smell of candles, but think they are a safety risk with your animals or children? Luckily, we know the perfect answer for individuals who want to enjoy their favorite scents without the fire or burn risk – Scentsy. Started in 2003 by Orville and Heidi Thompson, their little fragrance business soon exploded, becoming one of the most popular international businesses in the fragrance industry. Their goal is to make some of the best smelling, high quality waxes and wax warmers in the industry. Best of all, the people who sell Scentsy are people like you and me – consultants who are just as passionate about Scentsy as Orville and Heidi themselves. Today, the Scentsy line doesn't just include waxes, but laundry detergents and bath and body products in your favorite fragrances. Once you have tried Scentsy, we are pretty certain you  will be hooked!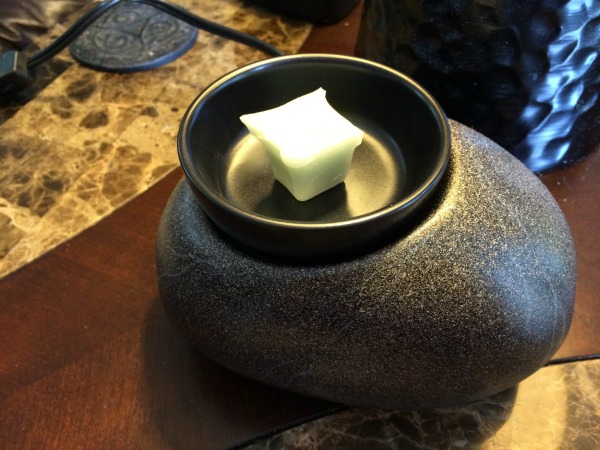 Scentsy: Wax
By now, you are likely wondering what makes the wax so unique? Can't you just use those little wax tartlets from your favorite retailer in your warmer? While that may sound like the best idea ever, don't try it! You will likely waste money and have the worst mess ever to clean out of your warmer. Scentsy wax is specially formulated to melt in a ceramic dish using the relatively low heat of a low light bulb or heating element in your warmer. Since I make candles in my spare time, I can tell you this wax is very unique. It melts faster than most traditional waxes and a very little bit goes a long way. For example, some of the scents I have tried keep their scent from a small chunk of wax for over 12 hours of continual use, and then can go another 5 or so hours after it re-melts, while keeping its scent. I use my warmer daily and have still barely touched a single container of my wax.
During my experimenting for the review, we found out something interesting about one of the fragrances – Just Breathe. This scent, which is a mix of eucalyptus, lemon, and various mints, we found is excellent at helping headaches. We found that when we are using this scent our headaches are gone within 15 minutes to a half hour. It really is that amazing, and truly sold me on Scentsy. Along with this scent, we love the citrus and fruit fragrances, especially the Kiwi and Cantaloupe, and White Tea & Cactus. Based on my own experience with their waxes (and my new obsession with them), I am delighted to give Scentsy waxes an A+ rating!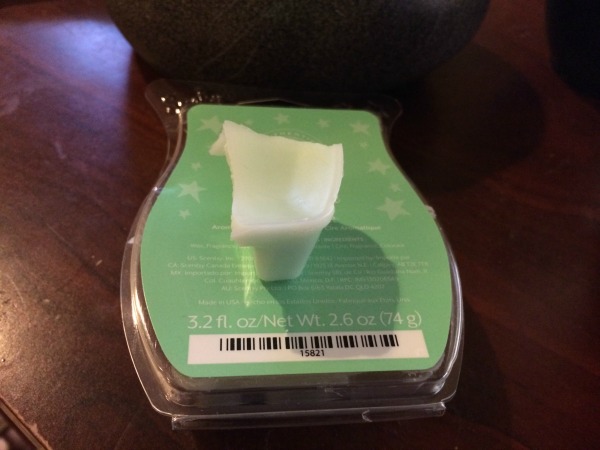 Scentsy:  Element Warmer
What really makes Scentsy different from its competition are their wax warmers. The traditional warmers illuminate, since they are heated by a light bulb. While this may be great for people who love traditional candles, this sometimes isn't the best option for offices or bedrooms. This is one of the reasons I personally like the Element wax warmers over the more traditional ones. They are more discreet since they have a heat element to safely warm wax without producing light. For my review, I received the Zen Rock Element Scentsy Warmer, which blends well with our decor. Not only does it look great, but it does a great job heating up the wax without overheating or causing damage to what's under it. To use the warmer all you need to do is plug it in an electrical outlet, flip the switch, and wait for it to warm the ceramic dish on top. What I also love is that you always know when the warmer is on – there is a small light on the back which turns on when there is electricity going to the unit. If it's in your bedroom, don't worry, it's not that bright and is still discreet. Based on my own experience with this warmer, I am happy to give the Scentsy Element Wax Warmer an A+ rating, and beyond that, say that we purchased a second unit for our basement!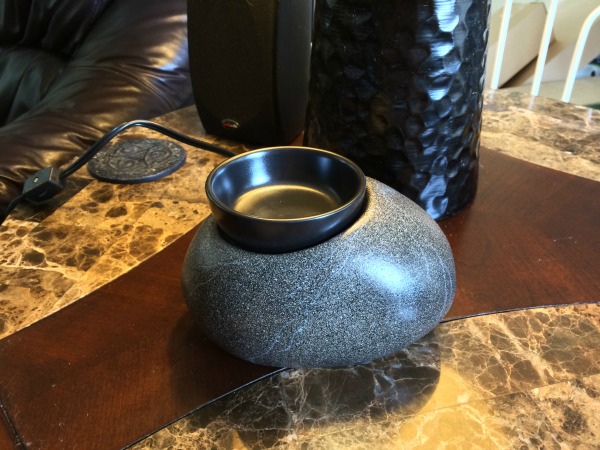 Scentsy: Where to Purchase
Would you like to purchase some of these awesome products for yourself? Make sure to head over to Midwest Scentsy today & purchase one of their Scentsy Companion Systems. This is the most inexpensive way purchase a wax warmer and waxes to get you started. I can tell you from personal experience that Scentsy is addicting. After this review I purchased an additional companion set along with an additional 6 pack of fragrances. If you are already a Scentsy user, don't forget that you can get a 6-pack of Scentsy for only $25 during the month of June. So make sure to head over and check out this exclusive Scentsy party just for my readers and friends! If you are anything like me, I'm certain you will love Scentsy!
Also, if you are a stay at home Mom looking to start their own business, make sure to connect with Teri at Midwest Scentsy to learn how you can sell it yourself. You have no inventory to manage, free workstation, amazing support, fantastic training, and it's very inexpensive! Learn how you can help take control of your finances with Scentsy today!
Want the latest Scentsy news? Make sure to head over to Midwest Scentsy's Facebook page here!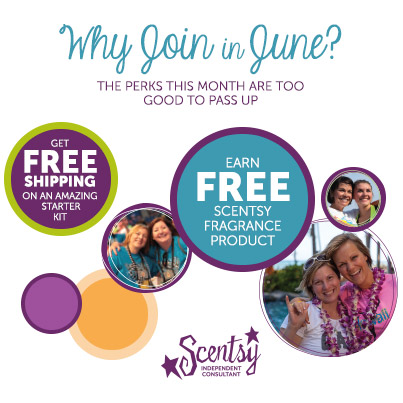 Disclosure: Budget Earth did not receive compensation but did receive products for review purposes. All opinions on this product are my own and may differ from our readers' opinions.
Would you like to have your products featured in a giveaway event? Want to increase your social media exposure? Contact susan.l.bewley@gmail.com to see what we can do for your company!