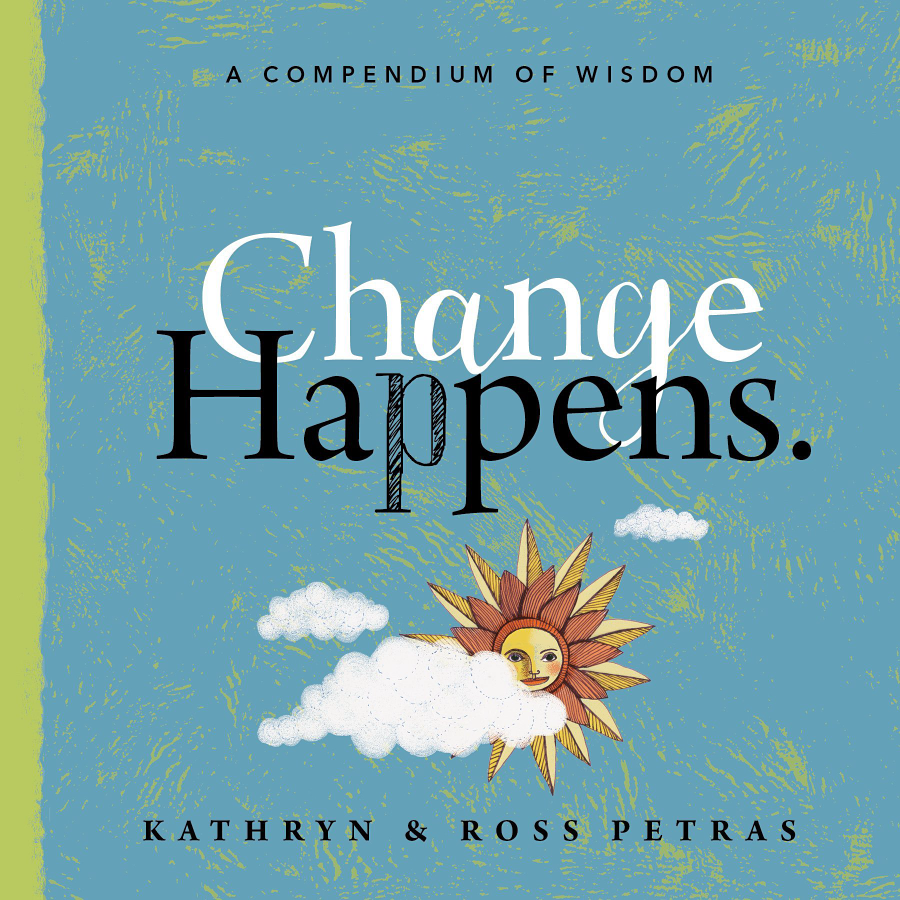 Are you struggling to find that perfect graduation gift that doesn't just give practical advice, but inspires? I will freely admit, finding inexpensive, thoughtful and practical gifts for new grads is very challenging. I personally love giving books but they can also be challenging, especially for busy teenagers. Luckily, I recently found a new book that seems to be a perfect graduation gift for busy high school or college grads – Change Happens: A Compendium of Wisdom.
Change Happens: A Compendium of Wisdom: What Is It?
Looking for inspirations and thoughts during difficult times in your life? Get inspired with Change Happens: A Compendium of Wisdom! See what the publisher has to say about this new book:
"Change is not merely necessary to life—it is life." That's Alvin Toffler, characteristically stating the profound in a profoundly direct way. And yes, even when we see change coming—as we're about to graduate from school, take a new job, get married—it's still not so easy to accept. And when we don't see it coming—oof, we have an even harder time. Here to help us embrace change and defuse its unsettling power is Change Happens, a full-color illustrated gift book to consult, to share, to give, and to keep on a night table. Curated by Kathryn and Ross Petras, the ultimate connoisseurs of quotes whose books and calendars have over 4.5 million copies in print, these words of wisdom inspire us to be open to change and remind us that nothing positive in life ever happens without it.
    
Arranged alphabetically by subject—including Adapting, Curveballs, Faith, Letting Go, Regrets, Second Chances, Vulnerability—it's a book to turn to in moments of need, when offering advice to a friend or loved one, when urging a child to find the courage to take a step, when marking an important occasion:

"Change before you have to."—JACK WELCH

"Change is not merely necessary to life — it is life."—ALVIN TOFFLER

"Take all the rules away. How can we live if we don't change?"—BEYONCÉ

"You can't stop the waves but you can learn to surf."—JON KABAT-ZINN

"The changes we dread most may contain our salvation."—BARBARA KINGSOLVER

"The future will soon be a thing of the past."—GEORGE CARLIN

"Without change, something sleeps inside of us and seldom awakens."—FRANK HERBERT

"We delight in the beauty of the butterfly, but rarely admit the changes it has gone through to achieve that beauty."—MAYA ANGELOU
Change Happens: A Compendium of Wisdom: Our Thoughts
Before I go any further, I want to make clear that Change Happens: A Compendium of Wisdom isn't a traditional book. It is more a book of quotes for inspiration and courage during some of the most difficult times in our lives. This book is divided into alphabetical order based on a variety topics, including facing your fears, change, new beginnings, risk taking, surprises, and more. It is the sort of book you read as you are sitting back, stressed, and need something to help you reflect on life (and remember that others faced the same problems before you and succeeded). While it won't give you immediate advice, it can help you sort of things for yourself and inspire you succeed during difficult times, making it a great, inexpensive book for new grads who are getting on their feet for the first time after high school or college.
Change Happens: A Compendium of Wisdom: Where to Purchase?
Would you like to purchase this book for yourself or someone special in your life? You can find Change Happens: A Compendium of Wisdom on Amazon.com for only $9.99 on Kindle or in paperback for $8.57. Give the perfect graduation gift filled with wisdom today!