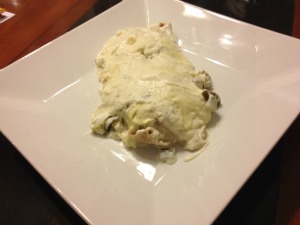 Do you have certain recipes that you make when you are really busy and just don't have time to spend hours in the kitchen? How about also having very little in the house? For the entire month of January I have been slammed with projects, some personal and others for some of my amazing clients. Rather than eat fast food every night, I depended on some of my quick and ultra yummy homemade recipes.  Even though things are starting to wind down, I have been frantically trying to get ready for our business trip to New Jersey next week. As part of the trip, I was trying to clean out the fridge, using up things that would expire soon and trying to avoid us eating out before our little trip. Luckily, I had the right ingredients to make one of our favorite fast recipes – my Chicken Enchiladas with Jalapeno Sauce Recipe.
What makes my Chicken Enchiladas with Jalapeno Sauce Recipe so amazing? Not only is it very easy to make, but very tasty! The hardest part is actually waiting for the chicken to cook. Since the recipe isn't very spicy, it's also great for kids. Once the chicken is cooked, I can prepare this entire recipe in less than 15 minutes, making the hardest part for it to come out of the oven! If you need a quick and easy go to meal when you have company or just don't have time to cook, I highly recommend this Chicken Enchiladas recipe!
Chicken Enchiladas with Jalapeno Sauce Recipe

Ingredients
3 Chicken Breasts About 2 lbs
1 Cup Shredded Cheddar Cheese
1 1/2 Cup Shredded Mozzarella Cheese
3 Tablespoons Salted Butter
3 Tablespoons All Purpose Flour
2 Cups Chicken Broth
1 Cup Sour Cream
1 Small Can Sliced Jalapenos (substitute green chiles for a milder flavor)
6-8 medium sized Whole Wheat Tortillas
Instructions
Preheat the oven to 425 degrees. On a grill (we use our George Foreman Grill) cook the chicken the breasts. They need be thoroughly cooked so keep on as long as needed. When finished, put on a plate to cool.
When the chicken is cooled, start shredding it with a fork. When finished, put in a large bowl.
Mix the shredded chicken with 1 cup of the shredded mozzarella cheese and all the shredded cheddar cheese.
Start filled the tortilla shells with the chicken and cheese mixture. When full, wrap up and place it down in an oven shape baking dish seam down. Depending on the size of the shells, I can usually make 6 – 8 enchiladas.
Once you are finished filling the tortillas shells, start melting the butter in a sauce pan. When completely finished, put in the flour. Very carefully mix together for 1 minute. The roux should look a bit yellow and pasty.
When the roux is finished, pour in the chicken broth and start mixing until it's smooth over medium heat. It should start thickening before long (about 2-3 minutes on my stove).
Once the mixture is thick, pour in the sour cream and jalapeno. Mix well. The sauce will look a greenish white.
Pour the sauce over the enchiladas. Once they are completely covered, sprinkle with the remaining mozzarella cheese.
Bake in the oven for 20 minutes. Serve warm.