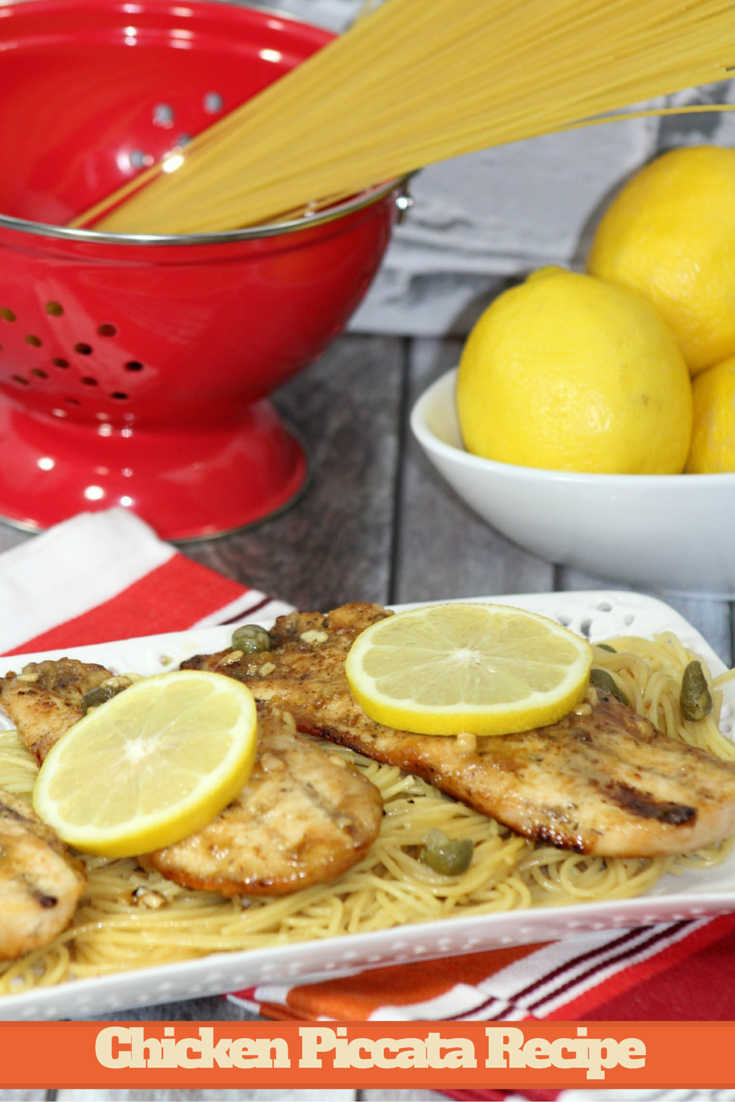 Do you ever have those times that you truly have no clue what you want to make for dinner? In our house, this is a bit regular. It usually ends with us grabbing fast food or something fast from the freezer since we both work such long hours. Unfortunately, those sorts of decisions aren't very good for weight loss and is part of the reason we both need to lose so much weight. To make cooking on the go easier for me, I am starting meal planning and trying to make fancier meals sat home that don't take too long to prepare but seem nearly as fancy as what you would expect to get in a restaurant. One recipe I got from a friend recently that is quite good is their Chicken Piccata Recipe.
This truly yummy recipe is filled with flavor and much easier than you think to make! You don't have to tell anyone it took you almost no time to create this delicious recipe, making it perfect for impressing gifts or your significant other. I even love that the ingredients really aren't anything fancy, allowing you to create a yummy meal without spending a small fortune on a delicious meal for entertaining or making a fancy meal for everyone in your family. We are certain though that you will love this easy to make Chicken Piccata Recipe. Make sure to tell us what you think of this recipe in the comments below!
Note: Special thanks to my friends Krista from Adventures of Country Divas for helping me with this recipe and pictures!
Print
Chicken Piccata Recipe
Looking for a yummy recipe for entertaining or dinner tonight? Check out our delicious Chicken Piccata Recipe here!
Author:
Category:

Chicken

Cuisine:

Italian
2

large chicken breasts, cut in half

1/2

cup

flour

1/2 tsp

salt

1/4 tsp

pepper

2 TBSP

extra virgin olive oil

3 TBSP

butter

2

garlic cloves, chopped

1

lemon, juiced

1/2

lemon cut in slices

1/2

cup

dry white cooking wine

1/2

cup

chicken stock

1/4

cup

drained capers

2 TBSP

fresh parsley, chopped
Pkg of thin spaghetti (cooked)
Instructions
Sift the flour, salt and pepper on a large dinner plate.
Using a can or a meat hammer, pound the chicken until it is only 1/4 inch thick. Cut each breast in half.
Coat the chicken in your flour mixture.
In a large pan, heat 1 TBSP of butter and olive oil. It is ready for the chicken when it is a slightly brown color.
Place chicken in the skillet and cook until its slightly brown. Remove chicken from heat.
Use the remainder of the sauce and cook the garlic on medium heat 1 minute.
Add lemon juice to the pan and the remaining flour. Cook for 1 minute.
Stir white cooking wine, chicken stock, lemon slices, and capers into the sauce. Cook for about 5 minutes until the sauce is reduces by about half.
Add the remaining butter and parsley to the skillet. Stir and add the chicken for reheating.
Add cooked spaghetti to the chicken and sauce mixture. Serve hot.