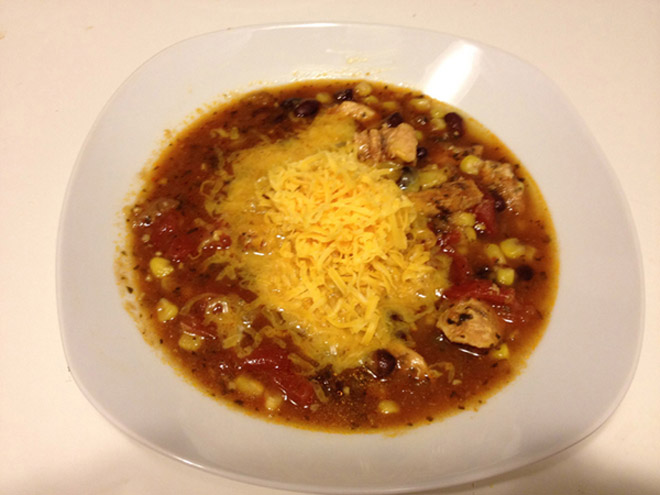 One of my favorite soups to order for lunch at restaurants is chicken tortilla soup.  In fact, it is one of my all time favorite soups, something that I have been missing after starting my New Years diet.  Most chicken tortilla soups I was finding online just didn't seem all that healthy, and I was surprised at some of the ingredients people put in their recipes.  I wanted to find a chicken tortilla soup recipe that wasn't only healthy, but would have the same great taste after reheating, since I have started packing lunch every day for my husband at work.
After looking at half a dozen recipes, I finally started comparing recipes and creating my own crock pot chicken tortilla soup recipe.  It didn't take long until my own version of this classic recipe became a favorite in our household, being a quick crock pot soup that I can make whenever work is taking most of my time.  When I make my chicken tortilla soup recipe, it is very common for me to eat it even without the cheese or tortillas, since the soup is just so flavorful! My husband, however, loves to put extra sharp cheddar cheese in the soup, as well as tortilla chips.  I can tell you from experience it is tasty both ways.
While my chicken tortilla soup recipe is still a work in progress, I still consider it a great recipe and I hope everyone else enjoys it!
Print
Ultra Yummy Crockpot Chicken Tortilla Soup
Ultra Yummy Crockpot Chicken Tortilla Soup Recipe Yield: 6-8 bowls (6 Servings) Prep: 30 mins Cook: 4 hrs 0 min Ready In: 4 hrs 30 mins
2 Teaspoons

Olive Oil Enough to Coat Pan

2

cup

Yellow Onions Chopped

1.5

cups

Organic Chicken Cubed

3

cups

Water

5 Teaspoons

Powdered Chicken Broth

4 Teaspoons

Minced Garlic Bottled

2 Teaspoons

Dried Cilantro
1

8

oz

Can Tomato Sauce
1

15

oz

Can Black Beans Rinsed & Drained

1

Brick Frozen Corn Found in Frozen Foods

2 Teaspoons

Ground Cumin
1

14.5

oz

Can Diced Tomatoes Seasoned with Oregano & Basil
.5 Teaspoons Ground Oregano
1

4.5

oz

Can Green Chili Peppers Diced
Instructions
Step 1: Take the time to chop up your onions and measure all of your ingredients. The onions need to be chopped up fine or put in a small food processor. Just make sure they don't end up mashed if you put them in a food processor.
Step 2: Take this time to also cut your chicken into small cubes. Makes sure to trim off all the fat, and cut the chicken fairly small to make sure that it's evenly distributed throughout the soup.
Step 3: In a large skillet or pan, barely cover the pan with olive oil or vegetable oil. After about thirty seconds, place the onions and garlic in the pan, sautéing them for about four to five minutes. The amount of oil you needed will mostly depends on the size of the pan you are using. Just use enough to make sure you don't burn the onions or garlic – don't drench the pan in oil. This is a very common mistake I have seen that ruins quite a few recipes (don't worry, I used to do it too).
Step 4: While the onions and garlic are sautéing, put three cups of water in another pot and start to bring it to a boil. Place the 5 cubes of chicken broth or 5 teaspoons of chicken broth in the pot. I recommend using low sodium chicken broth. If you are in a hurry, I recommend getting organic, low sodium chicken broth, and measuring out 3 cups of the liquid. It may be a bit weaker, but should contribute plenty of flavor.
Step 5: Combine the chicken broth with the onion mixture. Slowly add in the tomato sauce and a can of green chilies/jalapenos to the mixture. Add the cilantro and remove the entire pot from the heat – set it aside for step 7.
Step 6: Place all other ingredients in your crock pot and stir everything together, making sure the seasoning and chicken are well mixed.
Step 7: Slowly pour the liquid mixture from step 5 into your crock pot. Place the top on your crock pot and cook on low for 4 hours. Serve hot, adding tortilla chips and sharp cheddar, if desired. My chicken tortilla soup recipe lasts about a week in the refrigerator, as long as it is stored in an airtight container.
Want to see more recipes like this one? Make sure to check out our other recipes here!