This post brought to you by American Kennel Club. All opinions are 100% mine.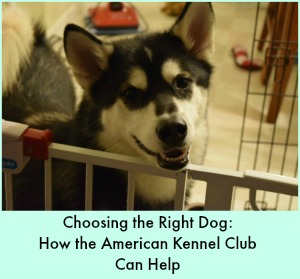 As many of my long time readers know, my family has a very loveable and adorable Alaskan Malamute. To my husband and me, she is our very energetic, happy best friend who travels with us everywhere and is always by our side. While we are obviously animal lovers, buying Reya wasn't a quick decision for us and actually took over 3 years to make sure we found the right dog for our family. When we decided we wanted to own an Alaskan Malamute, it wasn't a question to us that we wanted to get our future family dog from an AKC certified breeder.
For 130 years, the American Kennel Club has committed itself advancing the understand, benefits, of care of dogs everywhere.  By promoting responsible dog ownership they make sure more dogs find themselves in happy homes and that future dog parents have a happy, healthy home for everyone. They know that adopting a furry family member isn't an easy decision so they give have some of the best resources online about various dog breeds and how you can find responsible breeders for your preferred breed.
One of the biggest questions I have been asked is why I chose to have a purebred dog. Not many people will dispute that purebred dogs are beautiful, but that isn't the main reason to go out and purchase one. Purebred dogs are purpose-bred and generally have a predictable temperament. As well, an AKC registered breeder of a purebred dog is required to keep up with lineage of each of each of their dogs and the health of all their puppies, making sure that each puppy meets breed standards. While not every AKC breeder is the same, finding the perfect purebred dog can easily equate to a decade or more of happiness for everyone in your family.
When we purchased Reya, we relied heavily on the AKC's resources and took advantage of all their information on finding a responsible breeder. Not every breeder was the same, not by a long shot, and neither were their puppies. When you purchase a puppy, it is important that you ask the right questions and make sure that the breeder and future puppy are a right fit for your family. Since the majority of AKC
breeders
are passionate about the breed, they want to make sure every puppy goes to a good home and will build a long term relationship with you.
We looked at quite a few kennels before we found the perfect breeder. Not only were they helpful, but very patient, answering any questions we might have and being proud to talk about their dog family. Since they are only known to breed once or twice a year out of all their dogs, we waited three years for Reya to be born, and the breeder was careful to ask the right questions, ensuring that puppies were matched with the perfect families. For example, before we went on her buying list, she knew that we traveled, had a large yard, and that our malamute would be living indoors with us most if not all of the time. The first time we thought we had picked a puppy of hers, she talked to us and made us reconsider, telling us that the little girl was likely to be more of an outdoor dog and independent, even for a malamute, based on the lineage she came from. We are so glad we waited and took her recommendation, since we have the most loving dog you will ever meet! While I could have gotten a dog from any breeder, I am confident that our good experience came from an AKC breeder with very high recommendations for the breed. Today, I still email our breeder and share pictures since we built a relationship long before Reya was born, and she is glad to see and show off how Reya has grown!
Today, I can't imagine how we lived without our cheerful, happy dog. Along with the great information from our breeder, we also enjoy the other perks of working with the AKC, such as regular educational emails and publications that are useful and helpful for all dog owners. If you are considering purchasing a puppy from a breeder, I highly recommend reading the AKC's resource on buying a puppy from a breeder. I know we personally used this guide and thought it was a great help when we purchased Reya!
Of course, buying a purebred puppy isn't the right choice for everyone. I know many people who have taken advantage of the AKC Rescue Network, saving adult purebred dogs who found themselves without a home for a variety of reasons. These rescues are certified by the AKC, and run by owners who are passionate about their chosen breed. It is also a great choice for someone who wants an older companion. Usually, responsible breeders are also rescuers as well.
If you decide to get a dog from a rescue or shelter, just make sure you get as much information about your future dog as possible. Don't be afraid to ask questions, especially about the dog's history, and the shape the dog was in when it arrived. Most of the time local shelters know very little about the history of a dog, and it is entirely possible you'll have an uphill battle in training and adjusting your new family member to the home. Having owned shelter dogs as well, I can tell you that it is very rewarding, but not the right choice for everyone since medical costs and retraining can cost a small fortune, especially if the dog came from a home where it wasn't properly socialized or thought that furniture was its chew toys. If you are considering purchasing a dog from a shelter or rescue, we highly recommend checking out the AKC's resources on adopting shelter and rescue dogs.
If you are looking to add a furry friend to your family in the near future I highly recommend checking out the AKC website and taking advantage of their wonderful resources. I know if we decided to add another dog to our family it will likely be from an AKC breeder or one of their excellent rescue networks! While you know about our Reya, if you have a dog, purebred or rescued, tell us their story below – we love good pet stories!