With us moving back to Kentucky in October, I have barely had time to unpack everything, never mind prepare for Christmas. Normally I am spending this time decorating and getting the tree ready for Christmas, but this year, we just haven't had the time or room with all the unpacking. In a way, it has made me sad since we had nothing in the house showing any bit of holiday spirit. At least this was the case until Wednesday, when a beautiful bouquet of flowers of Christmas Flowers arrived from FromYouFlowers.com.
While I was expecting the flowers for review purposes, I really had no clue what to expect. I had never ordered flowers through a flower website before and really had no expectations. What I didn't realize is that the flowers would be coming from a local florist, the Flower Basket, who arranged this beautiful Christmas flower arrangement just for me. As you can see above, this flower arrangement included a variety of flesh flowers and decorations, including roses, mini carnations, holiday greens, and decorative ornaments which all came together to create a truly breathtaking arrangement. Right now, my flowers are sitting on my everyday table in the kitchen; brightening everyone's day that comes in my home. If you want to learn more about my exact arrangement, it is their Christmas Cheer bouquet which is currently still available on their website.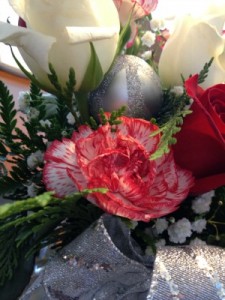 What I truly love about this flower arrangement is all the detail. Normally I buy all of my flowers at a local supermarket – in New Jersey it was ShopRite and now that I'm back in Kentucky, Kroger; then I arrange them myself. Having seen what one of our local florists can do in the Cincinnati area, I am just absolutely wowed by the care and detail put into my arrangement. Everything about this vase of flowers looks like a piece of art, and I know someone had to spend quite a bit of time making everything look just perfect. What I enjoy too is the fact that the flowers have a slight sweet scent, something that is rare when you are getting flowers from a grocery store since they spend so much time sitting out in the air or in a freezer. Getting these Christmas flowers truly brightened my day and inspired me to start getting in the Christmas spirit! In a way, FromYouFlowers.com really brought the spirit of Christmas in my household this year!
If you are left trying to figure out what to get someone for Christmas this year, I highly recommend purchasing Christmas Flower Arrangements from FromYouFlowers.com. With their extensive flower network of over 20,000 florists in over 140 countries, you can have the perfect flower arrangement sent to someone's door to get them in the Christmas spirit. Best of all, these flowers can be delivered the day you order them, as long as you make the order before 3 PM in their local time zone. With their large selection of Christmas flowers, gift baskets, and plants, you purchase the perfect gift for someone special in your life 24 hours a day, 7 days a week.
Now that I have had such a great experience ordering flowers online, I cannot wait to purchase flowers again from FromYouFlowers.com. With my best friend having twins coming next year, birthdays, and anniversaries, I can easily see this flower site being my go-to place for emergency gifts. If you are planning on purchasing flowers from this website, make sure to take advantage of their current free shipping promotion, allowing you to save even more money on Christmas flowers and other gifts. From my experience, I have to agree with what CNBC said – FromYouFlowers.com really does have the best prices and quality arrangement of any flower store online!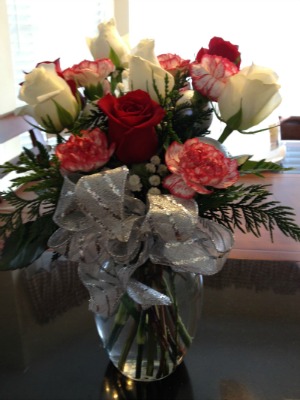 Disclosure: Budget Earth did not receive monetary compensation for this review, but did receive a bouquet of flowers for review purposes via Tomoson.com. All of the opinions on this blog are the opinions of said author and these opinions may differ from your own.