Disclosure: I received these products for free to review . The opinions in my review are honest and my own.
If there is one thing I love about Black Friday, it is finding the perfect gifts for everyone in my family. This year, we are adding pet items to our holiday list with Reya. Like most puppies, she grew up fast, leaving us frantically looking for new beds and other toys for our happy dog. As I was looking for adorable Christmas gift for Reya, I found some of the best pet deals at one of my favorite store – Staples! To say the least, I was even more excited when Staples asked me to review two of their hottest pet gift items – an Animal Planet Memory Foam Sherpa Bed and Sherpa Pet Throw. To say the least, Reya and I couldn't wait to get started when they arrived!
Christmas Gift for Pets at Staples: Animal Planet Memory Foam Sherpa Bed
Like any pet owner will tell you, memory foam pet beds are very expensive. While they are wonderful for dogs of all ages, they are a bit of an investment if you want a nice one. When I found out that Staples was going to have an Animal Planet Memory Foam Sherpa Bed as part of their holiday gift guide, I was pretty excited, especially with it being available for only $29.99. Many retailers are selling this bed for $50 – $60, making this an awesome deal for large dogs.
My husband and I just had one major questions – would this bed last our very large puppy? While it claimed to be durable, we weren't for sure if it would be durable enough. To say the least, I was super impressed. While this bed feels like a nice, fluffy memory foam pillow, it also is very durable, designed to handle some pretty tough chewers. When Reya first saw this bed, it was the first thing she checked when she pounced it, tugging on the corners at full force as she made herself comfy on the memory foam. To say the least, Staples outdid themselves when they chose this bed for their gift guide. If Reya's reaction to the bed says anything, I think the Animal Planet Memory Foam Sherpa Bed will be a hit with any large dog!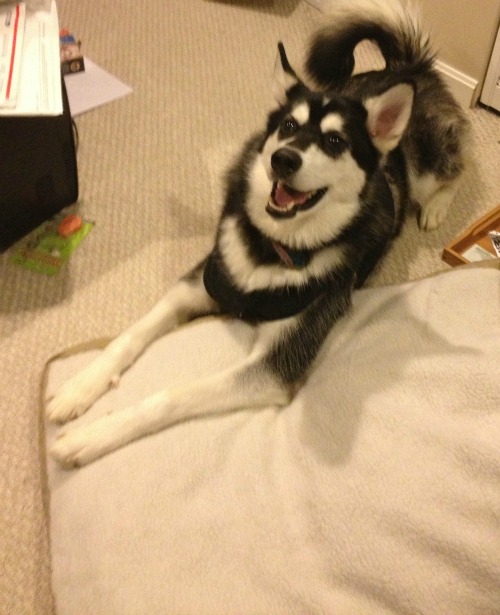 Christmas Gift for Pets at Staples: Animal Planet Sherpa Throw
Do you have a pet that loves to snuggle with you on the couch? If so, both of you will love this Animal Planet Sherpa Throw. This throw has a luxurious Sherpa lining and a soft out cover that goes with just about everything. Best of all, it is available for only $12.99, making it the perfect gift for pet lovers. My only problem with this blanket is that Reya didn't want to share. Every time I tried snuggling with her she pulled the blanket away from me and snuggled back under it. I guess we can say she likes it since she doesn't want to share!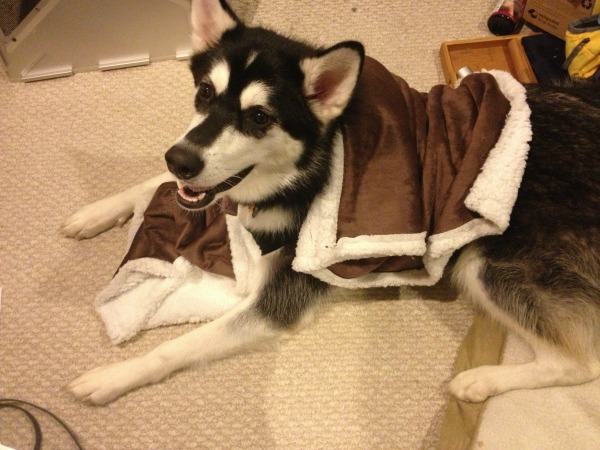 Christmas Gift for Pets at Staples: Overall
Personally, I think Staples outdid themselves with their selection of pet toys this holiday season. Not only are they high quality, but the perfect price for any owner who is hoping to have a few small gift under the tree for their favorite pet. I seriously can't believe I could have purchased both of these products for Reya for under $45 at Staples. Based on my own experience with these products, I can't wait to do more holiday shopping at Staples and give their pet selection an A+ rating. Now, if only I can get Reya to share that Sherpa throw…
Christmas Gift for Pets at Staples
Would you love to purchase some of these adorable items for your favorite pup? You can purchase these awesome toys once they are available on Staples.com starting on Black Friday. Most of their Black Friday deals will be starting at 8PM on Thanksgiving (when their physical locations open), allowing you to snatch up all their deals early, including adorable pet items like this Animal Planet Memory Foam Bed & Sherpa Throw. You can also find other awesome deals on toys, pet ladders, and other Animal Planet products available at Staples for the holiday. Who said your favorite pup can't have Christmas too? Get a sneak peak at Staples holiday sales here!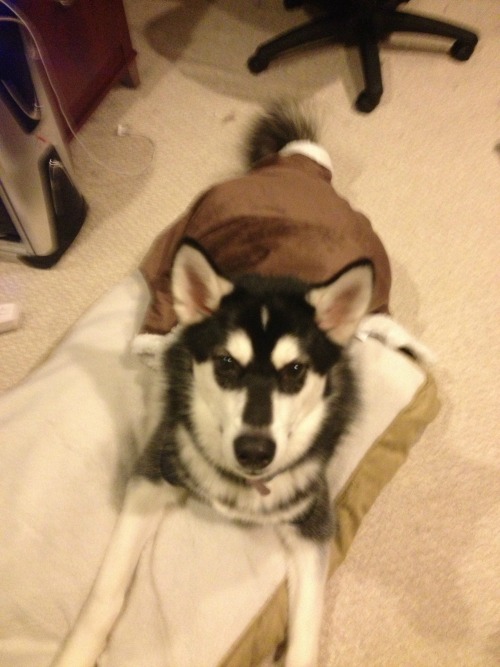 Disclosure: Budget Earth did not receive compensation but did receive products for review purposes. All opinions on this product are my own and may differ from our readers' opinions.
Would you like to have your products featured in a giveaway event? Want to increase your social media exposure this holiday season? See how Mom Powered Media can help! Contact susan.l.bewley@gmail.com to see what we can do for your company!