Disclosure: I received this products for free to review. The opinions in my review are honest and my own.
 
With winter nearly here, it has been getting dark earlier and earlier. While this may not seem like a huge deal to some, it is to our poor Reya. The days of running up and down our hill and spending an hour or more playing outside when we finish work are coming to an end. Now, she is lucky if she can play outdoors for more than a half hour between it the cold and dark. One of the biggest issues we have is that many of our outdoor toys aren't very nighttime friendly. Since we love to see our Reya happy, we have been looking into more doors that can be played both indoors and out. Recently, we found the perfect solution – ChuckIt's new LIGHTPLAY line of dog toys.
ChuckIt LIGHTPLAY Line: What is It?
Looking for some awesome toys to allow you to play up to 30 minutes outside after dark with your favorite dog? If so, we think you will love the new ChuckIt LIGHTPLAY line. These toys are designed for extended outdoor fetch and playtime anytime during the day or night, no matter what season! With the highly-visible fabric with glow in the dark 3D fabric and ChuckIt's trusted Max Glow rubber, you can enjoy some glow in the dark fun indoors or outdoors. All you have to do is expose the toys to 5 to 10 minutes of bright light, to have up to 30 minutes of glow in the dark fun. Currently, this line includes flyers, launchers, kickballs, shake and tug toys, and more. To see how these toys work in action, check out the Petmate video below!
ChuckIt LIGHTPLAY Line: Overall
I will freely admit, these toys absolutely rock. Not only are they fun for glow in the dark play, but daytime outdoor play too! Since Reya is still working on proper off-leash behavior, we decided to have the video of her playing outside rather than in a closed up room playing with the toys. As you can see, they have Reya's seal of approval! She absolutely LOVES playing with the launcher outside and her kickball and glow in the dark ball indoors in our kitchen. With winter nearly here, these toys are perfect for playing out in the snow or just letting out some excess energy outdoors. Based on our own experience, we are happy to give ChuckIt's LIGHTPLAY line an A+ rating and highly recommend it to all of our readers who are dog owners.
ChuckIt LIGHTPLAY Line: Where to Purchase
Would you like to purchase these awesome toys for your favorite pup? You can find the Chuckit LIGHTPLAY Line at your local pet store, including Petsmart, Petco, and anywhere ChuckIt toys are sold!
Don't forget to Follow ChuckIt on the Following Social Media Channels!
Facebook | Twitter | Instagram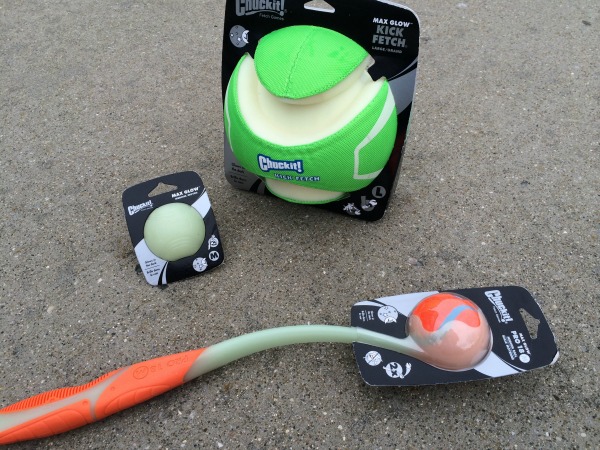 Disclosure: Budget Earth did not receive monetary compensation but did receive products for review purposes. All opinions on this product are my own and may differ from our readers' opinions.
 Would you like to have your products featured in a giveaway event? Want to increase your social media exposure? Contact susan.l.bewley@gmail.com to see how I can help YOUR company today!