With a dog in the house, we have lots of messes, especially as we are attempting to completely housebreak Reya. I love my dog, don't get me wrong, but getting her to use the bathroom outside feels like a constant battle (especially when she walks for an hour and then pees on the kitchen floor when we get home – thank you, Reya!). While the messes are all part of having a dog, cleaning up after them can be tricky, especially if you don't want harmful germs throughout your home. The answer to this is usually antibacterial or bleach cleaners, but I really don't like them since they are toxic not only to us, but Reya too. Since I'm always on the lookout for good natural cleaners, I reached out to Clean Well to see if they would be willing for me to review and thoroughly test some of them products. To say the least, I was super excited when my Clean Well Botanical Disinfectant All Purpose Cleaner, Natural Hand Sanitizer, and All Natural Hand Sanitizing Wipes arrived!
Clean Well Cleaners: Who Are They
Clean Well cleaners were designed with one main purpose – creating an all natural cleaner that could kill germs. The company's founder actually went on the search for making the perfect cleaner due to his son, who was born with an auto-immune disorder. Since only 10% of his immune system functions properly, they have to make sure their house is as germ free as possible. Many of the cleaners on the market actually made his situation worse, leading to the creation of finding a cleaner that didn't stress his immune system but kept him safe as well. As a result, we have a cleaner on the market that is natural and guaranteed to actually fight germs!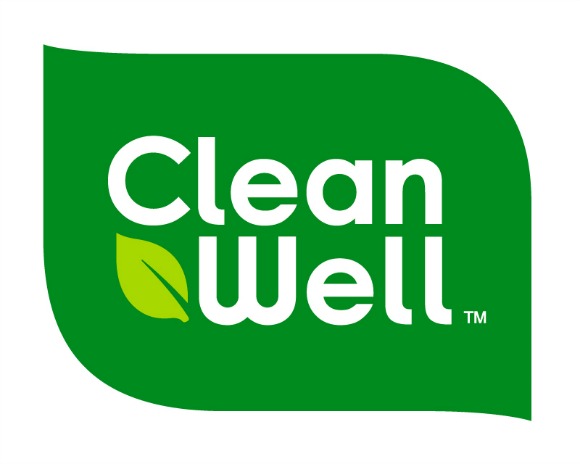 Clean Well Cleaners: Botanical Disinfectant All Purpose Cleaner
I am always on the lookout for a good all purpose cleaner, especially one that naturally disinfects. While I love Method's cleaners, their thyme cleaner smells so strong that is nearly unusable. Reya considers it a punishment if we clean her kennel with it. Clean Well's Botanical Disinfectant All Purpose Cleaner has a very slight thyme scent, but mostly smells like lemons. No one in my household seems to mind it, including Reya. As well, it seems to do a great job cleaning!
I have one complaint with the Clean Well Botanical Disinfectant All Purpose Cleaner – the bottle. After one encounter with the dog knocking it over, it leaked everywhere. I now have half of a bottle of this disinfectant in my basement carpet. I mean, there are far worse things to be getting out of your carpet, but I think the makers may need to look at developing or using a better nozzle attachment.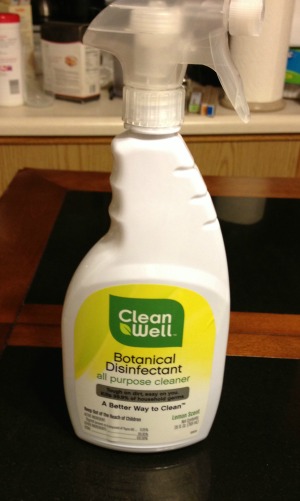 Clean Well Cleaners: Hand Sanitizers
Okay, I have a thing for hand sanitizers. Maybe it was an after effect of being a teacher, but I can't stand my hands being disgusting. Since I don't have kids yet, it's usually Reya that causes nasty messes. When we are out, nothing is worse than getting food and knowing you can't eat until you are home and properly wash your hands, especially after a certain puppy in the back seat gives you lots of love in hopes of human food. I love that the sanitizer doesn't smell like alcohol (it's actually alcohol free) and the wipes don't really have much of a scent. While I love the wipes, my favorite has to actually be the Clean Well Natural Hand Sanitizer in the spray bottle. A little spray takes care of your hands and it has a truly great scent, something you don't normally see with sanitizers!.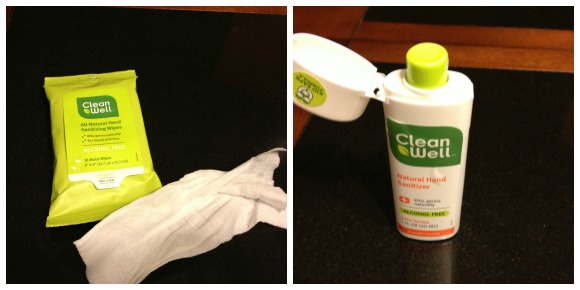 Clean Well Cleaners: Overall
So far, I have to say that Clean Wells cleaners don't seem half bad. The disinfectant cleaner seems to do a good job and doesn't smell strongly, like some other natural cleaners. I also love that the hand sanitizers are the perfect purse size, making idea for busy women like me. Since they aren't too pricy for natural cleaners, I think they are a great option for anyone looking for all natural cleaners for their family. Only complaint I have is that I wish the nozzle wasn't so loose on my cleaner (hey, at last my basement floor is a bit cleaner!) Based on my own experience, I have Clean Well cleaners an A- rating!
Clean Well Cleaners: Where to Purchase
Want to try these awesome cleaners for yourself? You can find most Clean Well products at local retailers such as Whole Foods, GNC, and even Kroger! If you can't find it in your area, make sure to check out Amazon.com and the Clean Well website!