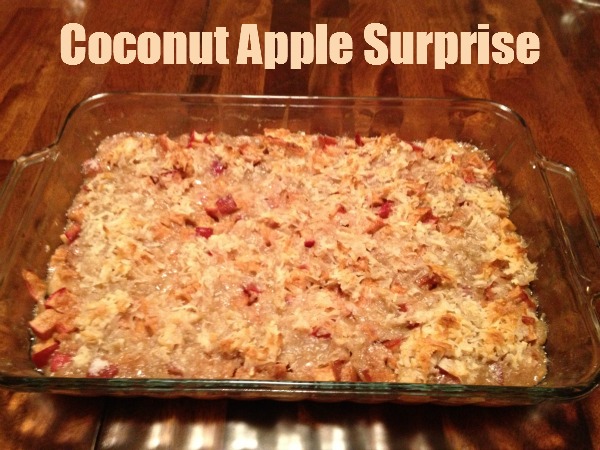 I will be one of the first to tell you – I love apple season! I'm one of those people who buy apples throughout the year, even if I feel a bit guilty knowing that they came from the other side of the world. When October rolls around, one of the first things I look at doing as making some type of apple pie. I have a handful of recipes I make depending on sales and the mood of my family. To start off Budget Earth's Apple Festival, it seemed only appropriate
While I know some people love complicated recipes, I am someone who prefers enjoys simplicity and creating delicious dishes using ingredients that can be found in just about any kitchen. One recipe that has gotten quite a bit of attention in the past few weeks in my family is my Coconut Apple Surprise. The original recipe came from a cookbook my mother bought over a decade ago – An Occasion to Gather by the Milwaukee Entertains.  I liked the original recipe, but I found it was way too sweet for anyone over the age of six.  With how much I tweaked the recipe, it ended up being my own recipe that I think turned out to be a very delicious, flavorful dessert that will have anyone at your table asking for more!
Coconut Apple Surprise Recipe
Coconut Apple Surprise Recipe
4

cups

Jonathon Apples cubed

1

Lemon juiced

2

cups

White Sugar

1 Teaspoon

Cinnamon

1 1/2

cups

Shredded Coconut sweetened

1

Can Evaporated Milk 5 oz can

1

Egg I prefer organic or natural

2 Teaspoons

Pure Vanilla Extract

1/2

cups

Butter melted (crust)

1 1/2

cups

All Purpose Flour prefer King Arthur (crust)

1/4 Teaspoon

Salt (crust)
Instructions
Preheat the oven to 350 degrees
With a hand or stand mixer, mix together the butter, flour, and salt to make the crust until it forms a crumbly mixture. When finished, gently press into a 9″ x 13″ baking pan.
In a separate bowl, mix together the lemon juice and cubed apples. Once thoroughly mixed, pour the apples over the crust.
Mix 1 cup of sugar and the cinnamon in a bowl. Sprinkle this sugar on top of the apples.
Place the apple dish in the oven for 20 minutes (make sure it is preheated to 350 degrees!)
While the dish is baking, mix together the coconut, remain sugar, evaporated milk, vanilla, and egg.
When apple dish comes out of the oven, spoon the coconut mixture on top of the apples. Make sure it is spread over the apples evenly.
Place the Apple dish back in the oven for another 20 minutes. When finished, it should be slightly brown on top and bubbly.
Let the dish cool completely before serving.
While this dish is excellent served hot, I highly recommend letting it cool completely before serving. This will allow the top layer to completely solidify and prevent a huge mess when it comes time to serve this dessert. As well, Coconut Apple Surprise is excellent with vanilla ice cream!