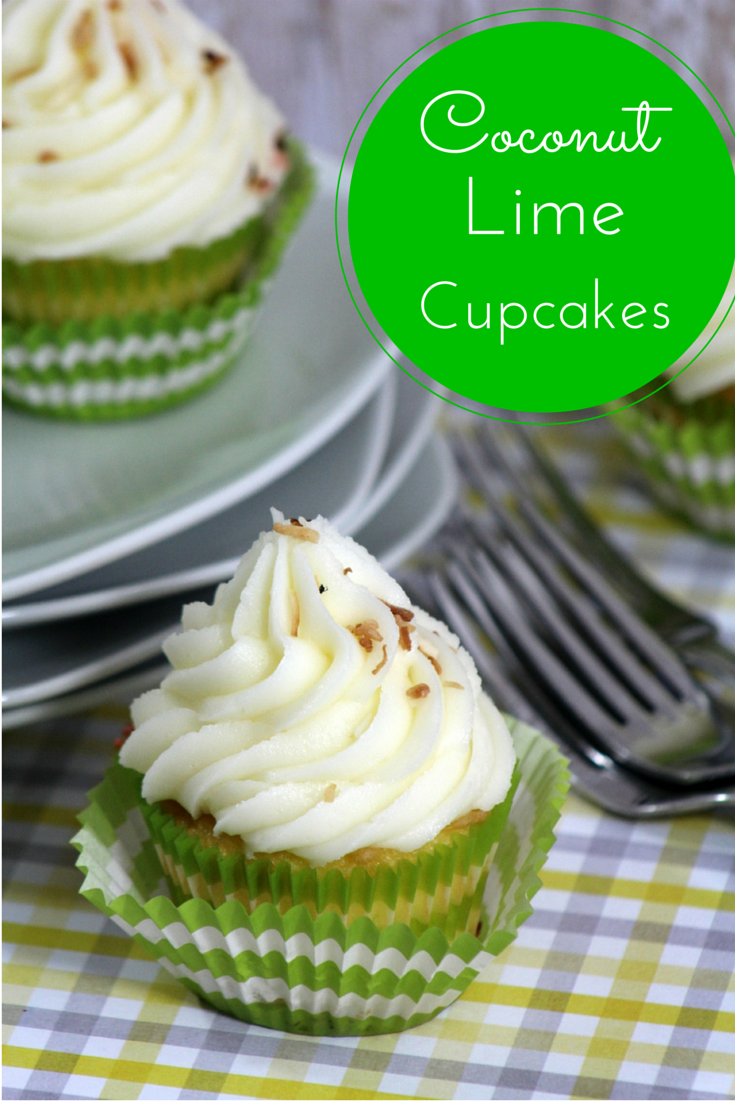 Do you have certain things in your household that everyone loves? In our household, my husband and I love most lime flavored desserts. He is a huge fan of key lime pie and I love any dessert that combines coconut and lime, making it a nice treat when one of my friends shared with me this wonderful recipe she made at a recent get together. From the moment I bit into these cupcakes, I knew I had to get the recipe. They were not only moist, but full of flavor, something that is always the sign of a great cake. Even better, she was excited to share her Coconut Lime Cupcake Recipe with me and said I could even share it with my readers (something I thought all of you would love).
For those curious about the cupcakes themselves, they have a fantastic flavor, with the right mixture of lime and coconut, giving them a fun flavor that was very reminiscent of some key lime cupcakes in bakeries. In other words, it is the perfect cupcake for birthday parties or just a fun summer treat that the whole family can enjoy at a picnic. Honestly, I can't wait to make a batch this week to celebrate a job well done after hard work reorganizing our home.
So, what do you think? Are these cupcakes delightful or can you think of anything to add to our yummy Coconut Lime Cupcake Recipe? Make sure to tell us in the comment below since we always love hearing what you think!
Note: Special thanks to my friends Krista from Adventures of Country Divas for helping me with this recipe and pictures!
Print
Coconut Lime Cupcake Recipe
Looking for a delicious & moist cupcake recipe with the right mix of coconut & lime flavors? Check out our delicious Coconut Lime Cupcake Recipe here!
Author:
Category:

Cake

Cuisine:

Dessert
Cake Ingredients
• 1 1/4 cup cake flour
• 1 tea baking powder
• 1/2 tea baking soda
• 1/2 tea salt
• 2 eggs (room temp)
• 3/4 cup sugar
• 1/2 cup oil
• 3 tea lime zest
• 4 Tbsp lime juice (or 1 medium lime)
• 1 tea coconut extract
• 3/4 cup Whole Milk
Frosting Ingredients
• 8oz cream cheese (1 box)
• 1/2 cup unsalted butter room temp
• 1 1/2 tea coconut extract
• 1 1/2 cups powdered sugar
• 2 to 4 Tbsp toasted coconut
• Small Lime slices as garnish
Instructions
Cake Directions
Preheat the oven to 350 degrees. Use this time to line a cupcake tin with paper cups and then set aside.
In a large bowl, mix together flour, baking powder, baking soda, and salt. Set aside.
Using a separate bowl, whisk the eggs and sugar.
Add oil, lime zest, lime juice, coconut extract, and milk to the egg mixture.
Using a stand mixer, slowly start adding the flour mixture to the wet ingredients. Mix well.
Fill each paper cupcake cup until it is 3/4 full.
Place in oven and bake for 18 to 20 minutes or until a toothpick comes out clean.
Allow cupcakes to cool before icing.
Frosting Directions
Cream the sugar, butter, and cream cheese until they are mixed well, using a stand mixer.
Mix in the coconut extract. Mix well.
Using a pastry bag and your preferred tip, start frosting the cupcakes. Garnish with lime wedges and toasted coconut.