Disclosure: I received products and/or monetary compensation for this post. All opinions, however, are honest and my own.
I don't know about you guys, but I personally LOVE success stories, especially with weight loss. As someone who has been overweight most of her adult life, it is frustrating going on Facebook and seeing my friends year after year struggle with weight. Some of them lose the weight on some fabulous diet, and then gain most of it back, if not more, by October. Part of the problem is that most of them aren't truly committed to changing their life for the better. All they care about is a way to lose it fast, something that only takes 90 days or less worth of effort, and then they can go back to their life. In the end, it just doesn't work. Losing weight is a commitment that is life changing, and has to be about changing your life. You just can't go back to your old lifestyle. While this may sound frightening, it can also be inspiring. When I was watching HLN, I was amazed when I saw Leyla Nava's story!
So, what is so special about Leyla Nava? She lost 53 pounds when her son asked her to stop dieting and change her life. He wanted her there with her and they needed her, so he begged her to lose the weight. What truly inspired and changed her life was the book Body Confidence by New York Times bestselling author, nutrition and fitness and health expert Mark Macdonald. As well, she also used the CORE diet system and products, which she attributes to her weight loss. This is what said on Twitter about it!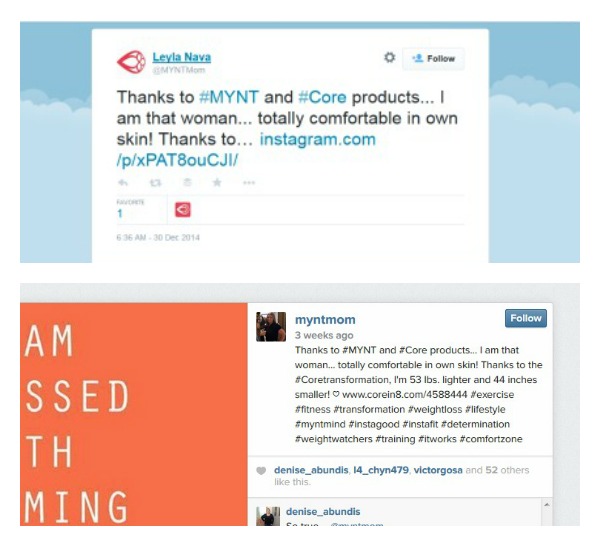 Want to hear her awesome story for yourself? You can watch Leyla Nava's full story in the video below. This video was live on HLN on January 15th and tells the story of her amazing transformation. If you are at work and can't watch the video, you can go to HLN's website to see the story as well!
Want to learn more about the products and program Leyla Nava used for her weight loss? To learn more about the CORE diet and learn how you can request
free samples
, go here!
Disclosure: Budget Earth received monetary compensation and/or products for this post. All opinions are my own and may differ from our readers' opinions.
Would you like to have your products featured in a giveaway event? Want to increase your social media exposure? Contact susan.l.bewley@gmail.com to see how I can help YOUR company today!