Date nights sound like a good idea in theory, but sometimes it's hard to think of anything new or original to do together. Enter the Crated With Love subscription box where unique date nights are delivered right to your door every month!  Let's get this box of love unpacked!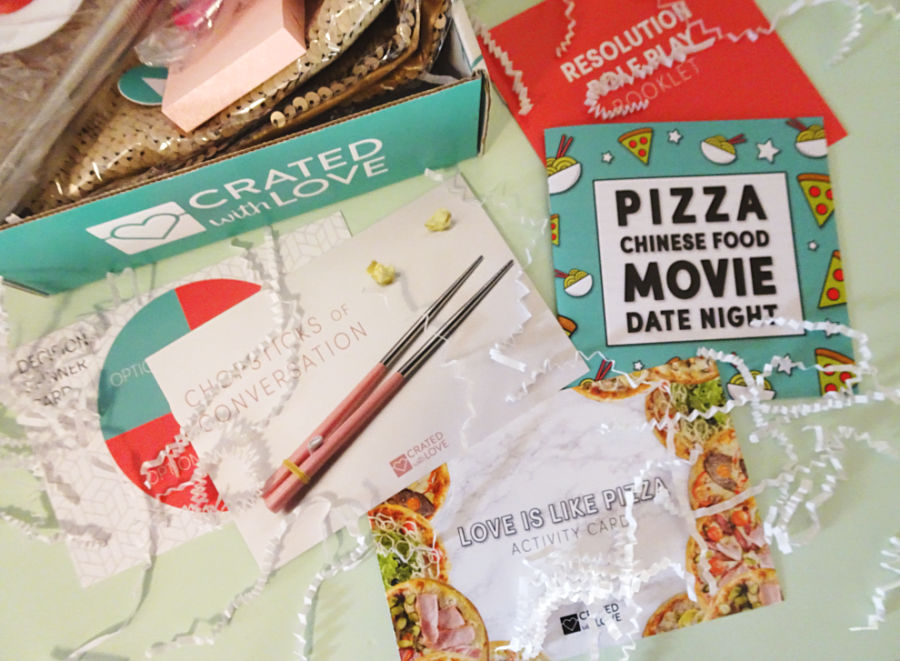 What's Included
My first thought after opening this little box was: Wow! The Crated With Love box is jammed packed with goodies, way more than what I expected from such a cute little box. This month's theme is Pizza Chinese Food Movie Night and it includes: a booklet of instructions and a list of all items included in the box; chopsticks, chopsticks activity card; resolution role play booklet; fidget spinner and sticker; decision spinner card; sticky notes; love is like pizza card; mermaid pillowcase; and a pizza cutter.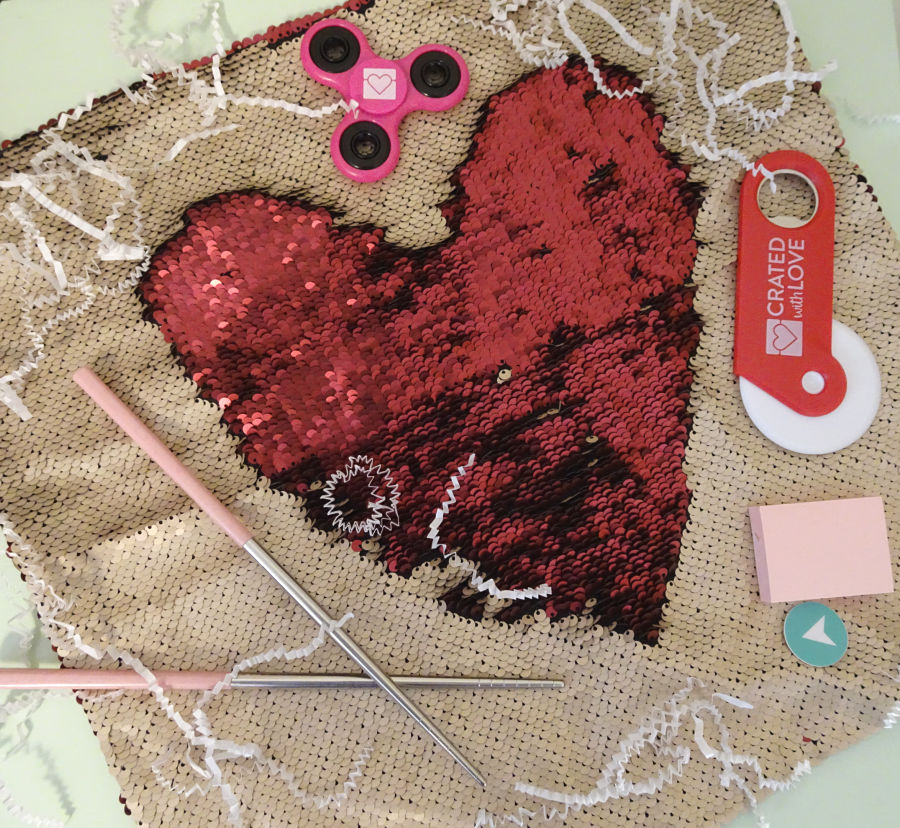 Let Date Night Begin!
My husband and I were thrilled that we could have a cool date night without leaving the house or even getting a babysitter! Pizza Chinese Food Movie Night is all about compromise, communication, and conflict resolution; all of which are extremely important in relationships. The first game was the Chopstick Challenge. This game required one of us to close our eyes and use the chopsticks to pick up sticky notes while the other tried to give directions to them. This was a tough game for me because I am terrible at using chopsticks, but it was so much fun! The second game was the Resolution Roleplay where we were given several scenarios and my husband and I had to identify the conflict, create boundaries, find a common goal, discover actionable items, and come to an agreement together. My hubs is a therapist and he really enjoyed that Crated with Love included this type of game! The third game was the Decision Spinner which had us each pick four movies we wanted to watch, then agree on four of them. Next, we used the fidget spinner on the decision spinner card and used that to pick our movie for the night! This little card and fidget spinner sure will come in handy the next time we need to decide where to go out to eat! The last game was the Love is Like a Pizza game. My husband and I had to build a hypothetical pizza that symbolized our relationship using the prompts on the card. The card also challenged us to actually make the pizza together, but we just ordered delivery because we were too hungry! The bonus item this month was the mermaid pillowcase where they challenged us to write a note to each other each time we watched a movie and put it into the pillowcase for us to read the next time we had a movie night.
Our Thoughts…
We had such fun with the Crated With Love subscription box! Everything in the box can easily be used again for a future date night. My husband and I are both introverts so we really enjoyed having a new twist on our typical "stay at home" date night!  It is an affordable and easy way to have unique date nights delivered directly to your door. We highly recommend!