As some of my readers know, my husband and I moved back to our house in Kentucky in October. Having spent over two years in New Jersey, our house wasn't exactly in the best shape when we came home. Before we left for New Jersey, I didn't have a chance to do all the painting and decorating I wanted to the house, so I have been slowly redecorating rooms as we have been unpacking. One room that has always been a challenge for me is our bathrooms. I still haven't found decided how I want the bathrooms to look and our master bath is still a work in progress when it comes to painting. Probably the biggest eyesore in our bathrooms is our ugly wire trashcans that came with us from our first apartment together. While looking online for some options – I came across Designerliners and their line of designer trash bags. Seeing an opportunity to try out these cute trash bags, I jumped at the chance, hoping to find something to liven up our dull half bath.
Designerliners: Their Story
Like me, you probably hadn't heard of Designerliners until you saw this review. The brand itself started when their creator, Muriel Wiener, was left recovering from an injury and had to have someone us help her take care of her home. Due to her having problems seeing and her housekeeping using ugly grocery bags, she thought of the concept of the Designerliners to help others see bags who were having issues, as well as add some color to their rooms. In 2007, their first designer trash bags hit the market and they have been growing in popularity ever since! Along with looking cute, Designerliners are biodegradable and made in the United States – not overseas!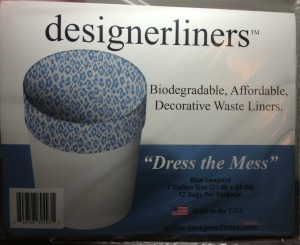 Designerliners: Look
First and foremost, Designerliners have one true purpose – looking pretty. If you are anything like me, you try to reuse everything you can in your household. While I do use reusable bags for grocery shopping, every so often I do come home with Kroger or Meijer grocery bags. These extra bags are used for lining trash bags. While I didn't like that these bags weren't biodegradable, this reuse seemed better than just throwing them in the trash. Also, while this made my practical side very happy, I didn't like that they were very ugly. Even though I loved the thought of purchasing designer trash bags, they seemed overpriced since they were relatively thin.
When I first opened my pack of 12 Blue Leopard Designerliners, I was immediately impressed with the cute design. So that you know exactly how the bags will look in your trashcan, they package these designer trash bags inside out. I thought the design was relatively cute and I could easily see it working in my little neutral half bathroom. After putting it in my little boring wire trash can in that bathroom, I was immediately impressed with how much it brightened up the little room. While I had never considered the trashcan being the centerpiece of a bathroom, I have to say I like it.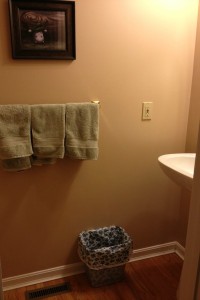 Designerliners: Usability
When I first got my package of Designerliners, the first thought to came to my mind was that they were trash bags. In other words, I was concerned that these designer trash bags wouldn't be able to hold up to being used daily in bedrooms or bathrooms. Also, let's be honest ladies – during that time of the month, we want not only pretty, but strong and practical. While these bags are obviously not heavy duty, outdoor trash bags, they are stronger than any bathroom or small can liners I have seen previously. Most trash bag liners that are meant for bathrooms are relatively thin and are likely to tear if they are overfilled. Due to the thickness of the plastic, I don't think this is a concern at all, making them even better than the scented bags you would find at the Dollar Star or your local big box retailers.
These bags also have something else going for them that I had not considered – privacy. Due to the design of these designer trash bags, they do a great job hiding unmentionables you don't really want to share with the world. Personally, I hate bringing down bathrooms bags since it's very easy to see everything that's inside the bag due to how poorly they were designed. While I know my neighbors aren't looking, that still doesn't mean I want to announce to everyone that I'm going through my time of the month. With the design and color of the Designerliners, you are given a bit more privacy and the comfort of knowing that these biodegradable bags are meeting all of your household needs.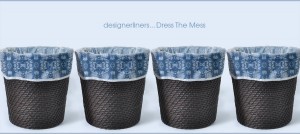 Designerliners: Overall
So far, I have to say I am impressed with the overall concept of the Designerliners. Before trying these designer trash bags, I was one of those people who lined all of our bathroom trashcans with grocery bags. It's nice to know that I have a better option, especially if I'm wanting a more eco-friendly option that also makes my bathrooms look more colorful and fun. Since these bags are an easy way to get some additional privacy and spruce up a bathroom, I think they are an excellent purchase for anyone who is looking to redesign a room. Based on my own experience and the durability of these bags, I would give the Designerliners an A rating.
Designerliners: Where to Purchase
While Designerliners are sold at a handful of locations, you are most likely to find these designer trash bags being sold online. Currently, there are two places to buy these liners – PrettyTrashBags.com, and Amazon.com. Both locations sell these bags in all 11 designs, where you can purchase a 12 pack of these bags for $9.95. If you prefer to buy your bags in bulk, you can also purchase a handful of designs in a 100 bag economy pack which is currently being sold for $39.95. You can purchase these bags in three different sizes and are available following designs – pink polka dot, orange polka dot, navy blue polka dot, dark green polka dot, red gingham, gold gingham, black leopard, blue leopard, red toile, blue toile, and black tattersol. For more information on these bags, feel free to check out Amazon.com's Designerliners product page.