Disclosure: I received these products for free to review. The opinions in my review are honest and my own.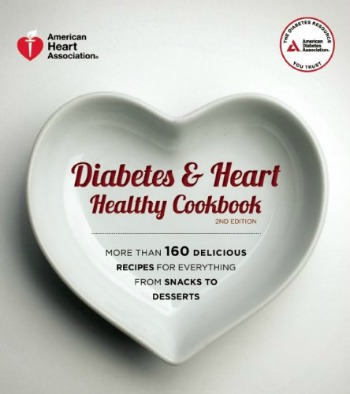 Like many other people, I try watching my health and the ingredients in the food I purchase. While I am not diabetic, my husband and I are trying hard to gain control of our diet and weight so we don't become diabetic in the future. With some of my friends having become diabetic in the last few years, this has become a very real concern to us, and I am trying hard to educate myself about diabetes and what I need to do if any of these friends ever eat in our home. When I was asked by the American Heart Association to review their latest diabetic cookbook, I jumped at the chance – hoping to find some delicious new recipe that all of my guests could eat and enjoy!
Diabetes & Heart Healthy Cookbook: What is It
Looking for a cookbook with delicious recipes that are also safe for those with diabetes? If so, we think you will love the Diabetes & Heart Healthy Cookbook. This cookbook features a variety of delicious recipes that are low fat, carb controlled, and sodium conscious, allowing everyone to eat as healthily as possible. Along with a variety of recipes ranging from breakfast to dessert, you also get amazing advice on how to how to plan your weekly meals in a way that is perfect for everyone in your family. You may even find some updated versions of your favorite recipes in this cookbook!
Diabetes & Heart Healthy Cookbook: Overall
Even though I don't have diabetes, I think it is good to educate yourself and have a variety of healthy cookbooks at your disposal. You never know when you are going to be entertaining a friend with diabetes or your own health situation may change in the future. I personally thought this book had a variety of delicious recipes that were not only healthy, but easy to make. This is really a perfect healthy cookbook for just about anyone, even if they aren't diabetic. For those who are, each recipe gives you the information you need to easily monitor your own diet. Based on our own experience with this book, we are happy to give the Diabetes & Heart Healthy Cookbook an A rating.
Diabetes & Heart Healthy Cookbook: Where to Purchase
Want to try this awesome diabetic cookbook for yourself? You can purchase the Diabetes & Heart Healthy Cookbook on Amazon.com for $12.95.
Disclosure: Budget Earth did not receive compensation but did receive products for review purposes. Budget Earth may, however, receive compensation through purchases from affiliate links in this post. All opinions on this product are my own and may differ from our readers' opinions.
Would you like to have your products featured in a giveaway event? Want to increase your social media exposure? Contact susan.l.bewley@gmail.com to see how I can help YOUR company today!